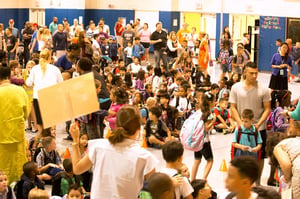 Even the most seasoned educator gets jittery about the first day of school each year. But the veteran teacher and administrator also knows the best ways to reduce the stress on themselves, their students and the parents as the academic calendar turns over.
Here are six suggestions for administrators to make opening day run as smoothly as possible.
1. Make a Checklist: Let's face it, something unexpected always happens on the first day of school. Still, creating a checklist before the first day ensures that the basics won't be the cause of any surprises when the students come storming in, according to an Education World article. Your checklist may include things like:
Complete any commitments discussed during staff development day
Collect all required documents from staff
Finalize master schedule
Schedule all facility repairs
Assemble all student/parent communications
2. Distribute FAQ lists; lots of them: "Where's Room 327?" "What locker do I have?" "When's my lunch period?" These questions and more will be asked countless times throughout the first day (and week), and the staff must be well-equipped to answer them. Homeroom lists should be posted in multiple places throughout the school and should be given to staff members deployed to help. Lists of locker assignments also should be readily available, as should information about where to pick up schedules.
3. Carefully word the parent welcome letter: Most principals will write a "welcome back" letter to parents. More often then not, they will comprise an impersonal message that says how much everyone is looking forward to the year and how it takes a team to ensure student success. One anonymous principal writing on ConnectedPrincipals.com suggested longer, broad messages that:
Explain your education philosophy.
Celebrate your school's successes.
Discuss the next steps in the school's progress.
Brag on your teachers.
Show them what you are learning.
Share your reading list.
Tell them a bit about your life outside of school; "What I did this summer.
4. Also write a letter to the students: This would come in handy especially for new principals, who will be walking into a judgment zone. The principal can talk about him/herself, family, pets, interests, hobbies and the vision for the school and the coming year.
5. Be visible: It will make teachers, staff and students more comfortable to see that the principal and all administrators are there, in the trenches, on that important first day. Whether it be helping a lost freshman find a locker or answering a policy question from a teacher, seeing the school's leaders engaged and willing to help out in any role helps set a positive tone for the rest of the year.
6. End the day on the upbeat: Walk the school after the final bell. Stop in the classrooms or teacher offices and find out how the day went. What went well? What challenges did the staff face? Determine whether those challenges require short- or long-term fixes.
Of course, the unexpected will always happen, but that's part of working in education. However, utilizing the tips above will more than likely mean the routine stuff will go smoothly, meaning more time and energy to deal with the crises.