I work with community education organizations across the U.S. using Vanco Education's administration software, ASAP. I can't think of one Vanco client that has not been directly affected by this disease. Things have sometimes looked bleak as I've worked with clients to close their spring operations in recent weeks. Of course, we all remain nervous about the future. But I'm seeing real reasons for cautious optimism about the coming months.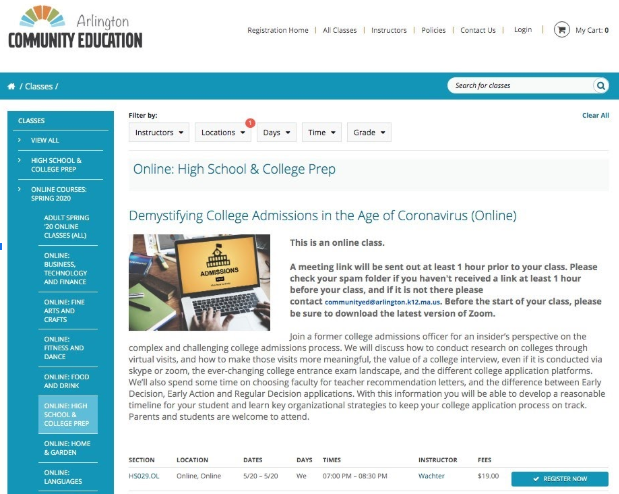 One thing has not changed during our enforced pause. Students and post-graduate learners need accessible and affordable education and training options to help them thrive in a competitive economy. For many of these people, the cost of a university education may be out of reach. Even community college can be a stretch if you've lost your job.
So where does my optimism come from? Three things. First, the foundation of our solution is already in place. It is our community education organizations. Situated in the hearts of our cities and towns, as well as across the suburbs, these groups offer an exceptional range of learning opportunities ready for access right now. These learning opportunities include certificates in clinical and medical assistance, classes in English as a second language, finance, business and technology, GED courses and SAT prep. Add to these courses in wellness, exercise, music, dance and all forms of the arts. Classes for everyone, from babies to people over 100. All are affordable, most often with financial aid available, and sometimes they're even free.
The second reason to be optimistic is that these organizations are fully capable of shifting their mix of offerings to suit the needs of learners in our new situation. From where I sit interacting with Vanco's ASAP clients, I see organizations across the country responding nimbly to the immediate needs in their communities for low-cost, accessible learning and training opportunities. Some clients have already successfully moved much of their teaching online. I'm even hearing of increasing enrollment, especially in early childhood music classes and courses for school-age children who would otherwise only be homeschooled for now. In some places, private lesson enrollments are higher than usual too. Importantly, putting classes online greatly increases accessibility, extending an organization's reach to those who may not be able to travel to enroll or attend teaching.
Reason number three for my optimism is that the last 10 years has seen a growth of software designed specifically for the community education sector. This means ASAP clients and others utilizing similar platforms are already part of the process of meeting this unprecedented health and economic challenge. They have all the tools needed to move teaching online. Websites are the ultimate contactless experience. This lets students view an entire curriculum, enroll and pay, all from their devices. It is a simple pivot to switch location fields to show as "Online" to make it easy for students to navigate to these new offerings. For teachers who are willing and who have the internet resources at home, there are several screensharing platforms freely available along with an array of helpful advice online. ASAP has even made our fundraising module available at no cost to all clients, allowing clients to accept donations online.
One client, Arlington Community Education in MA, moved some of their classes online quickly. Their director, Jen Rothenberg, told me, "At first, we made the decision not to offer virtual classes but it quickly became obvious that not only were we not going to be able to meet in-person any time soon but that online was how everything was shifting around us. Online learning forced us to re-think what community meant for Community Education."
For some examples of online courses, you could explore the Arlington Community Education's site, and Mt. Diablo Education's new distance learning classes. ASAP is hosting some free training webinars in the coming weeks to help you utilize all resources in your ASAP system as you plan on reopening, in whatever format you can. Go to our Support Site to view recordings and sign up for future trainings.
We will hopefully be able to gather soon in groups to resume our work and studies. In the meantime, organizations that move teaching online will keep things going, even during our lockdown, for themselves, their faculty, students and communities. I can't think of another sector that is poised to have such an impact on the recovery of this country and some of our most vulnerable citizens.