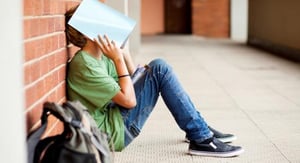 The national school dropout rate has been cut almost in half since 1995, and the proliferation of community youth programs is one of the primary reasons why, according to research conducted by a variety of sources.
"We have to always keep them active and they have to always be participating in something, or else they can go in a different direction," Amber May, programs director of Operation Shoestring, told U.S. News and World Report.
Those different directions can include joining gangs, committing crimes, using and selling drugs…all of which can lead to dropping out of school before graduation. A study by two researchers at the National Institute on Out-of-School Time at the Wellesley College Centers for Women found that students entering the sixth and ninth grades may begin to show warning signals of dropout potential. The new, usually larger, school, a more demanding workload, less attentive teachers, and increased peer pressures – combined with greater personal freedom – could spark behavioral changes, the study found.
While after-school child care has been around for ages in one form or another, the breadth and depth of programs have increased exponentially in the past quarter-century. The changes show in dropout-rate statistics compiled by the U.S. Department of Education.
The national rate for both genders and all races fell from 12.0% in 1995 to 5.9% in 2015, before inching up to 6.1% in 2016, the last year for which statistics are available. The rate was 27.0% in 1960.
Males have always dropped out at higher rates than females, but the gap has widened in the past 20-plus years – from 0.5 percentage points in 1995 to 2.0 percentage points in 2016, when boys dropped out at a 7.1% clip while only 5.1% of girls left school early.
The true worth of community youth programs, many of which target low-income and minority students, is shown in the narrowing gap between white, African-American and Hispanic dropout percentages. In fact, white student dropout rates have increased since reaching a low of 4.3% in 2012 and in 2016 matched the highest rate since 2007.
Meanwhile, African-Americans have been dropping out at consistently lower rates since the 12.1% of 1995, falling to 6.2% in 2016. The Hispanic dropout rate has declined by more than two-thirds, from 30.0% in 1995 to 8.6% in 2016.
So, what is it about these after-school programs that reach children and help them stay in school.
The Afterschool Alliance's America After 3 PM survey found that parents of participants believe "afterschool programs help to excite kids about learning; to become physically active; and to develop interest and skills in science, technology, engineering and math learning. Parents of kids in afterschool programs also strongly believe that afterschool programs positively influence children's behavior — improving behavior in school and reducing the likelihood that they will commit a crime, use drugs or become a teen parent."
As Operation Shoestring's May said in the U.S. News article, "Being on a robotics team is more interesting than being a member of a gang. Learning how to start your own business is more interesting than just going home and not necessarily doing what you are supposed to do."
The Wellesley study found that the most effective programs provided tutoring help, academic counseling, career and college exploration, mentoring, recreational activities, life-skills development and family strengthening activities, such as helping parents assist their children with schoolwork.
The researchers also found particular strength in arts-based youth programs. The authors quote the U.S. Department of Justice as saying, "After-school arts programming not only increases the academic achievement of at-risk youth but also decreases drug use and juvenile delinquency, increases self-esteem, and increases positive interactions and connections with peers and adults."
Further, the authors note that in an 11-year study of youth in low-income neighborhoods, those in community-based arts programs were more likely than those in athletics or community service programs to get high grades, be elected to student government, participate in a math or science fair, or win a creative writing award.
The trick is to keep teenagers engaged until the parents come home from work. The "Latchkey Kid" is now the rule, rather then the exception, and community youth programs are filling the void. If a child is left alone with nothing to do, who knows what might happen?