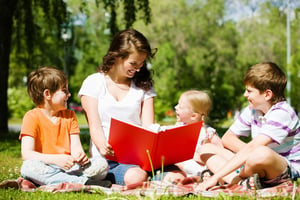 Classroom management has undergone a digital transformation through technology's advancement and no longer relies on time-consuming analog solutions. Now there are a plethora of childcare management software systems available for classrooms and daycares across the country.
When it comes to providing child care in a daycare setting, classroom management is the key to ensuring children are in an environment that promotes learning and development. Classroom management requires child care staff and teachers to keep vital records about the operation of their classrooms. This can include a wide range of details, from attendance to curriculum.
It's essential for child care providers to have access to high-quality classroom management software that supports their teaching efforts. Not sure where to start? Here's everything you need to know about the importance of classroom management software in child care and how it benefits child care providers.
What is Classroom Management Software?
Classroom management software creates and supports a classroom environment that enhances schooling effectiveness. Typically, the phrase "classroom management software" is used as an umbrella term that refers to any digital tool that seeks to improve classrooms and daycares' daily operations.
Classroom management software for schools and daycares are similar but have distinct differences. Classroom management software for daycares is often referred to as daycare management software. It is designed with features that support the administrative operations of daycare rather than that of a classroom.
Some classroom management software has evolved to include features that support remote and hybrid learning environments. This has been a critical advancement with the shadow of the pandemic casting uncertainty of a future with in-person teaching in the U.S. These tools monitor student's activity online and help mitigate distractions.
On a base level, classroom management software has features that support a childcare provider. These features enable staff to collect data such as attendance, behavior trends for individual children, and parents' communication. Moreover, families can access some of these records to track their children's performance and collaborate with child care staff to help children progress.
Benefits of Child Care Administration Software
It's clear that classroom management is a foundational aspect of facilitating an effective learning environment. However, many are still asking, "Do I need child care administration software for my daycare?"
It's true. Classroom management is still in the process of completely digitizing across the world. So, many child care providers and schools are still on the fence about adopting the new technology.
If you count your daycare among that number, it's crucial to make an informed decision. This includes understanding all the benefits that classroom software can offer. Here's everything you need to know about the benefits of classroom management software for daycare.
Simplify Administrative Child Care Tasks
Preschoolers require a lot of attention and hands-on learning. Preschool teachers and daycare providers must always be alert and consistently on-the-go. That doesn't leave a lot of time for manual record keeping. One of the advantages of child care software is that it streamlines many time-consuming tasks.
Child care administration software is designed to address all the administrative tasks required to run a preschool or daycare successfully. So whether it's penning a quick note for a parent or tracking attendance, the right child care software will ensure the task is handled fast, easily, and efficiently. The result is more time and attention spent on the little ones.
Enhances Organization
In today's digital age, utilizing different software and systems to get a single job done is the pinnacle of inefficiency. With advances in smart technology, we have come to value comprehensive solutions. That's why a comprehensive child care management software solution is critical to the success of your daycare.
Not only will all vital records be stored in one secure digital location, but you'll save time and headaches by avoiding the use of multiple software systems. Additionally, a comprehensive software solution requires only one onboarding process and makes it easier for new staff to become acclimated to your daycare's internal operations.
Improve Communication
Communication is vital to the success of a child care program. In a single day, it may be necessary to communicate with a child's family to organize a sick child's pick up. A family may need to contact your daycare about updating their billing information. You may have to contact your staff members to update them on the new changes to the curriculum.
There are endless situations that require quick and efficient communication, both externally and internally. A top-notch child care software system will have features that support communication. Child care software will ensure you can receive and send information without trouble.
Look for child care software with a mobile app solution that will enable parents to communicate with your daycare and staff from their smartphones. Additionally, chat features make internal communication simpler, faster and more reliable.
Provides Educators with Valuable Tools
It's critical for educators to be equipped with the proper tools to get their jobs done. As educators and child care professionals handle a wide variety of on the job duties, child care administration software is designed to help provide them with the right tools to support their efforts. Whether the job is guiding students through an outlined curriculum or maintaining the right student-teacher ratio, child care software can handle it.
By ensuring the proper handling of essential details, educators can utilize child care administration software to enhance their learning environment. With features like inventory tracking, advanced scheduling, and attendance tracking in child care software, educators are given the tools to lay a strong foundation for an efficient and effective classroom environment.
Key Takeaways
Management is one of the most difficult aspects of leadership, whether you're leading a large organization or a classroom full of energetic preschoolers. That's why it's essential to have a strong support system. Daycares need a powerful and effective child care administration software to ensure their students can get the most out of their learning experience.
Similarly, when choosing the right child care software, it's important to get the most out of your investment. That's what Vanco's Smartcare software aims to help you do.
Vanco's Smartcare is a child care software powerful enough to handle all the essential administrative tasks you throw at it. This includes everything from managing billing to keeping track of attendance. It's a single solution that will provide your child care program with the support it needs to succeed.
Discover the Secrets to Simpler Child Care Administration!
Download our free eBook with expert tips that will not only help you improve your child care program, but show you how to simplify its management, so you and your team can enjoy a much needed breather.