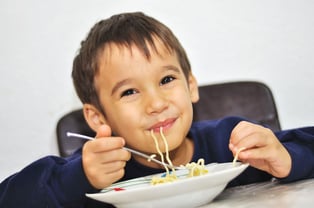 Every day, more than 20 million free meals are distributed through schools (according to the USDA). For this reason, schools play a vital role in feeding our children. But with the COVID-19 pandemic many schools have shut down, leaving kids without access to free meals.

There is still a solution available for kids to get the free meals they rely on. The USDA allows schools to use a process for serving meals that's similar to what they do over the summer. Typically, these meals are hosted within communal areas such as schools, churches, parks and community centers. Some districts offer summer feeding food trucks or meal delivery.
All meals served still need to meet the USDA National School Lunch Program (NSLP) requirements.
Most National School Lunch Program schools have transitioned or are in the process of transitioning to this summer feeding program. They have one of two options for reimbursement: Summer Food Service Program (SFSP) or Seamless Summer Option (SSO). Schools can get a higher reimbursement for the SFSP, but the menu planning is more stringent.
With either option, every student can get a free meal through the National School Lunch Program (even paid and reduced students). For identification, the school can choose to identify the students at the POS (or roster). This method would be preferred because it gives you the most accurate records of who received meals. The other option is to go to a "clicker" method where the school will just keep track of the total number of meals they serve to students under 18. The school will need to check with their Department of Education on the reimbursements for either option.
Normally, the USDA National School Lunch Program requires these meals to be eaten in a "congregate fashion" to promote community bonding and can't be taken to-go. In the situation of COVID-19 and social distancing, this is obviously discouraged. As a result, states can apply for a waiver for non-congregate meals.
Meals served can be hot or cold (think bagged or grab-and-go), and some schools are including both breakfast and lunch in their picked-up meals.
Facilitating the distribution of free meals during school closures takes a bit of work, but in times such as these, parents, students and the government are looking to schools and their infrastructure to ensure children are fed during the crisis. To help your school take on this burden, we've included a few helpful resources to guide you through the process.