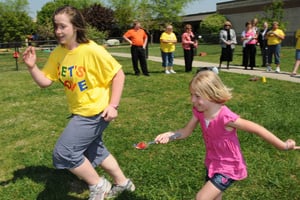 Just because physical education class continues to be a declining force in K-12 schools nationwide, does not mean students are simply sitting at their desks all day. While the days of jumping jacks and softball games may be numbered, the age of physical literacy has dawned.
Simply defined, physical literacy is the "ability, balance, confidence, desire and explorative nature to live an active, healthy life," according to the National Association of Physical Literacy. Much like English literacy or math literacy, physical literacy focuses on providing students the skills to become aware of their movements and how activity is important to a well-rounded life.
Fortunately, physical literacy does not have to be taught in gym class. These days, teachers many teachers are instituting movement breaks into instruction time, such as the dance breaks that the daughters of a CNN article's author enjoyed. That piece sourced research stating that physical activity in school leads to better cognitive performance.
The typical physical literacy program comprises four steps:
The traditional physical education class.
Intramural sports, in which students of any athletic level can participate recreationally.
Traditional organized interscholastic team sports.
Recess, movement breaks and the like.
Many programs go beyond the movement elements and offer nutrition instruction as part of physical literacy. The National Association of Physical Literacy recommends this as part of a "Whole Student" approach.
While interscholastic athletic programs continue to be an important staple of school life, the other three items on the bulleted list above are either in decline or rare. Less than 30% of all high school students attend daily phys ed classes, and Illinois is the only state that requires daily physical activity for K-12 students.
Colorado, Mississippi and South Dakota have no phys ed requirements whatsoever, and only seven states mandate that elementary schools have certified phys ed teachers on staff.
Meanwhile, research has found that up to 40% of school districts nationwide have considered eliminating or reducing recess. While schools are under pressure to maximize academic results, such moves go against studies that show that movement and activity help students learn.
"Physical activity is important for kids to be healthy and to reduce obesity risks," San Diego phys ed teacher Craig Volimas told NEA Today. "But PE also provide focus and helps increase academic achievement, it teaches students about teamwork and sportsmanship, and it increases attention and brain function."
Intramurals, on the other hand, could present opportunity for school districts, especially those that offer after-school care programs. Perhaps an offshoot of such programs could be sports-oriented, with phys ed staff hired at a stipend to supervise. Different sports could be offered at different times of the year, and ability would not be an issue. Of course, coaches might be able to spot that diamond in the rough that much sooner.
Parents could sign up their kids for intramurals at rates similar to after-school care, and enrollment and revenues could be tracked easily with the school district's platinum-level administration software.
School districts have a large stake in keeping their students moving. The physical literacy movement is geared toward providing youngsters with a permanent foundation for living an active life. While it is not the same as physical education, phys ed is an important part of physical literacy.