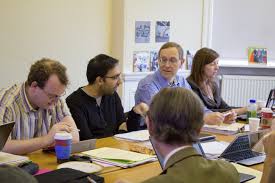 A community arts organization needs three things to survive and thrive:
(1) Solid financial base
(2) Reliable crew of artists to perform
(3) Dedicated board with a variety of talents and great work ethic
Your organization might already have a board. At the least it has a couple of people in charge. No matter, the first thing the organization needs to do is to define what the board's responsibility is. As a Council for Nonprofits blog suggests, the board should be the group's governance committee. Somewhat like the federal government or a state government, the executive director heads the executive branch, while the board is the legislative branch.
The next determination is, what kind of people do you want on the board? "A nonprofit needs to begin its search efforts by identifying what capabilities it needs on its board," according to a post on the Nonprofit Information website. Obviously, one necessity is that each board member needs to support and advocate for the organization's mission.
"If they do not care deeply about the very purpose of the organization, their value is minimal," a Foundation Group blog advises.
Beyond that, many organizations place fundraising skills first and foremost among the requirements for board membership, and any board certainly needs people who possess those abilities. But not everyone needs to. Having people who are socially or professionally prominent in the community is good but, again, not everybody needs to be.
The same Foundation Group blog states that some business or organizational competency should be required of most board members. While the artistic side should be represented, the board is basically a business entity, charged with maintaining the fiscal health of the organization.
To that end, each board should have the following:
An accountant, bookkeeper or a financial expertise in their background to serve as treasurer. This person should also pass a background check to ensure there's been nothing nefarious in past experience with financial accounts.
A marketing professional to handle and guide important branding and marketing initiatives for a smaller organization. This person would serve as a resource for a larger organization's marketing department. Someone with social media and product marketing experience is a big plus.
For a larger group, a human resources professional who can assist the board in its assessment of the executives and directors would be a smart move.
And no matter what, board members shouldn't stick to their defined title or role. In smaller groups – and often in larger ones – the board members are the worker bees. They're the ones manning the desk at auditions, or making pledge requests.
Of course, there are also a couple of types to avoid when filling a board – especially for a smaller or start-up community organization.
Family and friends: Sure, it's easy to fill a board with loved ones and people you trust. But that can make board meetings more social occasion than business gathering, and a Help 4 Non Profits post states, "will make it very difficult to attract unrelated board members – the kind that can really help move the organization forward." It also, the same post suggests, can serve as a rubber stamp for the founder.
Only artistic types: Those who put on the shows or concerts obviously have a big say in the direction of the organization, but they shouldn't have the dominant say. The business people on the board must be able to steer the business aspects of the suggested season. Do the shows serve the audience? Can they be marketed? Are the margins in place to sustain this event? What does cash flow look like? Is additional school fundraising necessary?
Obviously, large donors have their place on boards, and they can certainly bring some of the qualifications mentioned.
One other thing to look for in board members: Vision. Do potential board members see growth in the future? How would they innovate? How do they see that occurring? What do they see the organization looking like five, 10 years down the road? Those who have a clear view of that scenario and how it evolves can help the group get there.
By recruiting the right board members, community arts organizations can secure their artistic and financial health and work on executing a shared vision for the future.