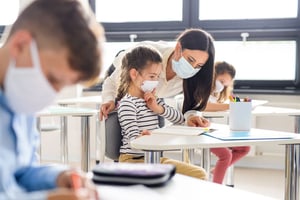 We've spoken with school district leaders across the country about their back-to-school strategies for the coming year amidst the coronavirus pandemic. These are leaders Vanco has partnered with for more than 20 years. Using their insights, along with official guidance from the CDC and governing education bodies, we created resources for administrators and educators to learn how their peers are handling their return to school.
We know the upcoming school year will be filled with unknowns. States and districts across the country are still deciding the best way to handle school operations and learning practices. Even as districts finalize their return-to-school plans, they understand that it is possible that circumstances might change. Administrators need to remain flexible and prepare to adjust practices throughout the year for the student's safe return to school while balancing access, equity, administrative logistics and the efficacy of the learning and teaching process.
It is our purpose to serve those who enrich our communities. And that means we aim to help district leaders and educators like you navigate this difficult situation. Apart from physical distancing and disinfecting, we encourage everyone to stay positive.
Vanco Education created two eBooks, Returning to School During COVID-19 and the School Food Service Handbook, to prepare schools during this period of in-classroom, virtual and hybrid learning. These eBooks offer guidance on how schools can plan for several of the different ways that schools might come together this fall.
Returning to School During COVID-19 provides you with the framework to adapt school operations and daily learning to keep students, families and staff safe.
The School Food Service Handbook offers recommendations for schools to adjust food service work whether your school is fully back in the classroom, hybrid schooling or doing eLearning.
Educators, teachers and school staff are in a position no one in the field ever expected. The truth is, we don't really know what will happen once the school year begins. But we do know schools will rise to the circumstances. And we want to help you succeed as you welcome students back to classes.
I hope these eBooks help.