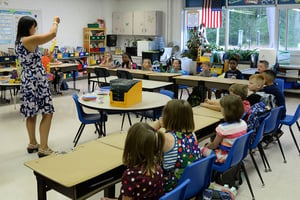 Spring break is over in most K-12 schools, and only two to three months remain in the academic year – for most students. But for about 13% of those attending public schools throughout the United States, summer break is either shorter than normal or practically non-existent.
The campuses those students are attending are among the 3,253 nationwide (as of 2017) that have adopted a year-round education format, which spreads out the usual 180 days of instruction throughout the calendar year. Depending on the type of format used, a year-round schedule can further necessitate use of full-functioned, state-of-the-art education administration software.
Research from Statistic Brain Research Institute found that year-round schooling has increased 563% from 1987-2016, dropout rates are lower and math and reading test-score improvement was better. Also, according to the National Summer Learning Association, 22 states passed a total of 50 pieces of legislation concerning summer learning last year, while bills were introduced in 19 other state legislatures. Many of those new laws fund summer opportunities for disadvantaged students.
With the growth of year-round education, the schools that adopt it must choose from myriad formats. The most popular is the one-track, 45/15 format, which simply rearranges the traditional school year for all students.
Classes are in session for nine weeks, followed by three weeks off.
Another six weeks lead to a three-day Thanksgiving break.
Then, three weeks of classes precede three weeks of Christmas vacation.
Two nine-week blocks of instruction are sandwiched around a three-week spring break.
Finally, a six-week summer vacation leads into the new school year.
There are other formats, such as the 90/30 system, in which two 18-week semesters are separated by a six-week vacation. After the second semester, another six-week break leads into the new school year.
To avoid overcrowding, many school districts on year-round schedules have adopted multi-track formats, meaning not all students are on the same schedule. One group may start a school year in August or September, another in January, still another in April.
This is where robust school administration software is most needed.
Among the drawbacks of a multi-track system is management of teachers' time and class load. Multiple tracks mean that there will be at least one section of each particular course during each cycle in which a second teacher will be required. For example, Seventh-Grade Math Teacher 1 may be on duty while Tracks A, B and C are in session, but on break for Track D. Opportunities to substitute during off times also become more complex.
The same holds true for maintenance, administrative and cafeteria staff. Instead of being off or in slowdown mode during the summer, these employees will be needed in full force. The campus in these modes will have to operate as a typical workplace, with non-education staff receiving the time-off benefits found in the service industry.
Cost management also is greatly affected by year-round education. Minimal HVAC, water, gas and electricity resources are needed during the summer under the traditional calendar. Gasoline and maintenance needs for school busses are much lower. A move to year-round education will add cost – not a positive in the age of shrinking school funding and tax revolt – but the right software could be able to help find efficiencies that will lighten the hit a bit.
And finally, there's class list management. Adjusting to a multi-track, year-round system is not just a matter of randomly assigning students to tracks. Siblings need to be kept together. Perhaps geography plays a role: placing children from the same block in the same track could make things easier on the kids and help with vacation day care. Maybe there will be special requests: Does the star quarterback or drum major really want to be off for six weeks during the middle of football/band season?
Year-round education has its advantages and disadvantages. But it's a growing phenomenon, and school districts should study all the ramifications carefully.