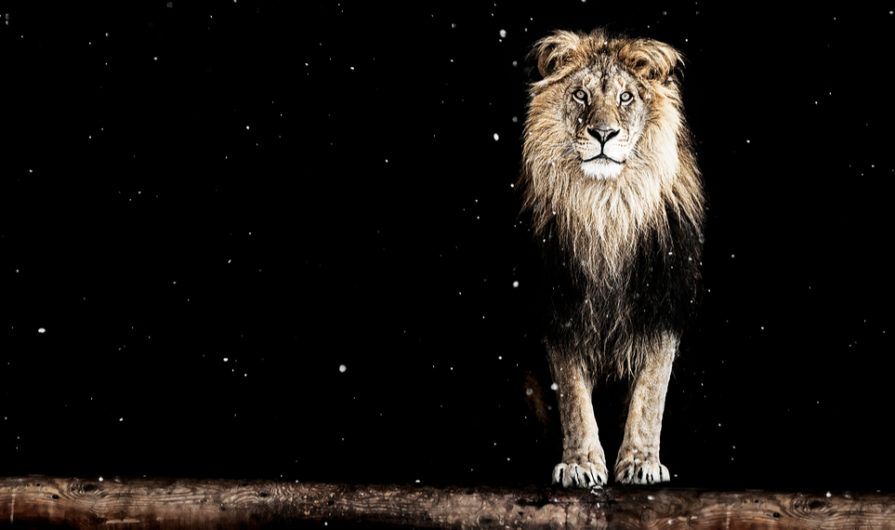 He was a huge man in a bright red robe (bright as holly berries) with a hood that had fur inside it and a great white beard that fell like a foamy waterfall over his chest.
Now that the children actually stood looking at him … he was so big, so glad, and so real, that they all became quite still. They felt very glad, but also solemn.
"I've come at last," said he. "She has kept me out for a long time, but I have got in at last. Aslan is on the move. The witch's magic is weakening."
And Lucy felt that deep shiver of gladness that you only get if you are being solemn and still.
The arrival of Father Christmas in The Lion, the Witch and the Wardrobe marks one of the turning points in C.S. Lewis's classic work. The White Witch's spell keeping Narnia in a winter that never progresses to Christmas is beginning to break. Aslan* is on the move and nothing can be the same again!
I recently thought of this passage again in light of the contrast between a vision of scarcity and one of abundance. Just as the summer wanes and the days grow shorter and colder, a vision of scarcity assumes the best is behind us and the worst awaits. It's as if it is always winter and never Christmas.
C.S. Lewis truly lived a vision of abundance. In large measure he did so by embracing a life of generosity. Habitually acting and thinking in particular ways allowed Lewis to see abundance when others saw little. In their important work, The Paradox of Generosity, Christian Smith and Hilary Davidson enumerate several practices and attitudes that generous people have in common. They include voluntary financial giving, volunteering for work without pay and relational expressions of generosity to family and to neighbors.
Lewis excelled in all those areas. First, he was known to frequently empty his pockets whenever someone came to him asking for money. Writing in Mere Christianity, Lewis said, "I do not believe one can settle how much we ought to give. I am afraid the only safe rule is to give more than we can spare. … If our charities do not at all pinch or hamper us, I should say they are too small."
Second, Lewis did much work without pay. He resolved at a certain point to give away all the royalties that he received from his religious books, including such bestselling books as The Screwtape Letters and Mere Christianity. That would easily add up into the millions. Long after Lewis's death, his voluntary work continues to benefit many.
Finally, Lewis was amazingly generous with both family and strangers. He welcomed his brother Warnie into his home, in spite of Warnie's ongoing battle with alcoholism.
And even though the relationship was a complicated one, he took Jane Moore, the mother of his friend Paddy Moore, into his home. The two friends promised each other during World War I that if one died during the conflict, the survivor would watch over the other's family. Lewis was wounded during the war, but Paddy was killed in action. Lewis cared for Mrs. Moore for many years until her death in 1951.
Lewis also opened his home to children transported out of London during the years of bombing in World War II. And as he became famous, many people wrote to him for advice, and he spent hours each week personally answering all of his correspondence, a practice he continued until he died.
Have no doubt, winter is coming, but so is Christmas. Let us all find new ways to express generosity so that like C.S. Lewis, our lives may reflect the true joy and abundance of this season and the reality that indeed, Aslan is on the move!
*Aslan is the lion in Lewis's work, the rightful king of Narnia and, in an allegorical interpretation of the book, represents Christ.