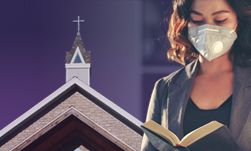 To say factors such as the 2020 Covid-19 pandemic or the political divides throughout much of the world affect church giving would be an understatement.
5 Factors That Affect Church Giving
Church members come from all financial walks of life, job situations, and family pressures. If you notice a drop in giving, you have to start by understanding the current situation of your membership.
That's what makes knowledge of your congregation so important. Here are some of the most common factors that they, and subsequently your church, are up against.
1. Job Loss
Lost employment is always going to be a major factor in churches. Two numbers are most important to understand the issue of unemployment: the loss of actual jobs and the number of people affected. Within every downsized job that your membership experiences, there is an entire household affected.
According to a June 2020 study from The Commonwealth Fund focusing on just the 2020 pandemic, around 7.7 million workers lost jobs. This didn't count regular job loss, nor did it factor in each dependent represented in those losses.
The same study pointed to an overall amount of 14.6 million affected individuals. Many of those individuals were, and are, churchgoers.
It's only natural that you might notice dips during hard economic times. After all, not every person in the household works, but every person in the house is affected by what happens to those who do.
2. Medical Issues
Another factor that can influence giving, even among those currently employed, is a medical expense. Consider that the average overnight stay in a hospital can cost around $10,700.
Now factor in the reality that Americans aren't particularly good at saving money. One serious medical episode can wipe out what little a family might have put back. This has a direct impact on giving.
3. Unexpected Expenses
Look at the day-to-day struggles individuals and families might face as the result of a car accident, housing improvement, or other unexpected expense. Most Americans do not have enough savings to handle these types of issues.
In fact, one study found that the average American household only has between $1,000 and $5,000 in savings. The slightest unexpected expense can push those accounts into the red overnight.
4. Spiritual Complacency
Many more churchgoers today have left the building for the comfort of online church assemblies. That's quite a paradigm shift, and it's one that can start to affect the relationship a member has with God.
The more distance that happens between the building and the church, the more likely it is for regular givers to not see the urgency or need to their giving. Churches must address this issue in their communications with the membership.
5. Life Fatigue
Beyond spiritual complacency, many of your members might be suffering fatigue from the many issues they or their family members might face in a given year. When life isn't going as planned, it's tempting for your parishioners to feel forgotten about, confused, scared, or desperate.
Free Tools to Confront These 5 Factors
The best way is to approach your members with understanding and compassion. And one of the best ways to do that is to make concerted efforts to keep them safe while supporting their spiritual needs. There are two main strategies churches across the country have used to promote safety while continuing worship services. We cover them both at length in our two free eBooks.
For some members, it is especially dangerous for them to gather in an enclosed spaced. Don't leave these folks out. Discover how you can provide them the spiritual guidance they need by bringing your worship services online.
This free eBook offers easy-to-use strategies employed by thousands of churches across the country. It shows how to set up a virtual ministry quickly, without the headaches, and it also offers a list of low-cost or free tools to help you create a high-end livestream without the expense.
Is your church in the process of reopening or are you simply looking for ways to keep your church safe during COVID-19? This comprehensive eBook has you covered by providing actionable guidance based-off of CDC and expert recommendations.
By following these guidelines, you show members that your church cares about their safety. And, it strengthens the community by keeping everybody safe.