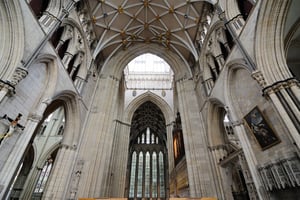 As the COVID-19 pandemic continues to spread around the globe, churches have not been insulated from the devastating virus.
With local governments and health departments encouraging the public to not attend large gatherings – and some governments outright banning them – churches coast to coast have seen a drop in attendance. And some churches have taken the extraordinary step of canceling services or eliminating some of their services.
That means fewer people giving and supporting your good work. It also will possibly affect your church's finances. (We know asking for gifts during a time of global crisis is sensitive. But we owe it to our 22,000 church clients to candidly address this.)
But it doesn't have to be that way if your church uses eGiving and engages members to give even when they're not at services. Members want to continue supporting your work, and eGiving is the simple way for them to do it.
Whether you're livestreaming services or remotely providing spiritual guidance another way, your members want to continue supporting the church. Make sure they know how they can offer it.
With COVID-19 being declared a pandemic by the World Health Organization, the time has come for churches to plan for reduced attendance and holding fewer services.
This is a moment for your eGiving tools to show their full benefits to your members. If your congregation decides to pause regular services, or if your local government has banned large gatherings, it's imperative that your members know how to use your eGiving tools.
We recommend using all your communication channels to remind members they can still support the church through eGiving.
If you're a Vanco customer, remember, we're here to help. If you need any assistance with your Vanco eGiving tools, please get in touch with our Client Services team at 800.675.7430 or CS@vancopayments.com.
We also offer churches these tips:
During this difficult period, our Client Services team will also take donations if your members prefer to give over the phone. Tell your members of this new option for giving.

Use your communication channels or church management software to check in on your members and make sure they're healthy.

Regularly remind them

the church continues to do important work in your community, even during this challenge. By using your

eGiving options

, members continue to provide services people depend on. Fewer services doesn't

mean

less good work by your church

.

If you're predicting an influx in giving, call our team to raise your

total

daily donation limit.

Check out our

eGiving resource center

that features 200 resources to help your church build eGiving. And get our

Complete Easter Giving kit

.
We hope your members and community stay safe. This is a challenge, but it doesn't have to mean financial hardship for your church. If you're a Vanco client, get in touch if we can help in any way. If your church is considering starting eGiving to help members give, contact us today.