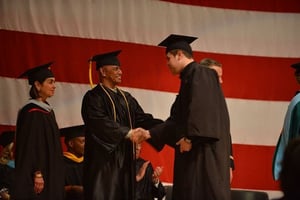 School districts are caught in a teacher trap. That is, the student population is rising, while the number of teachers is falling. Neither trend seems to be abiding, so administrators are using innovative ways to work around it.
The National Center for Education Statistics (NCES) estimated that student enrollment will grow by 849,000 from 2017-2025, from 55.66 million to 56.51 million. Meanwhile, about 8% of teachers have left the profession over the past 10 years, according to the Learning Policy Institute, and only about one-third of those are because of retirements. "Of those who leave teaching voluntarily, most teachers list some type of dissatisfaction as very important or extremely important in their decision to leave the profession," the LPI article states.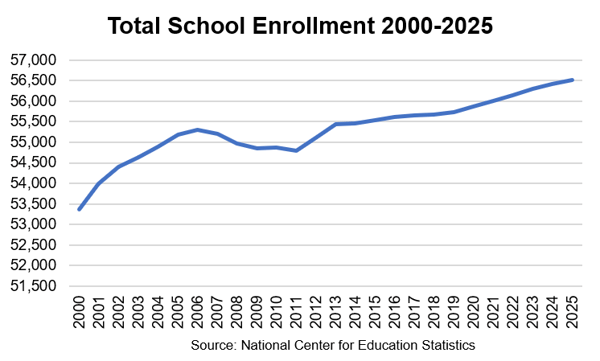 One of the major issues in recruiting teachers is the fact the fewer college students are choosing to major in education that did in decades past. Another NCES report showed that where 176,307 education majors graduated in 1971, that number dropped to 108,874 by 1981 and to 87,217 in 2016, the latest data available. The chart below compares that to business, engineering and health professions, which have grown dynamically in that time 45-year time frame.
As the chart indicates, education was the No. 1 major in 1971 among those – and all other – fields. Of course, times have changed in the ensuing 4½ decades: Many more employment opportunities have opened up for women, though more men have entered the teaching force.
Still, education is not an attractive major for many students these days. A UCLA survey in 2016 found that only 4.6% of the nation's incoming freshmen indicated interest in pursing an education degree. That number was as high as 9.9% in 2005 and was 7.2% in 2010. Something's happened to discourage people from the profession of teaching. If we knew what it was, we could bottle it and solve the issue.
But many states are taking measures to counteract the shortages, despite some of the impediments such as reduced budgets that often restrict offers of higher wages.
A Wall Street Journal article at the start of the 2017-18 school year outlined some of the steps being taken. For example:
Minnesota, Arizona, Illinois and Utah made their teacher licensing processes easier, and Connecticut later followed suit. Arizona and Utah are giving districts more free reign in determining teacher certification.
Kansas eliminated a requirement for teachers to take preparatory program before receiving a license. They just have to have a bachelor's degree, relevant experience and a job offer from a school district.
Oklahoma and California are issuing more emergency teaching certificates.
Many of the new licensing procedures take into account work experience as part of the certification process. Minnesota's new four-tiered program, for example, includes one tier in which a teacher can be certified with a bachelor's degree (or even an associate's degree) and five years of relevant work experience. Of course, the district must demonstrate it couldn't find a higher-tier teacher.
But overcoming the gap can also be done at the district level. Here are some resources that can help find and keep good educators.
Offer a collaborative dynamic.
Take advantage of some of the relaxed certification procedures to filled niche gaps. Need a middle school journalism teacher? Find out if that ex-newspaper reporter in the neighborhood is interested.
Many of the issues facing teacher shortages are political and will take negotiations to solve. Universities and society must realize and emphasize the significant impact that educators make, and help create a more attractive career path for each generation. Until then, school districts will have to take advantage of creative resources to fill the gaps.