A Mobile Church App for Online Giving and Much More!
In addition to making online giving for churches easy, Vanco Mobile powers the most essential functions of each church's ministries. Here are just a few of the amazing features that will increase engagement and donations:
Airtight Security
Our mobile app for churches is your fortress of data protection, rigorously adhering to PCI Level 1 compliance — the very same standard embraced by credit card titans like Visa, Mastercard and Discover. Your church leaders and members can be confident in secure donations.
Recurring Gifts
With our mobile app for church online donations, generosity soars through strategic recurring giving prompts. Experience the transformation of intentional giving and cultivate a stronger, more giving community through regular donations.
Event Registration and Management
Access elite event registration and management capabilities. Keep a tight grip on church event attendance, volunteers and RSVPs to ensure your events run like well-oiled machines.
Customizations
Personalize a mobile app to fit your church's brand without needing coding expertise or a steep price tag! Customize it by adding your church's name and logo and fine-tune the colors to match your brand.
Integrations
Vanco Mobile has an extensive integration network, connecting with 60+ church management software systems used by congregations worldwide.
Processing Fee Offsets
Empower givers to contribute a bit extra to cover transaction costs and ensure more funds directly support your church's mission.
Giving History
Centralize giving history in one accessible location, making it effortless for members to track and review their contributions and gift details.
Small Group Management
Strengthen in-person or virtual small groups, including prayer groups, committees and Bible studies. Make them easy by facilitating conversations and having one central place to share information and events.
Private Chats
Facilitate intimate one-on-one communications between members and your pastor and among groups, creating a community that forms strong connections and bonds that extend far beyond Sunday services.
Group Chats
Vanco Mobile isn't just a mobile giving app. You can ignite lively group chats that stimulate discussions and bring your community closer with our online mobile app. It's the perfect platform for enhancing the sense of community and building connections.
24/7 Access to Give and Engage
Offer members around-the-clock access to give and engage, extending the reach of your church well beyond your building and services.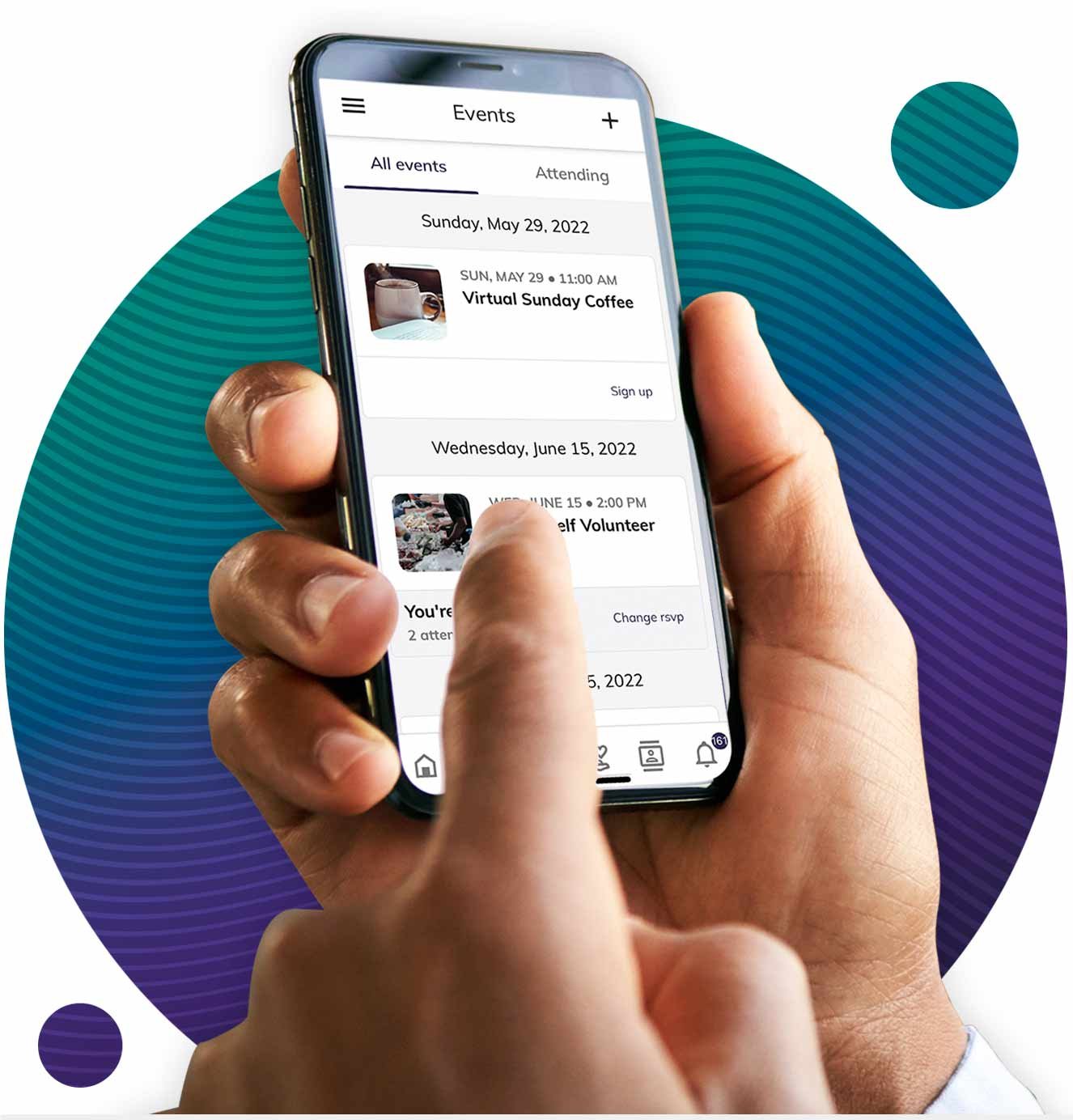 Zero Monthly Fees for Using the Mobile App
We are committed to ensuring every church has access to the tools they need for community engagement and growth. Therefore, Vanco's Grow plan does not include a monthly fee for app usage.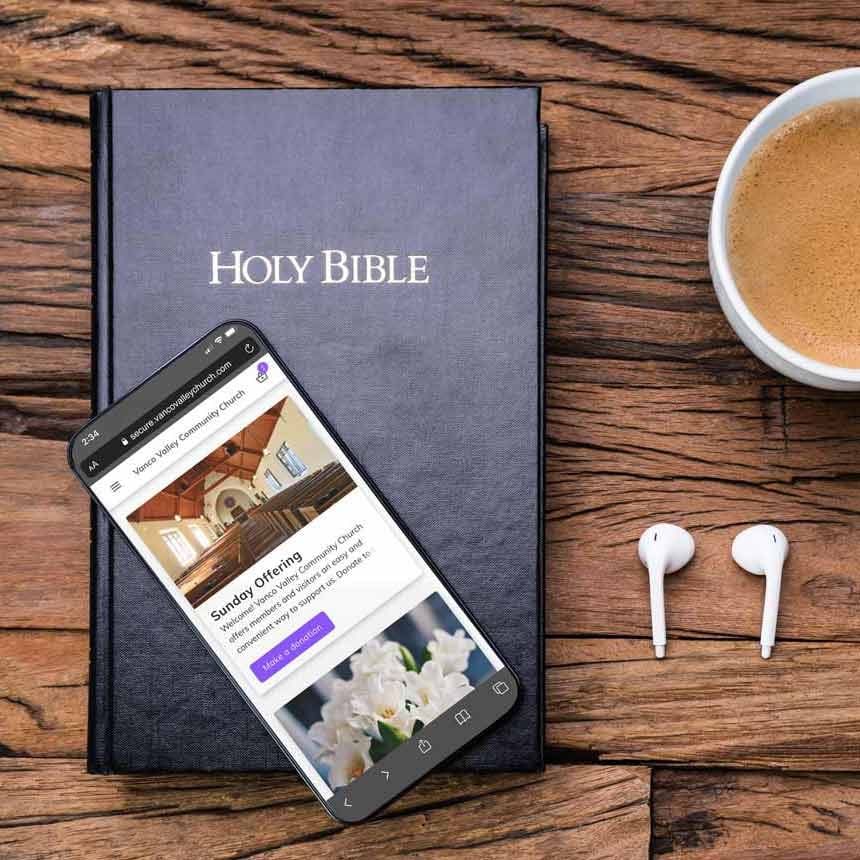 It Only Takes a Moment and Just Three Steps for Church Members to Set Up an Account!
Find their church by name, location or invite code.
Donate!
Resounding Praise for Vanco's Online Giving and Engagement Tools
Listen to the harmonious stories of success from churches like yours in the 25,000-strong Vanco community.
Pastor Peter
Why Pastor Peter and tens of thousands of other pastors choose Vanco!
Treasurer Dave
Church finance staff and volunteers love Vanco. Watch now to see why!
Recorder Colin
An increase in dues of 75%! Watch the video to get the full story.
CFO Heidi
Hear from our client about the power of storytelling.

Recognized as a leader by G2!

Sarah M. Loves Vanco
"Using Vanco has been such a great experience for our church. I'm grateful for their service."

Trusted by more than 25,000+ churches.
Maximize Generosity and Engagement, Onsite and Online, Anytime!
With our mobile giving app, your congregation can make a positive impact, whether they're attending a service in person or participating remotely, ensuring the spirit of generosity is accessible to all.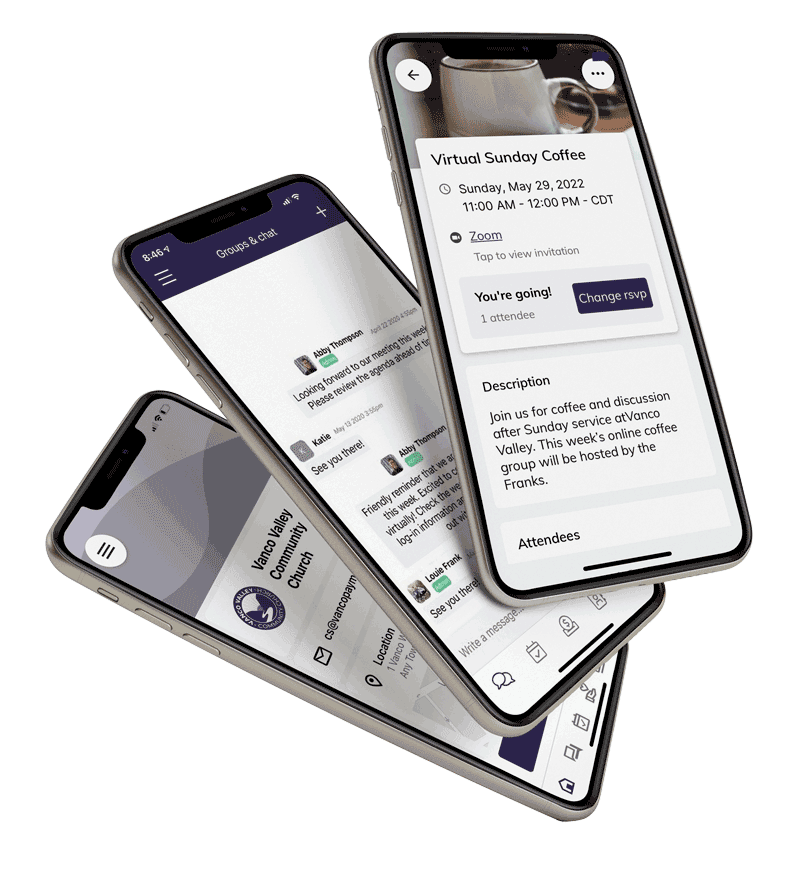 FAQs for Mobile Giving for Churches
There are several, including...

Convenience: Mobile giving offers the convenience of anytime, anywhere donations.
Increased giving: Studies show higher donations due to easy giving options, including one-time or recurring gifts.
Financial transparency: It provides clear donation records and enhances financial transparency.
Reduced admin work: The donation process is automated, reducing administrative burdens.
Engagement: Mobile giving offers additional features for member engagement.
Consistency: It ensures consistent financial support, even remotely.
Immediate Receipts: Donors receive instant digital receipts for tax purposes.

To maximize adoption, we've seen these strategies work the best...

Education and promotion: Promote mobile giving benefits through sermons and materials.
Ease of use: Demonstrate app simplicity through tutorials or demonstrations.
Incentives: Consider rewards for early or consistent app users.
Transparency: Communicate how contributions impact the church's mission.
Text reminders: Send reminders about mobile giving options.
Mobile-friendly services: Integrate mobile options into events and services.
Feedback and support: Provide responsive customer support.
Set giving goals: Create campaigns to inspire participation.
Testimonials: Share member success stories for all your digital giving tools.
Integration with events: Make the app central to event participation.

We provide simple setup instructions and training materials to help members get started using the app, and we enable staff with tools and support to help members when they need assistance.

Vanco offers free materials to clients, such as...

How to Give with the Vanco Mobile App

No. We don't believe it's right to lock a church into a long-term commitment. At Vanco, we intend to earn your continued business, which is why all our giving plans are month to month.

We provide free hands-on implementation support 24/7, and free training materials to get your staff and members up and running.

The mobile app is just one tool Vanco offers to help churches inspire greater generosity. Vanco's comprehensive giving solution includes text giving, in-stream giving for online worship, mobile card readers for in-person payments, online giving pages and an online event ticketing platform.

At Vanco, we take protecting the security and privacy of all our clients' payment information and transactions very seriously. That's why we use the most advanced technology and follow the most stringent guidelines to ensure all your information remains secure. And to ensure we adapt seamlessly to any changes in technology or the business environment, we review our security measures and policies continuously. You should always be able to trust how your information is handled by your payment solutions provider.

As part of our comprehensive security and privacy safeguards, we only collect the pertinent information required to perform payment transactions. That information is stored in Vanco's secure system and only used when needed to fulfill requests and services.

Yes. Receipts and donor management information is available through your reports, which you can use to provide tax receipts. You can track and report on online donations and tithing online.

Yes. Vanco Mobile's giving data is routed the same way as other giving channels, such as your website. After that, it can be used for reporting and routed to your church management software.
The latest guides you need to increase online giving and engage your members
Sorry!
No items currently match your filtering criteria.