PowerSchool's one-stop shop for school payments
Vanco is proud to be a PowerSchool Premium Partner. Vanco Education's software reduces work for staff members and allows parents to easily make any school-related payments online, all by simply logging into their existing PowerSchool account. Make life easier for staff and parents using our Single Sign-On (SSO) feature and by using any of your favorite PowerSchool configurations.
Demo
Vanco is a PowerSchool Premium Partner offering multiple configuration options to streamline procedures and meet your district's needs. We also support payment integrations for PowerSchool Ecollect, eSchoolPlus, Enrollment and Enrollment Express and more. You can choose the payment experience that best fits your district:
Vanco's Fee Management PowerSchool Plugin is an embeddable plugin that lets district families pay assigned fees without ever leaving their PowerSchool account.
Vanco's RevTrak Web Store is another option to offer a single location for all school payments: assigned fees, optional fees, food service, event tickets, spirit wear and more.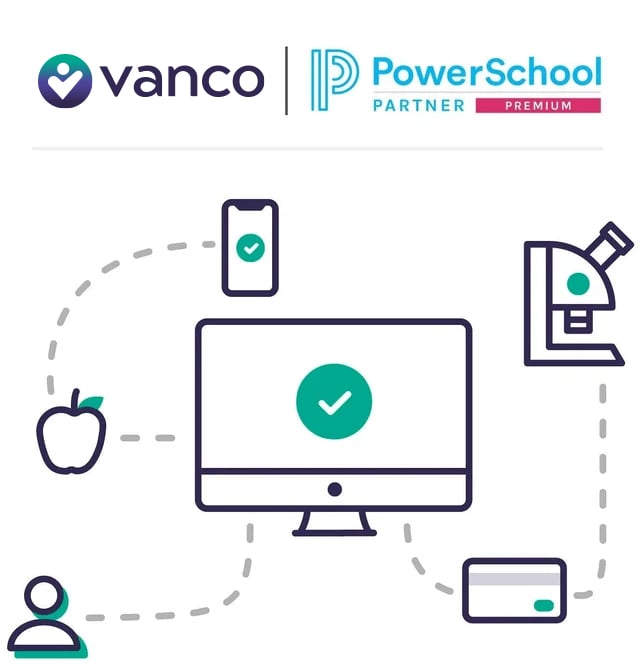 Take back your time with Vanco and PowerSchool
We know you're time-starved. That's why we partnered with PowerSchool to automate time-consuming procedures, including reconciliation, reporting and more. Use our real-time API integrations and give yourself time to focus on your district's needs.
Streamline payments
Easily collect all student payments from your existing PowerSchool account.
Easily track revenue streams
Connect as many deposit accounts as you need to avoid manual transfers and co-mingling of funds.
Integrate with existing infrastructure
We fit seamlessly with most PowerSchool configurations. Select the tools that are best for your district's needs.
Seamless Single Sign-On Experience
We know you're busy. That's why we provide admins and parents with a Single Sign-On (SSO) experience that can be set up in under 2 minutes.
Learn why Waukee Community School District loves Vanco
It's just such a smooth seamless relationship. I wish all of our vendor relationships were this easy, and I've said that before, and I mean that."
Sarah Kautz
CFO for Waukee Community School
District in Iowa
Request a demo
Vanco helps over a thousand school districts across the country streamline and automate their finances, saving staff hundreds of hours of work each year. Request a demo and see how much time you can save now!