Skyward's one-stop shop for school payments
Vanco is proud to be Skyward's Preferred Payment Processor. Streamline online payment processing with Vanco. Our real-time Skyward Qmlativ and Skyward Family Access integrations reduce work for staff members by collecting all K-12 payments in one central place and allows parents to easily make any school-related payments by logging into their Skyward account.
Demo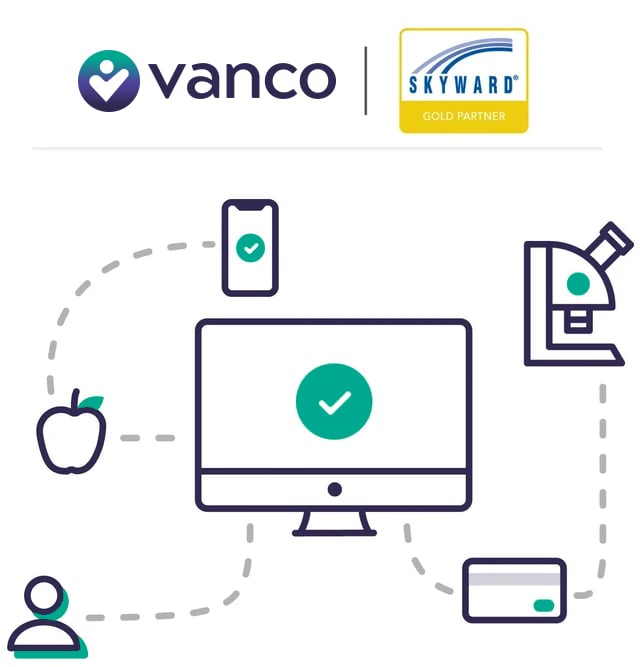 Take back your time with Vanco and Skyward
By integrating Skyward with a Vanco Web Store, schools can assign and collect all fees in one central location. Save hours of work on time-consuming procedures, including reconciliation, reporting and more, giving you more time to focus on your district's needs.
Streamline payments
Easily collect all student payments and have parents pay from their existing Skyward account.
Real-time API integrations
Integrations with many Skyward configurations, including Qmlativ and Skyward Family Access.
Rapid reconciliation
Reduce manual entry and reconcile payments in 10 minutes or less.
Track revenue streams
Easily track end-to-end payment activity.
Consolidate reporting
Track all fees and payments in Vanco's Web Store and Skyward Finance.
Why Skyward's Lake Central School Corporation loves Vanco's Web Store
As far as building things in Vanco's Web Store, there is really nothing we could not collect money for, which is huge... It's just very easy. It's good for our kids, it's good for our parents, it just made everything that much easier."
Theresa Scherzinger
Database & State Reporting Administrator
Lake Central School Corporation, IN
Request a demo
Vanco helps over a thousand school districts across the country streamline and automate their finances, saving staff hundreds of hours of work each year. Request a demo and see how much time you can save now!
Other ways to help your school administration
Additional Updates and Resources
Sorry!
No items currently match your filtering criteria.