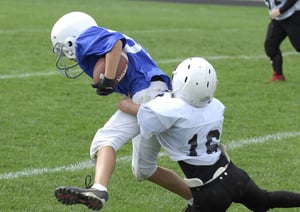 Safety in youth football has been in the forefront of the minds of those involved in the sport for quite some time. Participation has declined 19% from 2011 to 2016, and even some NFL players have said they would encourage their children not to play football because of the safety issue.
With brain trauma and reduced participation, youth football organizations have been tweaking the way the game is played and equipment manufacturers are offering helmets and pads designed to maximize protection. In these ways, they hope that added safety will help stem participation.
USA Football, a governing body for youth football nationwide, has led the charge on many initiatives, partnering with the NFL and other organizations. Several years ago, it established the Heads Up program (with NFL funding), which trains coaches, game officials and administrators the techniques players should learn to avoid trauma.
Among the lessons is how to block and tackle without using the head (tackle the torso and keep the head up) and the importance of hydration, among other things. Pop Warner Football, a organizer of youth football leagues, went farther and established rules forbidding head-on-head tackling and blocking and reducing the time in which full-contact practice is permitted.
A New York Times story reported that concussions were reduced by 34% in games and 29% in practices, with total number of injuries down by 76%. Analysis of the study found that the effects primarily came from the Pop Warner leagues that adopted the more stringent measures.
USA Football, hoping to reduce serious injuries even more, is changing the way the youth game is played by testing the Rookie Tackle system in 2017. While leagues are given many options within the framework, Rookie Tackle rules include:
Fewer players on the field (six, seven or eight per team).
Smaller fields: 40 yards long, compared to the traditional 100 yards.
No place-kicking or punting.
No three-point stances.
Players regularly rotate positions.
Rookie Tackle is designed as a bridge between flag football and the full 11-on-11 game, much like youth baseball's progression from T-ball, to coach-pitch, to player-pitch. No specific age range is mandated, but most of the pilot programs offered it for second- to fifth-graders, leaving one year of full-force football before the player begins playing for their school.
Also to help make youth football safer, equipment manufacturers such as Riddell and Schutt have redesigned their products to offer more enhanced protection. Schutt's top-of-the-line helmet now features titanium facemasks to lighten the pressure on necks. Startup manufacturer Vicis was the talk of the NFL equipment world last year, with its soft-shell helmet concept. The company hopes to offer a youth version in the near future.
These manufacturers are also upgrading padding to provide better fit and increase the area the pads protect. Even with these additions, the equipment is lighter in weight than their predecessors, which improves flexibility and allows many body parts to move more freely and react to hits naturally.
Of course, none of these modifications will totally eliminate head trauma and other injuries resulting from playing the game. But efforts are being made to make the sport safer, which makes youth football organizations hopeful that participation will increase
There will always be people who are determined to bury youth football and will use injury data to make their case. They have succeeded to the point that some high schools are turning to flag football instead of tackle – which would be blasphemy to those in football-mad states such as Texas.
But football is still the most popular sport in the United States, and better safety will make the game more accessible.