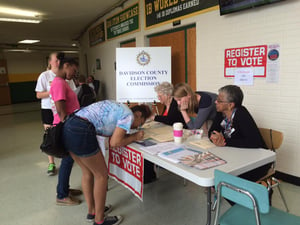 As the 2018 midterm elections draw closer, voter-registration drives are operating at full steam. One of the prime targets of these initiative are 18-year-olds eligible to vote for the first time – and schools have moved to the front lines in the effort to encourage students to vote.
"High school voter registration programs, a national trend with broad support, are an effective means of increasing electoral participation among young people," the introduction to a Project Vote report on high-school registration programs stated. It found that 38 states had some sort of voter registration program.
Programs in 26 states were created by voluntary initiative, Project Vote found, with state law mandating such registration drives in 16 states. School district/board policy was a factor in three states and city or county laws mandate the effort in the District of Columbia. (Two or more factors are in play in some states, making the sum more than 38.)
Largely through volunteer efforts and school cooperation, registration drives were ongoing during the school year. In one instance, Benjamin Holtzman, a student member on the Los Angeles Unified School district board, helped plan drives at 30 public, private and charter schools in April, according to EdSource.
In Oregon, parent Ali King – after seeing how excited her daughter and a friend were when they filled out their own voter registration forms – organized a one-hour registration drive at her daughter's school. King wrote on nwgsd.org that the school's principal, leadership teacher and some leadership students were "very helpful and extremely excited to have this opportunity for their school."
That drive netted 82 registrations, and 20 other registration forms went home with students to fill out later. King has taken her initiative farther, and compiled a High School Voter Registration Drive Toolkit, which, though geared toward Oregon, can be adapted to other states with some research into particular state laws.
Among the 38 states offering high school voter registration drives, schools in 27 states make registration forms available; those 21 states make the forms available in the classroom and schools in 12 states offer registration during assemblies, Project Vote reported. Most of the states offering registration in school also include voter education within their programs, either during class time, during assemblies or via an on-campus information table.
One growing trend toward registering young voters is pre-registration for teens before their 18th birthday. To date, 22 states and DC offer early sign-up, according to the National Council of State Legislatures. Most of the states list the registration as "pending" or "pre-registered." The voter is automatically added to the voter roll upon the 18th birthday.
14 entities offer pre-registration at age 16: California, Colorado, Delaware, DC, Florida, Hawaii, Louisiana, Maryland, Massachusetts, North Carolina, Rhode Island, Utah and Washington.
Maine, Nevada, New Jersey and West Virginia pre-register voters as early as their 17th Iowa will join this group in 2019.
Alaska allows registration within 90 days of the 18th
17½-year-olds can register in Georgia, Iowa and Missouri provided they turn 18 by the next election.
Texans can register two months before their 18th
Many other states allow 17-year-olds to register as long as they are 18 by the next election.
16 states allow 17-year-olds to vote in a congressional primary if they will be 18 by the time of the corresponding general election. Some 24 states allow them to vote in presidential primaries or caucuses.
Pre-registering 16- and 17-year-olds was one of the goals in Holtzman's Los Angeles school registration drive. Farther north, the San Francisco Unified School District's Student Advisory Council and the municipal San Francisco Youth Commission organized efforts to encourage pre-registration. The California Secretary of State's office said in February that 88,700 16- and 17-year-olds pre-registered in that state – 23,768 of them in Los Angeles County.
The 2018 midterm elections will take place Nov. 6 nationwide. Most states accept new registrations until one month before the elections, so schools desiring to hold registration drives after the new academic year begins will have at least one month to conduct them.