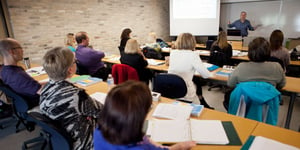 Teachers in K-12 schools and at colleges and universities are highly trained individuals. Educators at elementary and secondary campuses not only must have mastered the subject(s) they teach, but must have taken extensive coursework in teaching methods and child behavior. College professors must have advanced degrees in their fields and participate in scholarly research.
What often flies under the radar, however, is that adult-education instructors also must be well-credentialed in their specialties. Sure, the guy teaching bridge at the local Learning Annex may be just an advanced hobbyist. But when it comes to career training and English as a Second Language (ESL), programs are looking for educators that meet – and hopefully exceed – some minimum requirements.
At the very least, a bachelor's degree in education or in the field of specialty is needed, though some programs are starting to accept certificates that take less time to earn, according to a piece on the Top Education Degrees website. There are, in fact, specific courses and degrees – primarily associate and bachelor degrees – in adult education for those wishing to make a career out of teaching older learners. Those jobs, by the way, offer an average annual salary of $52,800, with 7% job growth anticipated through 2024, according to the U.S. Bureau of Labor Statistics (BLS).
The courses in these degree programs include core subject areas and adult psychology.
Those who just want to teach adults part-time, for example in career training programs, should also gather at least three to five years of work experience in the field they wish to teach, according to the Teacher Certification Degrees website.
The requirements to teach ESL programs are slightly more stringent. Most states require instructors to have earned a degree in education or adult education, and many of them also mandate teacher licensure, according to Study.com. Further, some schools/programs would prefer their ESL instructors to have received master's degrees.
Even after the degrees are earned and adult-education teachers are in front of classrooms, there is still much to be learned. That's why many adult-ed teachers take professional development courses – just as do their K-12 colleagues.
Beyond the degrees and coursework, there's one thing adult-ed programs look for in their teachers, especially their ESL teachers: teaching experience. Of course, successful completion of an education degree requires a semester or two of student teaching, but having held down a full-time teaching job does have its advantages, the BLS found. For career training teachers, industry experience is among the necessary credentials.
Adult education teaching jobs are open to people who want to approach it from all levels of intensity. The person who just wants to share a hobby can do so with little time commitment beyond showing up for class and preparing lessons. But those who feel a true calling for teaching adult learners can follow their passion through career training or ESL courses.