Coming up with daycare menu ideas that are nutritious and tasty while accommodating food allergies is a lot of work. But a daycare menu can make managing a daycare business much easier for providers.
With more than 5 million children suffering from food allergies in the United States, now it's even more critical to have a menu plan in place. All this can be overwhelming, especially when you're busy trying to create a great learning environment for children.
If this sounds familiar, it's time to give yourself some breathing space. Preparing a suitable daycare food menu is not as complicated as it seems. It will allow you to step away to focus on other important aspects of your business like marketing and lead management.
Here is a full list of daycare menu ideas for breakfast, lunch and snacks to help you get started with meal planning. You'll find a variety of breakfast, lunch and snack suggestions that can be added to your current menu. If you're starting from scratch, check out our sample five-week meal plan that you can test and customize.
And, if you're looking for design help on building your daycare menus, we have you covered with our free editable templates.
Download Our Daycare Menu Template for Free!
| | |
| --- | --- |
| Weekly Daycare Menu | Monthly Daycare Menu |
| | |
Daycare Menu Ideas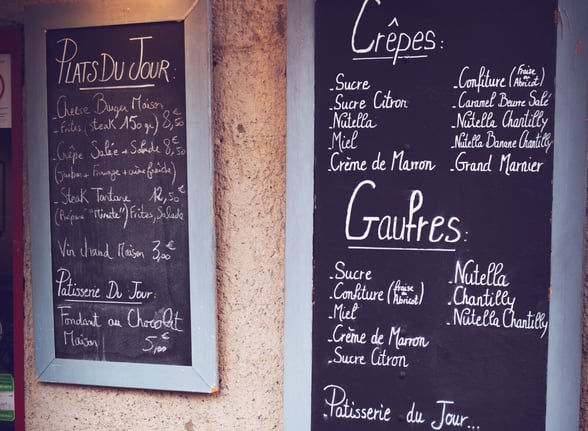 Here are some wonderful recipes that can be served for children from ages 1 to 5 years old. These recipes are suitable for serving large or small groups of children and should be easy to adjust.
Are you are applying for meal reimbursement through the CACFP? You will find that these meals also follow their nutrition standards. You can find the standards on the USDA website.
Daycare Breakfast Ideas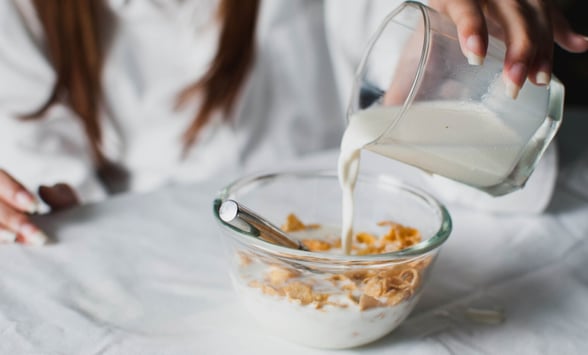 Some daycare breakfast ideas in this section are more time-consuming. Keep that in mind and try to match meals that need more prep time with ones that need less cooking.
For example, if you choose a breakfast item that needs a lot of prep, then choose a lunch item that's easier to make. This will cut down on the amount of time needed to prepare the menu.
A breakfast meal must include these three items:
Grains (can substitute with meat or plant protein three days a week)

Fruit or vegetables

Milk
Below are some daycare menu ideas for breakfast that you can mix and match when you start making your plan. Remember to include a glass of milk with the meal. See the detailed section on Milk Alternatives after these breakfast ideas.
1) Porridge Oats With Blueberries and Milk
Porridge Oats With Blueberries and Milk: Easy to cook in one batch and it makes a warming breakfast. Top with blueberries or serve fruit on the side.
2) Banana Bread With Apple Slices and Dairy/Plant-Based Milk
A sweet treat for breakfast that's also nutritious. Get the recipe here.
3) Brown/White Toast With Milk and a Banana
Simple to prepare; toasting the bread helps to reduce both fat and gluten content.
4)
Corn Flakes With Milk and Berry Mix
Cornflakes are quick to serve for breakfast. Throw in a mix of strawberries and blueberries with your choice of milk for a complete breakfast.
5)
Cream of Wheat Porridge With Peaches
Cream of Wheat porridge is made from wheat and should be avoided for children that have a gluten intolerance.
6)
Sweet Muffins With a Glass of Milk and Sliced Oranges
Here is an easy recipe for apple muffins that you can make in advance.
7)
Breakfast Bagels With Grapes
Serve the bagels sliced and toasted with some butter or cream cheese.
8)
Savory Muffins With Apricots
Try making zucchini or corn muffins. Both are packed with vegetables for some extra nutrients.
9)
Granola With Yogurt and Mixed Berries
A great mix of fiber and protein, granola is very nutrient-dense and a tasty option to serve alongside fruit and yogurt.
10)
French Toast With Strawberries
This eggy bread is tasty and simple to make. Just whisk some eggs, soak the bread and fry on both sides. Serve with butter, syrup or condensed milk and fruits.
11)
Fluffy Pancakes Topped With Bananas or Blueberries
When it comes to favorite daycare menu ideas, pancakes are a hit. They're simple to make and delicious.
12)
Warmed Biscuits With Honeydew Melon
These are savory scones made from buttermilk. Serve them warm with some butter.
13)
Rice Cakes With Nut Butter, Milk and Sliced Apples
A great gluten-free option. Serve the rice with some nut butter and fruit.
14)
Waffles Topped With Mixed Berries
Ready-made waffles are quick to prepare in a toaster. Just add some fruits a serve with a glass of milk.
15)
English Muffins With Scrambled Eggs and Nectarines
For a vegan alternative, swap the scrambled eggs with some baked beans.
16)
With Raspberries and Milk
Warm the croissants in the oven to crispen up the outsides. Serve with some antioxidant-boosting berries like blueberries and raspberries.
17)
Wheaties Cereal With Milk and Banana Slices
Children can be picky eaters, so having a few different types of cereals can help mix things up throughout the week.
18)
Cheesy Muffins With Cherry Tomatoes
Give the children a boost of vitamin C with some cherry tomatoes. No chopping is needed and you can prepare the muffins in advance. Warm them up in the morning to serve.
19)
Cinnamon Rolls With Milk and Fresh Apple Juice
If time permits, baking fresh rolls will give you more control over the sugar content, making them a tasty and healthy breakfast treat. Try this easy recipe from Tasty and skip the icing to make them extra healthy.
20)
Cheese Toasties With Milk and Fresh Cranberry Juice
Feel free to swap for a different type of juice, but avoid orange juice. This can cause stomach upsets when mixed with milk as the acidity will make the milk coagulate.
21)
Scrambled Eggs, Brown/White Toast With Chopped Pears
Scrambled eggs make a great breakfast for kids if you're looking for protein-rich daycare menu ideas. Swap the toast for some rice crackers as a gluten-free alternative. Or try using gluten-free bread if that's available in the grocery store.
For serving size, check out this guide from the USDA. It will give you an idea of how much of each food should be served to young children (between 1 to 5 years of age).
Milk Alternatives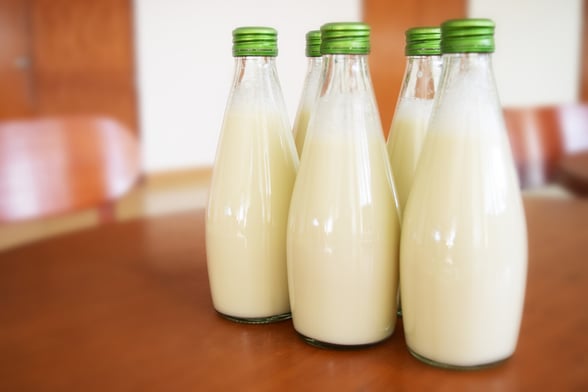 Whether it's lactose-free or plant-based milk, here are some options that will suit most dietary needs.
22)
Dairy Milk
A great source of protein, dairy milk also contains plenty of vitamins and minerals. Its high calcium content is great for maintaining healthy bones in growing children.
23)
Soy Milk
An excellent high-protein plant-based alternative. Soy milk contains anti-inflammatory properties and is high in potassium.
24)
Almond Milk
Another plant-based milk, almond milk is especially high in vitamin E and important for healthy skin.
25)
Oat Milk
Oat milk is a good alternative to almond and soy milk. It's mild tasting and it contains plenty of calcium for strong bones and teeth.
26)
Coconut Milk
A good alternative for children that are lactose intolerant or have allergies to soy and nuts.
27)
Hemp Milk
Hemp milk is a good source of vitamins and minerals like phosphorus and zinc. These nutrients are essential for releasing energy in food and improving the body's immune system.
Daycare Lunch Menu Ideas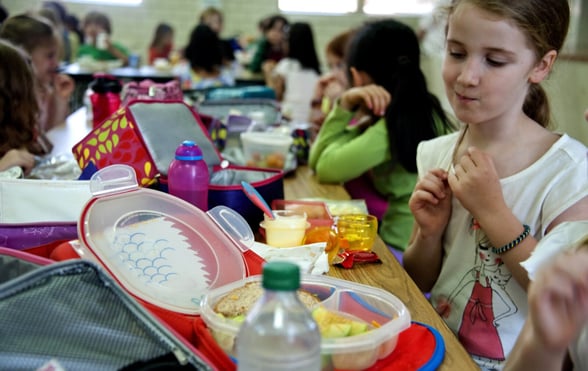 Lunch is one of the most important meals of the day and for some children, it may be their main meal. It's important to make sure that the daycare lunch menu ideas contain a good mixture of different foods to ensure a well-balanced diet.
At lunchtime, there are some food items you should avoid, like deep-fried foods, candy, salty chips and soft drinks that are high in sugar.
Use aromatic spices like basil, oregano, cinnamon and cumin in small amounts. Stay clear of spicy aromatics like cayenne pepper and black pepper as they can irritate little stomachs.
A balanced lunch menu should have all of these items:
Meat or plant-based protein

Two varieties of vegetables or a mix of fruit and vegetable

One grain-based food

Dairy or plant-based milk
Choose from this selection of healthy balanced daycare menu ideas (include milk with each meal).
28)
Spiced Chicken Drumsticks With Mashed Potato, Carrots and Peas
Chicken drumsticks make great finger food, great for batch cooking and one of the easiest daycare lunch menu ideas.
29)
Ground Chicken Fritters, Cucumber Tomato Salad and a Bread Roll
Fritters are easy to make and fun for children to eat. They also make a very cost-effective lunch option.
30) Turkey
Meatballs With Tomato Sauce and Spaghetti
Ground turkey meat is low in fat and high in protein, making it a fantastic choice for a healthy lunch.
31)
Stir-Fried Chicken Strips With Broccoli, Cauliflower and Rice
A stir fry is a quick one-pan dish. Just prep the vegetables in advance then cook them together with the chicken strips. Serve with some boiled rice.
32)
Beef Burger With Lettuce and Sliced Tomatoes
Ground beef is versatile, packed with protein and burgers are an all-time favorite.
33)
Meatball Sub With a Tangy Marinara Sauce and a Side Salad
Meatball marinara is another one-pot wonder. After frying the meatballs, add them to the marinara sauce to let the flavors soak in. Slice the sub rolls and serve with some mixed lettuce.
34) Ham
and Cheese Sandwich With Lettuce and Cherry Tomatoes
Sandwiches are great when time is limited. They're also perfect for slipping in some greens like lettuce for children that don't like salad.
35)
Turkey Sandwich With Stuffing and Roasted Vegetables
Use some seasonal flavors in this protein-filled sandwich. Add some mayonnaise to keep the sandwich moist and the layers together.
36)
Swedish Meatballs, Cranberry Sauce, Carrots, Broccoli and Mashed Potato
A Swedish classic made world-famous by IKEA. If preferred, you can serve this with some crusty bread instead of mashed potato.
37)
Beef Stroganoff Served Over Egg Noodles With Braised Red Cabbage
A popular dish made of stir-fried beef strips in a creamy gravy with mushrooms. This is a one-pot dish that you can keep warm on the stovetop until serving time.
38)
Fish Sticks With Sweet Potato Fries and Coleslaw
Need some daycare menu ideas that are both high in protein and omega-3? Fish sticks are a great choice to help lower blood fats and reduce the inflammation of blood vessels.
39)
Grilled Cheese Toast With Tomato Soup and Cucumber Sticks
While cheese is high in protein, it can also be unhealthy depending on the type of cheese. Good healthy options include feta, Swiss, cheddar and cottage cheese.
40)
Bean Burger Patty With Chunky Oven Fries and Coleslaw
Make the coleslaw vegan by swapping the mayonnaise with an oil dressing. For a fruity dressing, mix together olive oil, orange juice and some cumin.
41)
Chickpea Spinach Curry With Rice and Buttered Broccoli
An easy and fast curry that's full of hidden fruits and vegetables like tomatoes, onions and garlic.
42)
Tofu Stir Fry With Green Beans, Mushrooms and Egg-Fried Rice
Make the rice vegan and switch the egg with a mix of onions and green onions, which are aromatic and boost the immune system.
Daycare Snack Menu Ideas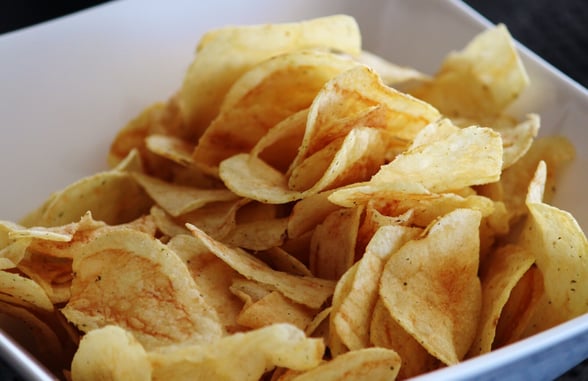 Following the CACFP guidelines for snacks, daycare snack menu ideas should include two items from these categories:
Milk

Meat or meat alternative

Vegetables

Fruit

Grains
Download a PDF of portion sizes per child according to their age group from the USDA website. There are many combinations of daycare menu ideas, but here are some to get you started.
43)
Carrot Sticks and Hummus
Carrots make a sweet and crunchy snack. They're especially high in vitamin A, which is important for eyesight and cell division in the body.
44)
Rice Crackers With Peanut Butter
Peanut butter is high in both protein and healthy nutrients like iron, magnesium and vitamin B6.
45)
Cheddar Cheese on Whole Wheat Crackers
Whole wheat crackers are high in fiber, which makes them a great snack for regulating blood sugar.
46)
Plain Yogurt With Berries
Plain yogurt is high in protein and low in sugar. It also contains live cultures, which can help improve the gut microbiome.
47)
Cheese Sticks With Guacamole Dip
Cheese sticks are great if you want to offer a warm snack. Serve them with guacamole, which is full of healthy fats.
48)
White Bean Dip With Cucumber Sticks
White bean dip is a great alternative to hummus that's high in protein and suitable for vegans too.
49)
Boiled Eggs With Cherry Tomatoes
Simple and quick to make. A fun variation is pickling the eggs with beet juice and vinegar for a tangy and colorful snack.
50)
Milk and Oatmeal Raisin Cookies
Make the oatmeal raisin cookies gluten-free by subbing the wheat flour with a gluten-free version.
51)
Cheese Sticks and Red Pepper Dip
Ready-made puff pastry makes this snack easy and quick to put together.
52)
Yogurt and Peaches in Fruit Juice
Use canned fruit to cut the preparation time needed. Just make sure to get peaches packed in fruit juice, which are much healthier.
53)
Soft Pretzels and Zucchini Hummus
Soft and chewy, baked pretzels only take 30 minutes to make. They contain important B vitamins like niacin, riboflavin and thiamine.
54)
Milk and Fruit, Vegetable, Toast, Cheese or Crackers
If you're low on ideas, just pair milk with one of the items listed for an energy-boosting snack.
Food Allergies and Intolerances
Coming up with daycare menu ideas can take a lot of work, and catering to special dietary requirements can complicate things further. Here are some food substitutes you can incorporate into your menu planning if needed.
55)
Egg Substitutes
For recipes like muffins and banana cakes, swap each egg with a small banana or use self-rising flour as an alternative.
You can also use flaxseed as a substitute for eggs in baking. All you need to do to make one flaxseed egg is to use a tablespoon of ground flaxseeds mixed with three tablespoons of water. Wait a few minutes to let it thicken up.
Flaxseed eggs also work well for burger patties and sausage meat. You can also skip the egg entirely by keeping the meat well chilled so it binds together easily.
56)
Wheat Flour Substitutes
A lot of gluten-free recipes call for coconut flour, which can often be expensive and difficult to get in some areas.
A good substitute for general baking is rice flour and cornmeal flour. Try mixing half of each type of flour to replace the wheat flour for recipes like pastries and cakes.
57)
Lactose-Free
For plant-based milk, you can refer to the list of milk in the Daycare Breakfast Ideas section. Or you can use lactose-free milk if that's available at your local grocery store.
While it's best to avoid cheese, there are some varieties that have very low lactose. It's a good idea to check this with the parent or guardian, as some children that are lactose intolerant might be able to eat cheeses like cheddar.
Five Weeks of Menu Ideas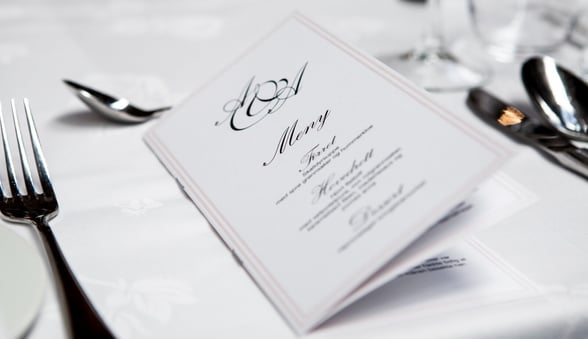 Here are some sample daycare menu ideas including breakfast, lunch and two daycare snack menu ideas. Having a meal plan in place will give your staff a simple set of guidelines to follow and take the stress away.
Week 1 Breakfast
Cream of Wheat, peaches and milk

Wheaties, apples and milk

Pancakes, strawberries and milk

Brown toast, grapes and milk

Waffles, banana slices and milk
Week 1 Morning Snack
Carrot sticks and hummus dip

Yogurt and raspberries

Cheese and crackers

Rice crackers with peanut butter

Cucumber sticks and cottage cheese
Week 1 Lunch
Ham and cheese sandwich, lettuce and tomato salad and milk

Chicken drumsticks, carrots and peas, mashed potato and milk

Fish sticks, sweet potato fries, coleslaw and milk

Beef stroganoff, egg noodles, red cabbage and milk

Bean burger, chunky fries, vegan coleslaw and milk
Week 1 Afternoon Snack
Cheese sticks and guacamole dip

Milk and oatmeal raisin cookies

Boiled egg and cherry tomatoes

Milk and apple muffins

Yogurt and blueberries
Week 2 Breakfast
Porridge oats, blueberries and milk

Banana bread, apple slices and milk

Bagels, grapes and milk

Zucchini muffins, apricots and milk

Granola, berries and milk
Week 2 Morning Snack
Cheese sticks and red pepper dip

Milk and oatmeal raisin cookies

Milk and whole wheat crackers

Rice crackers and almond nut butter

Yogurt and apricots
Week 2 Lunch
Swedish meatballs, carrots, broccoli, mashed potato and milk

Turkey sandwich with stuffing, roasted vegetable and milk

Chickpea spinach curry, rice, broccoli and milk

Sausage patty, potato salad, greens, pineapple and milk

Ground chicken fritters, cucumber tomato salad, bread and milk
Week 2 Afternoon Snack
Milk and toast

Corn muffin and milk

Yogurt and berries

Pretzels and hummus

Cucumber sticks and white bean dip
Week 3 Breakfast
Cinnamon rolls, milk and apple juice

Croissants, raspberries and milk

Cheesy muffins, mixed fruits and milk

Scrambled eggs, tomatoes and milk

Biscuits, honeydew melon and milk
Week 3 Morning Snack
Milk and cheese sticks

Carrots and cottage cheese

Boiled eggs and crackers

Cheese and toast

Rice crackers and peanut butter
Week 3 Lunch
Turkey meatballs, tomato sauce, spaghetti and milk

Stir-fried chicken, broccoli, cauliflower, rice and milk

Ham and cheese sandwich, lettuce, cherry tomatoes and milk

Beef stroganoff, egg noodles, red cabbage and milk

Bean burger, chunky fries and vegan coleslaw
Week 3 Afternoon Snack
Blueberry muffin and a banana

Milk and apple slices

Cheese and crackers

Boiled egg and pepper sticks

Milk and peaches
Week 4 Breakfast
English muffins, nectarines and milk

French toast, strawberries and milk

Corn flakes, milk and mixed berries

Toast, banana and milk

Pancakes, raspberries and milk
Week 4 Morning Snack
Rice crackers and peanut butter

Pickled eggs and cherry tomatoes

Milk and oatmeal raisin cookies

Cheese sticks and hummus

Pretzels and sour cream
Week 4 Lunch
Fish sticks, sweet potato fries, coleslaw and milk

Tofu stir-fry, green beans, mushrooms, egg-fried rice and milk

Grilled cheese toast, tomato soup, cucumber sticks and milk

Ground chicken fritters, cucumber tomato salad, bread roll and milk

Beef burger, lettuce, tomatoes and milk
Week 4 Afternoon Snack
Milk and pears

Carrot sticks and hummus

Boiled egg and spinach

Banana muffin and milk

Cheese sticks and guacamole dip
Week 5 Breakfast
Pancakes, bananas and milk

Porridge oats, apricots and milk

Apple muffins, oranges and milk

French toast, blueberries and milk

Cinnamon rolls, apple juice and milk
Week 5 Morning Snack
Crackers and nut butter

Pita bread and hummus

Pickled eggs and cucumber sticks

Milk and peach slices

Milk and crackers
Week 5 Lunch
Meatball marinara sub, lettuce and milk

Chicken drumsticks, carrots, peas, mashed potato and milk

Beef stroganoff, egg noodles, red cabbage and milk

Chickpea spinach curry, rice, broccoli and milk

Fish sticks, sweet potato fries, coleslaw and milk
Week 5 Afternoon Snack
Waffles and milk

Blueberry muffin and milk

Cucumber sticks and white bean dip

Milk and oatmeal raisin cookies

Boiled egg and cherry tomatoes
Get 70+ Editable Daycare Templates for Almost Every Situation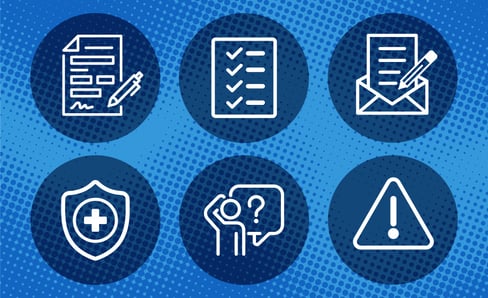 We know daycare providers like yourself are busy. That's why we made dozens of templates to help you manage the various aspects of your organization. From billing and invoicing to marketing materials, we have it all. Download all 70 today!