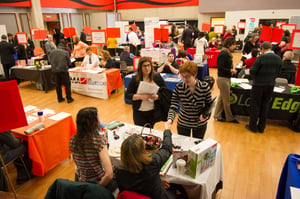 Adult education received a boost from Congress in late July, when both the House of Representatives and the Senate approved, in bipartisan fashion, the reauthorization of the Carl D. Perkins Career and Technical Education Act.
The reauthorization had the general support of both the Trump administration and congressional Democrats, though disagreements about various clauses delayed passage. The bill authorizes about $1.2 billion in federal funding per year for career/technical education (CTE) programs at the secondary, postsecondary and adult-education levels.
Basically, according to an analysis from the National Alliance for Partnerships in Equity, the act:
Builds on the efforts of states and localities to develop challenging academic standards.
Promotes the development of services and activities that integrate academic, career and technical instruction and link secondary and post-secondary education.
Increases state and local flexibility in providing CTE services and activities.
Publishes research and assists with professional and technical development to improve CTE.
"I applaud Congress for its tremendous, bipartisan effort to reauthorize the Carl D. Perkins Career and Technical Education Act," President Donald Trump said in a statement. "…By enacting it into law, we will continue to prepare students for today's constantly shifting job market, and we will help employers find the workers they need to compete."
Though not many changes were made from when the legislation was initially passed in 1998 and reauthorized in 2006, the reauthorization does incorporate many aspects of the Career and Technical Education for Adult Learners Act, introduced by Sen. Jack Reed (D-R.I.). Among those are, according to a statement from Reed's office:
Encourage programs funded under the Perkins Act to align with adult education programs and industry sector partnerships.
Include adult education providers and the state director of adult education in the development of state CTE plans.
Enable adult education providers that offer CTE programs to participate in consortia that are eligible to receive funds under the Perkins Act.
Expand the special populations to be served to include low-income, out-of-work and underemployed adults.
Place a great emphasis on work experiences as part of CTE programs.
"Enhancing adult education helps American workers learn new skills and improve their lives," Reed said. "It can help lift individuals, communities, and businesses together because the more skilled workers who are out there earning a paycheck, the more demand there is for the goods and services our businesses offer."
Reed's adult-education provisions were not the only priority included in the Perkins Act reauthorization. A bipartisan team of Sen. Orrin Hatch (R-Utah), Sen. Tammy Baldwin (D-Wis.) and Rep. Jared Polis (D-Colo.) championed permitting "open educational resources (OER) as an allowable use of funds for state and local CTE activities," according to SPARC. OER are freely accessible, openly licensed text, media and other digital assets, according to Wikipedia.
The House had passed a reauthorization bill in 2017, but it stalled in the Senate. Finally, Sens. Mike Enzi (R-Wyo.) and Bob Casey (D-Pa.) negotiated an agreement. Among the other changes from the original legislation is the elimination of a negotiation process concerning goals between the states and the education secretary. Now, states will set the goals, and the secretary would approve them if they meet the bill's requirements.
Also, states would have to build their CTE plans around core indicators, such as high school graduation rates and the percentage of CTE students who enroll in post-secondary programs. States would have to track CTE performance of students by subgroup and meet goals in two years, instead of the previous bill's maximum of three years.
Reauthorization of the Perkins Act allows for more state control of career and technical education programs and for adult education to become a full partner in CTE.