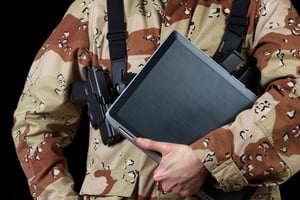 Veterans returning from duty to private life are often ready to continue their education . Many enlisted for military service straight out of high school. However, once they leave the service, they might not have the resources necessary to go back to school.
There are several government and private initiatives out there to help veterans get the training they need to join the civilian workforce in a variety of industries.
First, of course, is the GI Bill, which originated after World War II. The first version of the law provided low-interest home loans, minimal unemployment insurance, and education assistance. The latest edition, known as the Post 9/11 GI Bill, provides education assistance from 40%-100% of the full tuition set by the state, depending on how long after 9/11 the veteran served.
Those who served for 3 years or more after Sept. 11, 2001, are eligible for 100% tuition reimbursement. Minimum eligibility is 90 days served.
Certain states have their own programs. Texas offers up to 150 hours of tuition expenses – usually more than enough to earn a degree, through The Hazelwood Act. The exemption is good only at public universities and colleges within the state. Veterans must have served at least 181 days of active duty and received an honorable discharge.
One nice part of The Hazelwood Act is that veterans can transfer unused exemptions to their children. Those who were killed or disabled while on duty can also transfer benefits to their spouse and children.
Connecticut and Massachusetts are among the other states that waive tuition for veterans who qualify.
Then, there are programs that train veterans to work in certain fields. For example, Troops to Teachers is an organization that helps veterans get the education they need to become K-12 teachers. Veterans who retired from active duty since October 1999 can receive up to $10,000 in bonuses or stipends to pay for their education. The organization also offers grants to state education agencies and schools to reduce the cost of tuition to veterans seeking education degrees.
Troops to Teachers also provides help with teacher certification and placement of veterans within schools. The latter includes a job database that features current job openings, and positions that will be filled by the start of the next academic year.
Another program is Helmets to Hardhats, the mission of which is to train veterans to find work in the construction industry.
The need for trained construction workers is especially high now. A shortage of these employees is causing construction delays in a variety of real-estate sectors, especially in the wake of the devastation caused by Hurricanes Harvey, Irma, and Maria in late summer 2017.
Training is the primary focus of Helmets to Hardhats - "Most career opportunities offered by the program are connected to a federally approved apprenticeship training program." The trade organization provides the free training, and no previous experience is necessary.
The website has a job board and provides a page for veterans to submit their resumes. It also has a Wounded Warriors program that provides additional help to disabled veterans who wish to work in the building and construction trades.
Finally, the Veterans Education Project in New England isn't so much geared toward educating veterans as it is toward enabling veterans to educate others. Those who served tell their stories to share advice to veterans just ending their active duty. They speak at high schools, youth programs, and various conferences.
Between public and private initiatives, retiring veterans have a wealth of educational opportunities at their fingertips.