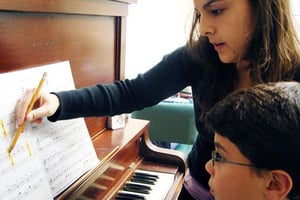 The drive to be Number One has become more and more ingrained in the lives of children – or more likely, their parents. It's gotten to the point that many believe that winning defines the child and, by extension, the helicopter parent.
Whether it's becoming a champion tennis player, the MVP of Little League, or a music prodigy, more parents are sending their young talents for private lessons to further enhance their skills and make Johnny better than Bobby down the block.
But sticking to the youth sports example, sometimes it just isn't enough for a young athlete to play on a rec-league team. AAU basketball programs and select soccer and baseball leagues eye outstanding prospects at an early age, and many parents are encouraging their children to improve their skills and level of play so they are among those selected. Even afterward, the club is just part of the springboard that will propel the youngster to that Division I college scholarship or a Premier League developmental squad.
So the kids take private lessons in their sport, maybe from one of their club coaches or from an outsider – at a cost of $50 per half-hour or more. That would be $2,500 for 50 lessons per year, on top of team fees, equipment and travel costs.
Of course, private music lessons have been around for generations, and can cost anywhere from $15-$60 for 30 minutes, depending on the location. But a current trend is focusing on competition to encourage the students to ramp up their practicing.
"Studio recitals and workshops can do the job, but nothing works quite so dramatically as a competition," writes music teacher Philip Johnston. "Choose your prizes, create the pre-competition hype…then light and stand well back. If you get this right, you're in for some serious practice fireworks."
Band students will often take private lessons – perhaps from their band director or teacher – to help them get top scores in their individual competitions or earn all-region or all-state classifications. The same for choir students, who often add theater and/or dance training to the mix to make them a double- or triple-threat. Music students who participate in competitions, as solo players or in groups, gain valuable performance experience that is hard to come by through any other route.
Competitions don't benefit just the student. They can be an effective vehicle for community-based organizations and individual teachers to gain exposure to a wider audience, showcase their talented student base, and solidify a position as both embedded in the community and excelling at the craft of teaching.
It's true that sometimes private lessons can be overkill. An unbylined piece on tennisconsult.com stated that one private lesson every week – or even every two weeks – is perfect. The rest of the time spent in the sport should be used playing actual matches.
Sports lessons, with the physical stamina and group dynamic, can be looked at differently. "It's just overkill to do anything more until you reach the higher stages of the game (i.e., professional tennis)," the piece stated. "Players need to be playing 8-10 sets a week – that's where the real learning happens."
The same philosophy can be applied to any other activity: Take what you've learned in your lesson and use it on the field or stage. That's the whole point of private lessons: to learn advanced skills you can immediately put into practice. Your basketball instructor may have just taught you to do a crossover dribble, but if you don't try it in a game, the lesson has gone for naught.