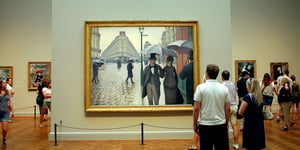 The vibrancy of an arts community doesn't have to be limited by a city's size. For example, just because Fredericksburg, Texas (population 26,521) doesn't have the world-class symphony orchestras, operas, art museums, theaters, or the sheer number and variety of music venues as a New York or San Francisco, doesn't mean its arts scene isn't bustling.
Each year, Southern Methodist University's National Center for Arts Research (NCAR) develops its own Top 40 list of the most vibrant arts communities in the United States – 20 large metros, 10 medium communities and 10 small communities.
While arts are largely subjective and ranking arts vibrancy lends itself to bias, NCAR's formula for its annual rankings attempts to be as objective as possible. The breakdown is as follows, with all measures per capita:
Arts providers: 45%
Independent artists
Arts and culture employees
Arts and cultural organizations
Arts, culture and entertainment firms
Arts dollars: 45%
Program revenue
Contributed revenue
Total expenses
Total compensation
Government support: 10%
State arts dollars
State arts grants
Federal arts dollars
Federal arts grants
Among major metros, San Francisco edged out New York for the No. 1 spot in the 2018 rankings, largely on the basis of its reduced expenses and higher compensation. The NCAR was complimentary of the City by the Bay's clustering of arts organizations in various neighborhoods, its variety of museums and its wide collection of permanent public art. Also of note, San Francisco's "active and thriving alternative/counterculture arts community."
New York may have been denied the top spot by the fact that the Arts Dollars categories do not include for-profit art galleries or Broadway theaters – so those $300 "Hamilton" tickets don't count. NCAR praises New York for having "almost every genre of art imaginable…ranging from small, local organizations, to large, internationally known icons." The study also compliments the city's neighborhoods, including the Yiddish theaters on the Lower East Side, hip hop and graffiti in The Bronx, the jazz of Harlem, pop art and punk in the East Village and the like.
Rounding out the top 20 are Washington, D.C.; Nashville, which has become much more than country music; Minneapolis-St. Paul; Los Angeles; Boston; Silver Spring, Md.; Northern New Jersey; Seattle; Philadelphia; Portland, Ore.; suburban Boston; New Orleans; Oakland; Chicago; Rochester, N.Y.; Austin; Cleveland; and Pittsburgh.
No one should be surprised that Santa Fe, N.M., sits at the top of the medium-community list. Long a haven for artists, writers and designers, and a destination for art and opera lovers during festival seasons, Santa Fe is an oasis among the tumbleweeds of the Southwest. Among medium-sized communities, Santa Fe ranked first for Government Support, third for Arts Dollars and fifth for Arts Providers – with seven art museums and 150 galleries.
Coming in second was the Berkshire County area of Western Massachusetts, which features art galleries and a myriad of outdoor performance facilities – including Tanglewood, the summer home of the Boston Symphony Orchestra. One of its cities, Great Barrington, was also home to the famous Alice's Restaurant, immortalized in song by favorite son Arlo Guthrie.
Also making the top 10 were San Rafael, Calif.; Traverse City, Mich.; Asheville, N.C.; Omaha, Neb.; Durham, N.C.; Rapid City, S.D.; Burlington, Vt.; and Missoula, Mont.
They may be known as the "Flyover States," but the five most vibrant small arts communities all provide good reasons to land. The Vail Valley in Colorado, at No. 1, features two facilities at which world class performances and concerts take place. The Vail Jazz Festival and the Beaver Creek Arts Festival attract tourists, and it wouldn't be Vail without the Colorado Ski and Snowboard Museum and Hall of Fame.
No. 2 Jackson, Wyo., which stretches into Idaho, is home to the National Museum of Wildlife Art and also the Center for the Arts, which houses 19 local, regional and statewide arts and cultural organizations. The region also hosts an annual classical music festival and a wildlife film festival.
Summit Park, Utah, is home to the Sundance Film Festival; Hood River, Ore., is a haven for individual artists; and Durango, Colo., is the center for art of the Old West.
Rounding out the top 10 were Key West, Fla.; Bennington, Vt.; Oneonta, N.Y.; Juneau, Alaska; and the aforementioned Fredericksburg, Texas, with its Western art and music scene.
The moral of the story is, wherever one goes and whatever town one lands in, a good arts scene is there to be found. It just takes a dedicated community.