The truth is, you weren't inspired to become a church leader or clergy because you enjoy asking for offerings. That's just part of the job. And, that's why asking for gifts can make many church leaders uneasy.
To relieve the discomfort that comes from having to make requests for donations, we've created six Easter letter samples. Within the examples below, you'll find Easter offering letters for every purpose: letters sent through the mail and email, a note to put above your church giving kiosk and church bulletin messages.

Easter Letter Sample
Aside from asking from the pulpit, one of the best and easiest ways to increase giving is sending a letter. Before Easter Sunday arrives, adapt this sample Easter letter and send it to your church members.
[Insert Date]
Dear Friend,
We hope you are having a wonderful Easter season! Ahead of the holiday, we're getting in touch to thank you for the support you've given the church. We hope we can continue to depend on your generous gifts this Easter and beyond.
It's through your contributions that we're able to carry on important work both spiritually and in our community. For your convenience, we offer electronic giving options that allow you to contribute when and how you prefer. You don't have to remember cash or your checkbook to support our special Easter fund, which helps us collect donations for [YOUR CAUSE].
Show your support this Easter and try one of our eGiving options. You'll find that [ONLINE GIVING, TEXT AND KIOSK] are secure, fast and easy to use. Thank you for all you do to support our mission during Easter and throughout the year.
Sincerely,
[Pastor's or clergy's name]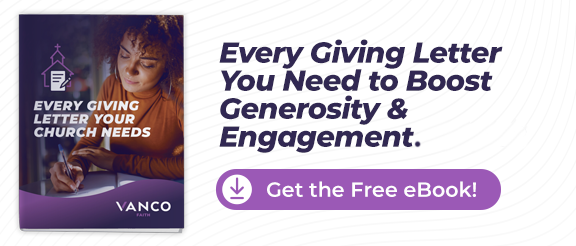 Easter Email Template
Many of the members of your congregation would prefer an email over an Easter offering letter sent through the mail. Here's a concise message to send to your church's email list.
Subject Line: Option A) Can We Count on Your Support This Easter?
Option B) Without You, We Would Never Be Able to Make Such an Impact.
Preview Text: An important message from [your church name].
Hello [Name],
This is [name and title] from [CHURCH NAME] wishing you a happy Easter! As you know, we have a special Easter service planned for [DATE AND TIME OF EASTER SERVICE].
We thank you for your support. It is only through your contributions that we're able to deliver services and carry out the important spiritual work within the church and beyond.
We hope we can continue to count on your generous support this Easter. Because of you, we're able to make the impact we do.
Looking to support us in our mission?
Click here [link to giving page] to contribute
Thank you so much for supporting [Church Name].
Sincerely,
[Pastor's or clergy's name]
A Note for Your Church Kiosk
Because you'll have an uptick in visitors on Easter Sunday, promoting your church kiosk (if you have one) is a good idea. A church kiosk is great for visitors travelling without cash or their checkbook.
Place this offering note in your church lobby and next to your machine to inspire generosity from newcomers and members.
It's important to know that we can depend on financial support from our members during the Easter season. One way you can help is by making a contribution through the giving kiosk in our lobby.
Kiosk giving makes it fast and easy to donate to the church. Just swipe your credit or debit card, choose the fund where you want your gift directed, then enter the amount you want to give. The Kiosk can immediately print or email a receipt for you.
Thank you for all you do to support our mission during Easter and throughout the year!
Easter Bulletin Messages
Because you likely don't have the email and mailing address of everyone attending Easter services, an offering letter won't reach everyone. That's why we've included a few offering messages to include within your church bulletin.
Bulletin Message 1 – Online Giving
Make Easter offerings online during the Easter season! It is encouraging to see both new and familiar faces at our worship services. Throughout the year, many of you already support the congregation with your time, talent and financial contributions. But greater seasonal participation is always welcome. We encourage you to consider our electronic giving program. We accept donations made from your bank account and credit card or debit cards. It takes just a few minutes to set up a recurring giving plan. To learn more, visit the church website [INSERT WEBSITE] to locate the donation link. We thank you for supporting our mission!
Bulletin Message 2 – Message for
Visitors
We realize most people don't carry cash or a checkbook anymore, and that makes it hard to make an Easter offering for those of you who are visiting. To make it easy for both visitors and members to express their generosity, we offer multiple ways to give. You'll find that eGiving options such as [TEXT AND KIOSK] are secure, fast and easy to use. [INCLUDE APPOROPRIATE TEXT FOR YOUR CHURCH: With text giving, members and guests can contribute to our Easter fund or any other funds by simply sending a text message. With kiosk giving, it's easy to support the church's ministry using simple touchscreen technology and a secure, encrypted card reader.] No matter how you choose to give, donations received through these convenient options will help us sustain our programs this Easter and throughout the year. Thank you for all you do to support our mission.
Bulletin Message 3 –A Special Message for Visitors
During the Easter season, we extend a warm welcome not only to our current congregation members, but also to their families and friends and our visitors. If you are not making regular contributions, we hope that that you will consider making a gift to the support of our congregation. Your donations now and throughout the year are needed and greatly appreciated. Consider our eGiving options. The church offers convenient eGiving options that allow you to make a one-time gift or establish scheduled, recurring gifts. We highly recommend eGiving for visitors and others who wish to express their support during at Easter.
Bulletin Message 4 – Encouraging Members to Give
Online During Church
It's easy to forget cash or your checkbook. But, even if you've left both behind you can still support the church's mission this Easter and beyond by using your smartphone. Simply visit the church's donation page [Your Church's Donation page] and donate using your credit or debit card.
Thank you again for your continued support of our church. Your spirited generosity ensures we can carry our message and our works throughout our community and beyond for years to come!
A Final Important Note: Saying Thanks
One of the most important things you can do is to reach out directly to thank your givers – and not just a blanket statement delivered from the pulpit or a generic letter in the mail. (Read some of our useful insights about thanking donors in this article covering generosity.)
One of our creative ideas presented in this article is hosting a thank-a-thon once a year. For this thank-a-thon, you'll need a bank of volunteers to make phone calls to everyone who gave at least $100. No volunteer should know what amount a person has given. The goal is to express thanks in a genuine way that makes the giver feel appreciated for their contributions.
Regardless of what format you use to thank your donors, give it a personal touch. It is these genuine communications that make members, infrequent guests and visitors feel good about your congregation and offering their time and resources.
Looking for More Tools and Techniques to Increase Giving for Easter Sunday?
Easter is one of the most important days for the financial stewardship of your church. We know this because we've worked with tens of thousands of churches over two decades. We have seen time and time again that Easter is responsible for one of the biggest donation spikes of the year.
Use stewardship strategies that have been tested by thousands of churches. Get our free Easter giving kit complete with...
Key

guidelines,

Promotional materials

And everything you'll need to have a successful Easter stewardship campaign

.