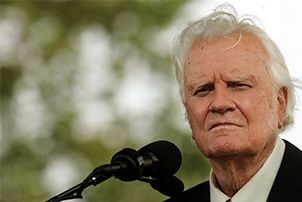 At Vanco, our goal is to enable churches to allow church-goers to give how and when they want. With that, we hope to support givers and the faith-based organizations they rely on for comfort, friendship, inspiration, and support, to continue to thrive for years to come. As we are coming up on our 20th Anniversary, it is inspiring to think on the life and history of a man who at the age of 28 started his innovative crusades to become one of the most influential faith teachers of the 20th and 21st centuries.
Brand longevity can be an interesting topic during a time when innovative brands can rise to fame in less than 2 years and expire in less than 10. Such parameters make it all the more intriguing to understand what makes a faith-based brand like "Billy Graham" grow and thrive for almost one hundred years. With that in mind, we hope that you find the following history of Billy Graham's life as an innovative marketing and branding genus, inspiring to you too.
Inspiration
Billy Graham became committed to his mission after he was moved by a travelling preacher at the age of 16. From then on, he was unwavering in his focus. After he graduated from Bible College, he went on to work as the first representative for Youth for Christ, and then started the Billy Graham crusades. In over 58 years, Billy Graham conducted 417 crusades in 185 countries reaching over 210 Million people. No one can deny that this was a man driven by faith to promote a highly inspired brand.
Opportunity
Billy had his first breakthrough when he won over Newspaper mogul William Randolph Hearst who admired his conservative values and unwavering focus. He became nationally recognized for the first time when he brought his crusades to New York City and then Los Angeles. Billy Graham has stated that he was never moved by fame and riches, which seems to have drawn the famous and influential to him all the more. The transparency and authenticity of his brand was ahead of its time by almost 70 years and opened up endless opportunities for ongoing promotion.
Innovation
In 1957, Broadcast TV was a highly innovative device for delivering messages. Billy Graham's passion and presence made for an enthralling viewing experience for the users of the new medium. After his first broadcast, the Billy Graham Evangelistic Association understood the revolutionary power of broadcast TV and decided then to embrace every communication innovation available to them from there on. Essentially, the organization became the first major brand to embrace event technology to "spread the word" of their brand. Never under-estimate the consistent and dedicated use of new technologies to jump start a brand in any industry and take it to internationally recognizable levels.
Focus
Billy became the author of over 33 books and the producer of so many evangelical movies, films, videos and television programs that his brand became recognized as a world leader in the faith-based industry. From day one, Billy Graham had a clear understanding of his brand and message. He simplified his message so that followers could easily embrace it. He also recognized and emphasized what made his brand unique – his booming voice, authoritative presentation and magnified arm movements. For over 70 years, the brand's focus has remained consistent and clear – to spread the word of God.
Do you recognize your church as a brand? Are you a leader for your church marketing? We would like to hear your thoughts, and the innovative techniques you have used in promoting your brand.