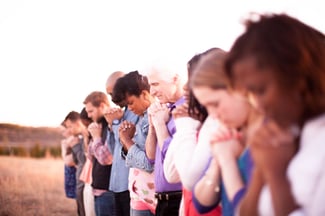 With Easter just over four weeks away, you're planning for your best-attended services of the year. Since average church attendance is nearly 50 percent higher on Easter than any other time, your biggest concern may be crowd control. But here's something else to think about at Easter and any time of year – are you making it easy for occasional churchgoers to give to your church?

People who typically attend services once or twice a year are more likely to give, and also tend to give more compared to regular members, so it's important to offer infrequent contributors several options for giving. These questions may start a conversation about giving methods that best suit your church:
• How can I make it easy for an occasional visitor to give to the church?
• If I rely on traditional giving, is my staff equipped to handle the extra cash and checks?
• What if our members and visitors want to give, but come to services without cash or their checkbooks?
You also need to think about your pre-Easter special appeals. You may be collecting for Easter lilies or flower memorials, or funds for buying baskets for children in need. Since most people don't carry cash or a checkbook, kiosk or text giving can be an easy, convenient way for members and visitors to contribute to these special programs.
Kiosk and text giving are great answers to all of these questions. These fast, popular and versatile solutions can help you close the giving gap during one of your biggest giving opportunities of the year. Here's why:
Speed. Give by Kiosk and Give by Text empower self-service giving. With Give by Kiosk, members can quickly contribute to the fund of their choice through the kiosk's easy-to-use iPad touchscreen. And, Give by Text is the fastest way to give allowing members to contribute by simply sending a text message. Plus, your staff will receive one detailed contribution report instead of a pile of cash and checks that may take hours to process.
Choice. Our survey of more than 1,000 U.S. churchgoers found only 6 to 7 percent who said their churches offered kiosk or text giving, but almost four times as many said they would prefer to donate through these electronic options.
Versatility. Vanco's kiosk and text solutions integrate with many of the most popular church management software systems. If you already import Vanco transactions into your church management software, you can also import kiosk and text donations.
Security. Vanco's Give by Kiosk and Give by Text meet the industry's highest standards for privacy and security. If you want your kiosk in a fixed location, it's easy to secure to a table or another fixed object. The kiosk's iPad is protected in a locked enclosure, so churches don't have to worry that it can be removed from the base. It can also be password protected so its use is limited to the Give by Kiosk app. You don't have to worry that unattended kiosks can be used for things like gaming or sending texts.
Looking for More Tools to Increase Giving This Easter?
Use stewardship strategies that have been tested by thousands of churches. Get our free Easter giving kit complete with...
Key guidelines,
Promotional materials
And everything you'll need to have a successful Easter stewardship campaign.