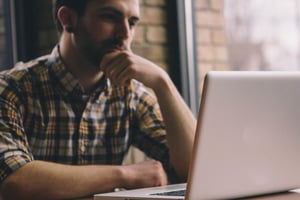 With so many of your members online, every ministry should know how to set up donations for a church website. Here are just a few of the biggest reasons to get started with online donations.
1) Encourage Recurring Donations
If you choose a quality church giving platform for your website, you'll be able to grow recurring giving. eGiving apps and website donation pages should have a checkbox allowing each individual to make their donation permanent. This might seem like a small detail, but each individual commitment to give during monthly or weekly intervals helps financial stewardship. Monthly givers alone donate 440% more over their lifetimes than one-time donors (Philanthropy News Digest). If you want to learn more about why recurring giving is the single most important thing your church can do to improve financial stewardship, check out this article.

2) Virtual Church Worship
Since COVID-19, many churches have adopted virtual worship, and it has been well received by congregations across the country. Because virtual worship has proven itself as a useful tool for many ministries, it's not likely to go away.
With the rise of virtual worship, online donation pages have become instrumental for financial stewardship. Because there's no way to pass the offering plate during virtual service, churches need donation pages to let members express their generosity from home or while they are away.
3) Break the Summer Giving Slump
During most summers, your church members will be away from services more often than usual. Unfortunately, they often take their donations with them. Make sure donations don't take a vacation. Offer online giving to help your ministry beat the summer giving slump for good.
Step 1. Choosing a Church Giving Platform for Your Website
To power your online donations, you'll need to make sure you have the software to run it. Don't worry. The process is very simple. It usually involves a link that points individuals to your software, which will handle the rest. Your only step involves taking the link your provider gives you and placing it onto your website.
Alternatively, you can also receive a bit of embedded code to drop onto your website. This will allow you to place the online giving form directly on a page of your choosing. Then your members don't even need to leave the website.
When looking for a church giving platform for your website, you'll want to look for a few key features, including...
Responsive Donation Pages
Ideally your website should be responsive, which will let any embedded giving form adjust to your givers' devices. If you don't have a responsive website or point your givers to leave online donations through Facebook or your Google Maps listing, your church giving platform should offer a responsive donation page. It's important because over 60% of searches online are conducted with a mobile device (The Search Review). If the giving experience is only designed for desktop users, your mobile users will be in for a frustrating experience.
One of the easiest ways to increase online giving is by making donations simple. We've seen this proven again and again in our work with tens of thousands of churches. That's why we built our church giving platform to better accommodate giving with a streamlined user experience. Whatever solution you choose, make sure it doesn't require too many steps. It should be so easy-to-use that even your least tech-savvy members can enter their donation quickly.
Encourages Recurring Giving
We already mentioned it, but we're repeating it because it is so important. In just one year, recurring givers donate 42% more than one-time givers (Network for Good).
One feature that encourages eGiving adoption among church leaders and users is an offset fee. The offset fee allows members to give a little extra to cover the cost of the convenience of eGiving. This feature helps members who want easy and flexible options to donate their desired amount to the church. It also helps churches grow giving.
Step 2. Optimizing the Location of Your Calls to Donate
The second step to setting up donations for your church's website takes a little bit of thought. But it's worth it. Having the right calls to actions in the perfect places will encourage web visitors to give. By following a few guidelines, you'll be able to better guide your members to donating.
It is important online visitors can give from any page they visit. That's why many church websites include a button on many pages and include a link to donate somewhere within the website's main menu.
Buttons naturally grab a visitor's focus. Including donation buttons that lead to your giving page will help keep giving top of mind for your members.
Make Calls to Donate Stand Out
By bolding calls to donate or using contrasting colors for any giving buttons, you steer your web visitors' eyes to where they can give. This keeps giving in their thoughts when they check out your website.
Embedded forms simplify the giving experience. Although you don't want to do this for every page, it can help members visiting key pages become donors. When you embed a form to your website, givers can donate without having to click to a new page.
Step 3. Send Thanks
This is the easiest step to setting up donations for a church website. Your online giving platform should send automated thank you messages to givers letting them know their gift had been received. However, you don't want to leave it entirely up to machines to express your church's generosity for the gifts you receive. Once every quarter, your pastor or leadership team should be reaching out by phone or handwritten thank you note with a more personal message.
Step 4. Promote Your Giving Page
Don't rely on your website to do all the legwork. Promote your donations by...
Asking Through Social Media
Don't overlook your social media accounts and the cool features available to you. Most churches have a Facebook page. With a donation button at the top of their Facebook page, churches can bring requests for donations front and center. All you need to do is link the button to your donation page. The steps are simple. Get started here.
Since COVID-19, many churches have grown their use of YouTube recordings. Churches can easily encourage donations by linking to the donations link within the description of the video. Simply follow these steps to add a donation link in.
A direct address for donations can do wonders, especially when most of your members have their smartphones with them. Encourage members to donate right away from their smartphones to ensure they remember to give.
Placing calls to donate in slideshows that play in a loop on church monitors, in bulletins or posters can all boost donations. And, a lot of these materials already have been made. Vanco has dozens of samples and templates in its launch materials to help.
What If You Don't Have a Website?
Having a website isn't necessary to donate online. Here are just a few simple solutions that can help.
Share the Link for Your Donation Page
As we mentioned earlier, you can post your link to donate on social media, such as YouTube and Facebook, but many livestreaming tools also allow you to easily insert a donation link. You can also place the link within printed promotional materials, such as posters and bulletins, for members to use during church services.
Several churches use an online app to facilitate donations. These apps allow members or guests to quickly set up one-time or recurring gifts from smartphones. For example, the Vanco Mobile app only requires the giver to go through three easy steps to donate.
Gone are the days that you need to pay somebody to build your website. With Squarespace and Wix, you can easily build a fully functioning website within an hour even if you have no experience.
If you're looking to explore either of these options a little more closely, here are two videos that show simplicity of creating webpages on these platforms. It doesn't cost anything to set up the website. The only costs are hosting and the domain, which is around $20 a month depending upon the plan you choose.
Looking for More Info on eGiving?
We have hundreds of resources guiding churches on the best strategies and techniques to boost eGiving, including stock messages and promotional materials your church can use to get started. You can also receive a free virtual ministry eBook by clicking the button below.