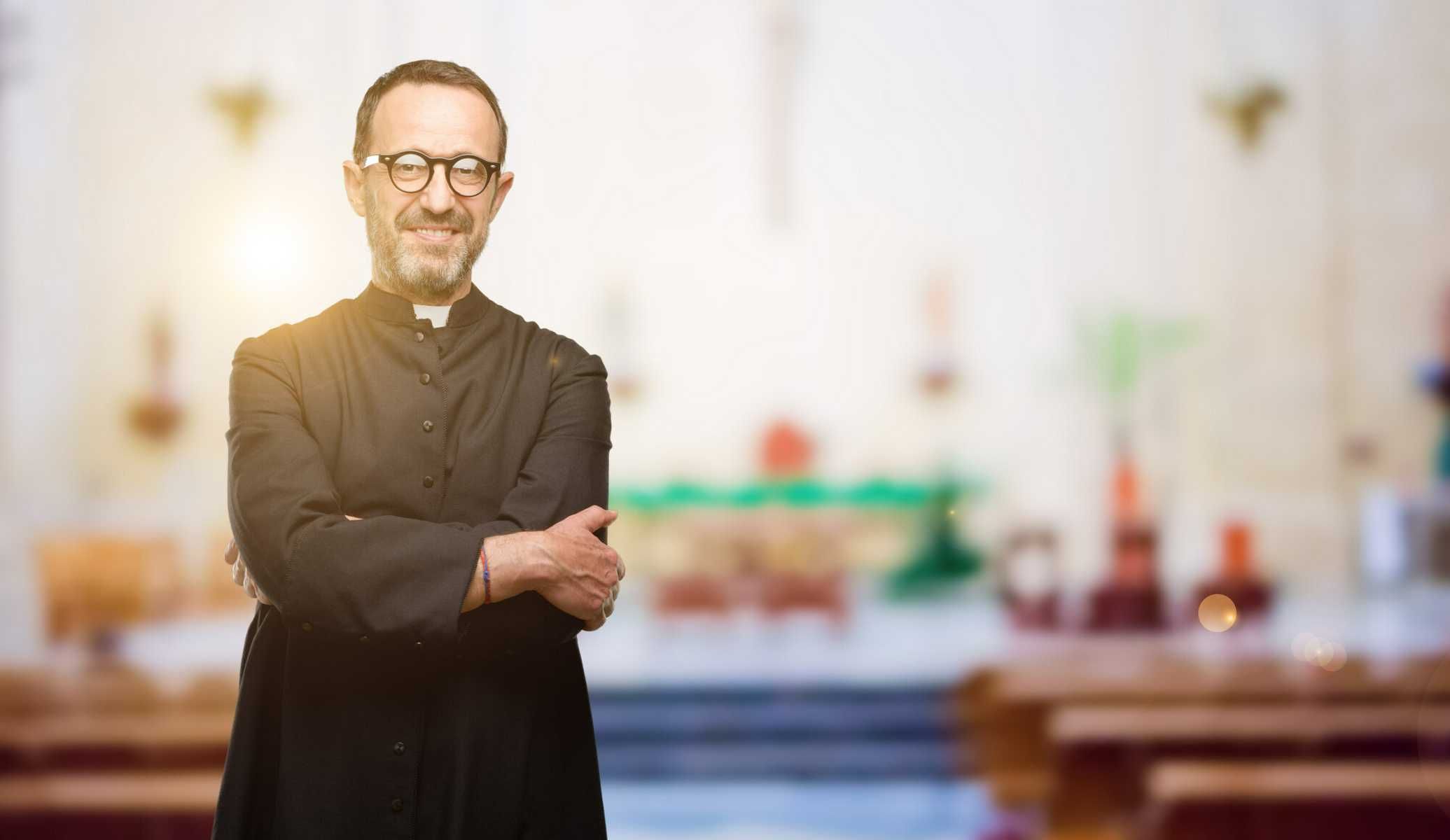 Would you know the signs of an arrogant pastor if you had one in your church? Pastors are there to lead, teach and engage with members and visitors alike. When that person is toxic, the foundation of your church community could crumble.
It's important that your church leadership and pastor search committee know how to spot the characteristics of a bad pastor to make sure an arrogant pastor never makes it into the pulpit... But if you ever have one, we've made a list of 15 signs to watch out for and a look at what to do, just in case.
1. Unteachable
"Whoever loves instruction and correction loves knowledge, but he who hates reproof is like a brute beast, stupid and indiscriminating." — Proverbs 12:1(AMPC)
A wise pastor once said; "Whatever I preach, the message is for me first." This is the wisdom of someone who operates with humility. Although the Bible does say that teachers are held to a higher standard (James 3:1), be leery of any pastor who thinks that he should only be the teacher and never a student. No one grows that way.

2. Inflexible
"There is far more at stake here than religion. If you had any idea what this Scripture meant — 'I prefer a flexible heart to an inflexible ritual' — you wouldn't be nitpicking like this. The Son of Man is no yes-man to the Sabbath; he's in charge." — Matthew 12:6-8(Message)
Some churches never grow because one of the signs of an arrogant pastor is inflexibility. They aren't open to new ideas. They are never willing to think outside of the box. If they didn't come up with a plan, they are quick to reject it.
To be flexible is to be adaptable. A good pastor can adjust to the needs and growth of their church.
3. Impatient
"Better is the end of a thing than the beginning of it, and the patient in spirit is better than the proud in spirit." — Ecclesiastes 7:8(AMPC)
I Corinthians 13:4 tells us that love is not only kind, but it's patient. Patience isn't just about being willing to wait, but also "bearing provocation, annoyance, misfortune, delay, hardship, pain, etc., with fortitude and calm and without complaint, anger, or the like."
No one likes to deal with disappointments, but an arrogant pastor will always get triggered because they tend to have control tendencies. Rarely can they keep their emotions in check because they like to either rush things or they're always complaining about something not going their way. They're also too impatient to properly handle church conflicts.
4. Unforgiving
"Be kind to one another, tenderhearted, forgiving one another, as God in Christ forgave you." — Ephesians 4:32(NKJV)
Author Gary Zukav once said that forgiveness is simply accepting that the past cannot change. An arrogant pastor believes this when it comes to the hurts, harm and offense they cause. At the same time, they don't apply this way of thinking when someone hurts them.
There is no way any pastor of merit can run an emotionally healthy church if they are not willing to forgive. After all, it is the cornerstone of faith.
"Then Peter came to Him and said, 'Lord, how often shall my brother sin against me, and I forgive him? Up to seven times?'
Jesus said to him, 'I do not say to you, up to seven times, but up to seventy times seven.'" — Matthew 18:21-22(NKJV)
5. "No Earthly Good"
"Therefore I speak to them in parables, because seeing they do not see, and hearing they do not hear, nor do they understand." — Matthew 13:13(NKJV)
Something that drew so many people to Christ is that he was relatable to them. Just as Matthew 13:13 states, that's why he spoke in parables — except to Satan and the Pharisees. He wanted those he came into contact with to understand his insights.
An arrogant and unhealthy pastor could not care less. They usually think that if you're not as astute as they are, it's a sign of being biblically and spiritually ignorant. That causes them to look down on you rather than support and encourage you.
6. Would Rather Be Popular Than Biblical
"There's trouble ahead when you live only for the approval of others, saying what flatters them, doing what indulges them. Popularity contests are not truth contests—look how many scoundrel preachers were approved by your ancestors! Your task is to be true, not popular." — Luke 6:26(Message)
The Message Version of Luke 6:26 basically says it all. We are living in a time when many pastors would prefer to be treated as celebrities rather than servants of the Lord. When a pastor would rather hear applause rather than receive the approval of God, something is off — way off.
7. Refuses to Share the Spotlight
"Now so it was that after three days they found Him in the temple, sitting in the midst of the teachers, both listening to them and asking them questions." — Luke 2:46(NKJV)
When it comes to the characteristics of a bad pastor, something else that gets overlooked is how much they want to hog the spotlight. It's a telltale sign of arrogance.
They never want visiting pastors to speak. They don't allow other church leaders to be in the pulpit. Anything that will gain the church a bit of attention, they want their name — and their name only — to be the focus.
A healthy pastor is the opposite. Not only do they not mind sharing the spotlight, but they also prefer it. They want their church to be seen as a family that's filled with different voices and gifts. They welcome other pastors to share what they have to offer too.

8. Has No Accountability
"Confess to one another therefore your faults (your slips, your false steps, your offenses, your sins) and pray [also] for one another, that you may be healed and restored [to a spiritual tone of mind and heart]. The earnest (heartfelt, continued) prayer of a righteous man makes tremendous power available [dynamic in its working]." — Ephesians 5:16(AMPC)
What does it mean to be an accountable person? It means that you are willing to acknowledge things you've done and hold yourself responsible for them. Accountability is a sign of real self-awareness and true maturity.
A toxic and arrogant church leader could not care less about accountability. They deflect, gaslight and find every possible way to blame someone else for the things they did.
A part of the reason is that they want to be seen as perfect in the eyes of others. Another reason is they often see themselves as "above" everyone else to do what's required to set things right.
9. Deflects the Biblical Standard of Their Role
"This is a faithful saying: If a man desires the position of a bishop, he desires a good work. A bishop then must be blameless, the husband of one wife, temperate, sober-minded, of good behavior, hospitable, able to teach; not given to wine, not violent, not greedy for money, but gentle, not quarrelsome, not covetous; one who rules their own house well, having their children in submission with all reverence (for if a man does not know how to rule his own house, how will he take care of the church of God?); not a novice, lest being puffed up with pride he fall into the same condemnation as the devil. Moreover, he must have a good testimony among those who are outside, lest he fall into reproach and the snare of the devil." — I Timothy 3:1-7(NKJV)
Speaking of deflection, there are some pastors out there who are getting exposed for doing some pretty horrific things. Their excuse? "We all make mistakes."
That's true and no pastor should be seen as supernatural or perfect. At the same time, the Bible is quite clear... a pastor is supposed to live in a way that is above reproach.
That doesn't mean they can and will never mess up. What it does mean is they should not be so casual about their lifestyle that they forget that I Timothy 3 expects them to hold themselves to a higher standard.
10. Wants to be Treated Like a Rock Star
"The payoff for meekness and Fear-of-God is plenty and honor and a satisfying life." — Matthew 22:4(Message)
While the Bible says that meekness and respect for God are what brings honor, one of the signs of an arrogant pastor is that they think they should be treated like a rock star gaining constant adoration and applause. Some think they shouldn't speak anywhere except their own church unless they receive thousands of dollars.
Some pastors even give autographs or refuse to acknowledge "fans". That said, being well-known is one thing. However, thinking that you should be highly esteemed just because you preach? That's one of the signs of an unhealthy pastor.
11. Passive Aggressive from the Pulpit
"…that we should no longer be children, tossed to and fro and carried about with every wind of doctrine, by the trickery of men, in the cunning craftiness of deceitful plotting, but, speaking the truth in love, may grow up in all things into Him who is the head—Christ— from whom the whole body, joined and knit together by what every joint supplies, according to the effective working by which every part does its share, causes growth of the body for the edifying of itself in love." — Ephesians 4:4-16(NKJV)
Another indication of bad church leadership is a pastor who tells people's business from the pulpit. It's a form of gossip that they try and disguise behind Scripture.
Ephesians 4 says a part of what comes with being a believer is when you do speak the truth, there is love attached to it. Proverbs 10:12(NKJV) reminds us that "Hatred stirs up strife, but love covers all sins."
A toxic pastor finds cryptic ways to expose others' business. A healthy pastor is discreet about it.
12. Cares Most about Appearances
"We justify our actions by appearances; God examines our motives." — Proverbs 21:2(Message)
Have you ever heard the saying, "When you get to heaven, you'll be surprised who is there — and who isn't"? A part of this is because far too many people are caught up in appearances. Arrogant pastors are not exempt.
People must be careful of that because 2 Corinthians 11:14(NKJV) says, "And no wonder! For Satan himself transforms himself into an angel of light." In other words, just because a pastor may look the part, that doesn't mean their character fits the part.
13. Flaunts Their Financial Success
"I am the good shepherd. The good shepherd gives His life for the sheep. But a hireling, he who is not the shepherd, one who does not own the sheep, sees the wolf coming and leaves the sheep and flees; and the wolf catches the sheep and scatters them. The hireling flees because he is a hireling and does not care about the sheep." — John 10:11-13(NKJV)
By definition, a hireling is someone who only works for pay. Pastors need to make a living just like everyone else. At the same time, bragging about their wealth, flaunting it over the pulpit, or making members feel "less than" is nothing but pure arrogance.
Bad church leadership is all about showing off. Good church leadership is all about pointing the glory back to God for their blessings while helping others with their needs as well.
14. Abuses Authority
"For there is no authority except from God, and the authorities that exist are appointed by God." — Romans 13:1(NKJV)
One of the other signs of an unhealthy pastor is that they abuse their authority. They misuse tithes and offerings. They mentally and emotionally manipulate their staff. They tell people to do things that are questionable under the guise of "This is what God said to do".
A healthy pastor is always aware of the fact that, just like God allowed them to become pastors, God can remove them just as quickly. They see their authority as an opportunity to help others, not take advantage of them.
15. Lacks Empathy and Compassion
"The Lord is merciful and compassionate, slow to get angry and filled with unfailing love." — Psalm 145:8(NLT)
Pastors are there to represent the image of God and God is compassionate. Compassion is all about having a deep desire to relieve the suffering of others.
An arrogant pastor cannot do this because being compassionate requires being empathetic. A healthy pastor is extremely compassionate because they are intentional about trying to put themselves into the shoes of others and that helps them to love in an extraordinary way.
What to Do If You See Signs of an Arrogant Pastor in Your Church
"If another believer sins against you, go privately and point out the offense. If the other person listens and confesses it, you have won that person back. But if you are unsuccessful, take one or two others with you and go back again, so that everything you say may be confirmed by two or three witnesses." — Matthew 18:15-16(NLT)
So, what do you do if you realize you have an arrogant or unhealthy pastor in your church? While the solutions somewhat depend on the circumstances, here are a few ways to approach the matter:
Schedule a meeting to speak with someone in church leadership

Give leadership time to address the matter then approach them
Do not spread rumors

Treat the pastor like you would want to be treated

Pray for the pastor
Arrogance is not something that can be changed overnight, but there is power in prayer, unity and accountability. If you are in a church that seeks to mature and thrive, you will want everyone involved to become better people — the pastor included.
Looking for Free Materials and Guides to Hire the Right Pastor?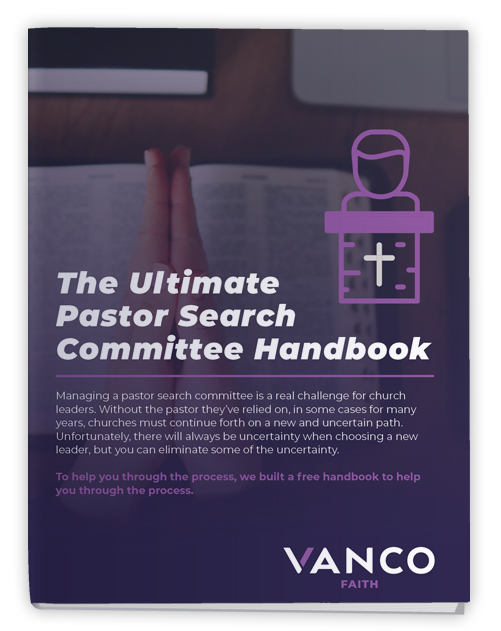 Hiring a new pastor is a big decision, and it isn't easy. That's why we built a free kit complete with...
49 sample pastor interview questions for your interviews.
Pastor search committee sample letters to communicate with candidates and references.
Sample form of an authorization of records to conduct a background check.
Sermon evaluation form sample for pastoral finalists.
Sample survey questions for your congregation to identify the characteristics most important to them in a future pastor.
A pastor search committee handbook to guide you through the process of choosing a new pastor.