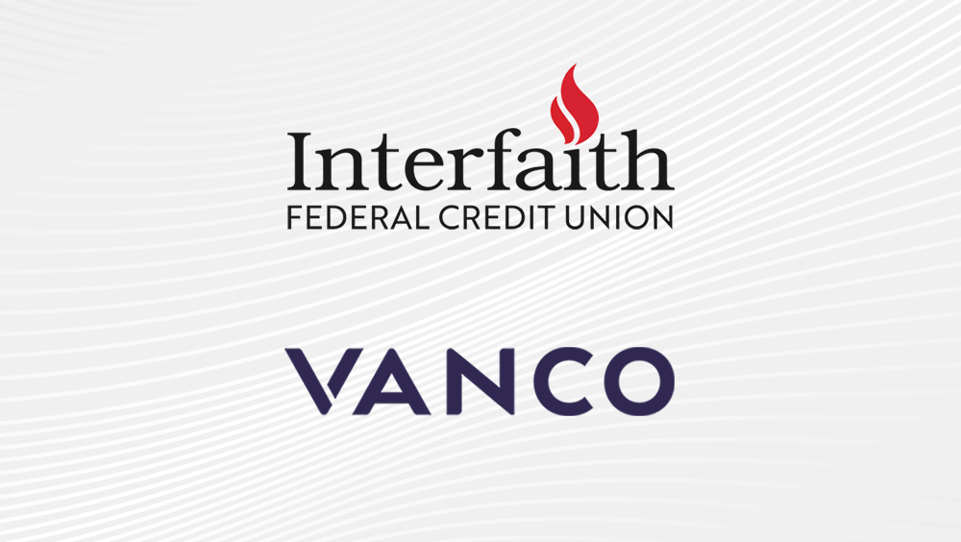 SUBJECT: Preferred partnership to provide secure, reliable online giving experience to benefit multiple denominations
DATE: Sept. 7, 2023  


BLOOMINGTON, MINN.  Vanco, a respected provider of industry-leading payment processing tools and resources, has been chosen as a preferred provider of online giving solutions for Interfaith Federal Credit Union (Interfaith FCU) members.
With more than 25 years serving tens of thousands of churches, schools and organizations across the country, Vanco delivers a secure online giving experience that maximizes convenience for donors and utilizes cause-based giving and storytelling to inspire generosity. Partnering with Interfaith FCU will bring that expertise to thousands of members across the country.
"Interfaith Credit Union shares our commitment to service and to providing the best possible online giving resources for donors and we're thrilled to partner with them to better serve their members," Vanco Vice President of Strategic Partnerships Dan Gretz said. "Our passion for delivering a simple, secure giving experience fits perfectly with their secure, reliable financial services for their members."  
Based in Montclair, Calif., Interfaith FCU serves more than 1,500 clients across multiple denominations. It's part of the Christian Credit Union Network (CCUN) and a ministry partner of the General Council for Financial Administration (GFCA) of the United Methodist Church. Interfaith FCU serves members across the nation and beyond through branches in California, Arizona, South Dakota, Missouri and Tennessee, and its participation in co-op solutions nationwide network provides over 5,000 shared branches and over 30,000 ATMs.

Through this new partnership, Vanco will offer special, select pricing for its online giving services to Interfaith FCU member churches, empowering churches to choose an option that best fits their needs. Built on its wide-ranging experience serving organizations across multiple industries, Vanco's online payment tools ensure the best possible experience for users.
‌"Partnering with Vanco is a perfect fit for us. Through our shared connection with the GFCA, we've seen how they share our passion for providing the best possible service for their clients and serving those who serve their communities," Interfaith FCU Chief Operating Officer Rick Menjivar said. "Their tools will help us to provide a great online giving experience for those we serve, as well as a simpler reconciliation process for our staff." 
ABOUT VANCO 
Vanco is a Minnesota-based provider of products, resources and solutions that help churches, along with their programs and ministries, offer a simple, secure online giving experience. Its work with thousands of churches, nonprofits and organizations has created a wealth of knowledge that the Vanco team uses to help those it works with to grow, thrive and live out their respective missions. To learn more, visit www.vancopayments.com/egiving. 
###