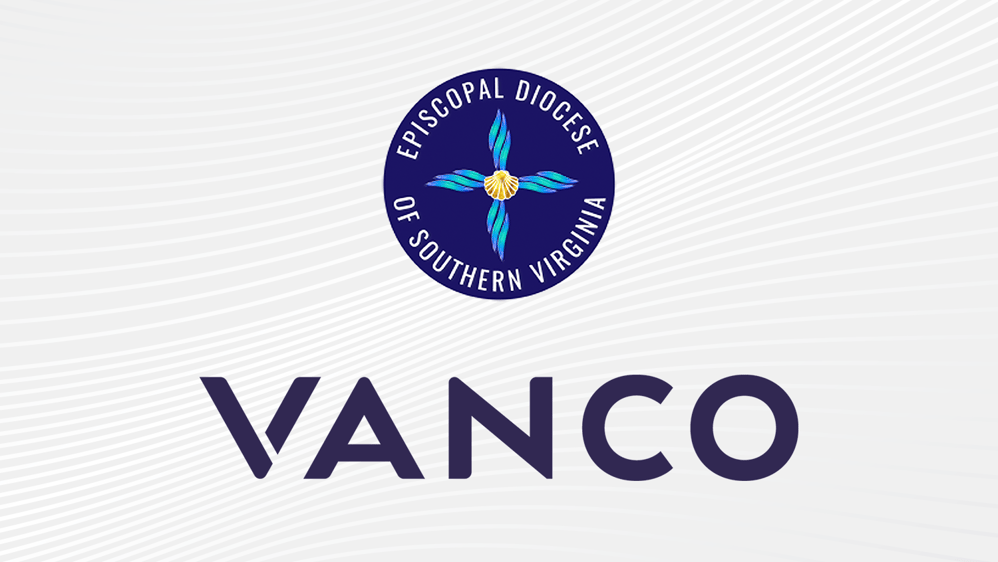 SUBJECT: Leading online giving provider teams with diocese for convenient, secure online giving for churches.
DATE: July 10, 2023

BLOOMINGTON, MINN. A powerful new partnership with Vanco will bring a convenient, encouraging giving experience to churches in the Episcopal Diocese of Southern Virginia (DIOSOVA).
Vanco, with more than 25 years serving tens of thousands of churches across denominations, provides industry-leading payment processing tools and resources that help churches better engage with members and inspire generous giving.
"The Episcopal Diocese of Southern Virginia is an organization that is committed to the same high standards of service and stewardship as we are, and that's why we're thrilled to partner with them to provide a secure, easy online payment experience for the members of their churches," Vanco Vice President of Strategic Partnerships Dan Gretz said.
Based in Newport News, Va., DIOSOVA includes 100 churches located throughout the state's southeastern region. The organization is also a member of The Episcopal Network for Stewardship (TENS), an association of church leaders who understand, practice, and proclaim God's call to generosity.
As part of the partnership, Vanco will offer special, tiered pricing to DIOSOVA churches as part of the organization's membership in TENS. These tiers allow churches to choose an option that best fits their needs, helping them best serve their members and create a giving experience that connects donors directly to the programs and ministries they support.
‌"We know online giving is an important tool for churches that empowers them to do good work in their communities and it's exciting to partner with a company that knows how to deliver a great online giving experience. Vanco enables church donation requests through the use of storytelling and cause-based giving, ensuring donors understand the impact of their gift," said Judy Dobson, DIOSOVA Director of Finance and Administration.


ABOUT VANCO
Vanco is a Minnesota-based provider of products, resources and solutions that help churches, along with their programs and ministries, offer a simple, secure online giving experience. Its work with thousands of churches, nonprofits and organizations has created a wealth of knowledge that the Vanco team puts to use in helping those it works with to grow, thrive, and live out their respective missions. To learn more, visit www.vancopayments.com/egiving.
###