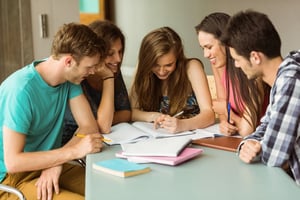 Managing an after school program is a herculean task. With strategic planning and high-quality research, you can greatly increase the chances of your program's success.
Whether you are starting an after school program or are looking to revamp your current program, it's essential to follow after school program planning best practices. However, it can be difficult to know where to start, as there are so many details to consider when planning an after school program.
Luckily, we've put together a solid list of advice to help you get started. Here are some after school program tips to enhance your program's offerings.
Plan a Solid Curriculum
Building your after school program's curriculum can be challenging, as there are many great activities to choose from, each with its own benefits. That said, any child care curriculum should include enriching activities such as play, academic support, interest clubs and groups and mentorship.
Creating an open, flexible plan, where several activities are happening at once enables students to choose to participate in activities that meet their interests. Here are some core activities to include in your after school program curriculum.
Tutoring & homework aid: Helping students with homework can be a core aspect of your after school program. Start by scheduling homework time. Set aside a quiet space or room for homework and have staff members on hand to answer questions and provide guidance. You can also hire bilingual tutors to help students.
Mentorship programs: Youth benefit from mentorship programs such as Big Brother, Boy & Girl Scouts or in-house programs. They receive valuable mentorship and build lasting relationships with their mentees.
Physical activities: Play and physical activity are vital aspects of child development. After a long day at school, children may feel rambunctious and full of pent-up energy. Encourage physical activities such as open gym time or playground time to help them release energy.
Family engagement: You can invite families to events that take place after the workday. This can be a great time for children to bond with their families and make connections with other families within the program's community.
Hire The Right Staff
It takes a village to run a child care program. You'll need to ensure you hire a team that's as dedicated to the success of your after school program, as you are. You'll have to hire administrative, child care and service staff. Be sure to draft a detailed job posting with extensive job duties and required qualifications for all positions. Create an intensive vetting process, including a background check for every new hire to ensure the safety of your students.
Administrative staff will include your secretary and any front-office workers. These staff members will be the face of your business. They will be the first person anyone interacts with when they contact your program, whether it's an in-person visit or a phone call. You'll need to ensure they have the necessary interpersonal, computer and organizational skills for the job.
Child care professionals span a range of backgrounds, including psychology, education and childhood development. You'll have to determine which qualifications and skills you require for your program. Don't forget to check your state and local laws regarding necessary accreditations or licensing for child care staff.
Maintenance staff members are required to support the daily operation of your after school program. You can hire out a third-party vendor to take care of clean-up, but you'll need to research their employee vetting process to ensure that safety remains a priority. You may also consider hiring in-house staff to handle maintenance. It has a higher upfront cost, but it can be a great long-term investment.
Market Your After School Program
Marketing is one of the most important aspects of after school program planning. You need to take the time to recruit students, whether by working with the schools in your district or choosing your own advertising avenues. Don't wait to set your advertising and recruitment plans in motion. Get started early to maximize the responses you receive. Here are some tried-and-true marketing strategies to generate interest for your after school program.
Getting in touch with schools: Start by reaching out to teachers and school administration. They are already in touch with your target demographic and can provide you with a direct advertising line. Whether they agree to let you hang a poster in the school office or include an ad in their monthly newsletter, any start is a good one!
Billboards: Seeing billboards advertising schools is becoming increasingly common. Advertising for your after school program can take the same route. Try to choose a busy route that gets traffic during rush hour, so you can target working professionals that get out late.
Digital advertising: Ads on search pages, commercials, or even emailing are all great ways to get the message out. It might be best to hire a third-party to take care of digital marketing for your organization. They'll be able to ensure that you get the best ROI.
Send out ads in the mail: Mailings can be a great way to capture the families' attention. Be sure to include information about your rates, program and more. Include a link to your website or social media page, so interested families can learn more by following up.
Manage Your After School Program With the Right Software
Supporting your child care program with the right child care management software can be the difference between success and failure. As the software you choose is responsible for storing essential data and records for your program, and managing all administrative tasks, choosing the right one is essential.
That's why you need Vanco's Smartcare product for your child care program. Not only can you utilize the software solution to take care of the daily operation duties of your child care program, but you can also use it to create a robust and efficient record keeping storage system that benefits both you and your clients.
With Smartcare, your clients can access pertinent data regarding attendance records for their children. Additionally, they can handle payments online and update their payment methods quickly and efficiently. You don't have to worry about hounding clients for late payments. Vanco's Smartcare software can be used to send automated reminders and late payment notices. Your staff can check out billable hours, families can send messages from their mobile app, and you can access all stored data from anywhere. It's a complete child care management solution that makes it easy to streamline administrative tasks.
Want to discover how Vanco's Smartcare software can benefit your business? Schedule a demo today!
Discover the Secrets for Simpler Afterschool Program Management!

Download our free eBook with expert tips that will not only help you improve your afterschool program, but show you how to simplify its management, so you and your team can enjoy a much needed breather.