The number of schools offering Advanced Placement courses and the number of students taking them were at an all-time high in the 2016-17 school year. But the recent announcement by seven prestigious Washington, DC-area schools that they would eliminate AP courses has some in the industry wondering whether the growth trend is about to stem.
As the chart below shows, student enrollment in AP courses has increased steadily since the 2009-10 academic year. The number of schools offering the courses has increased at a more gradual pace, except for 2014-15, when the number shot up by 10.8%.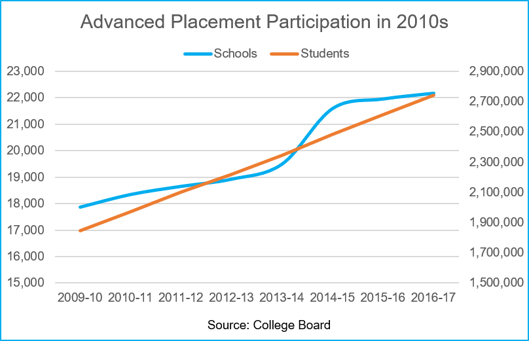 The seven DC-area schools issued a statement, joined by an eighth school that does not offer AP classes, saying that the College Board's AP programs have "diminished utility," a Washington Post article reported. AP, it continued, is not necessary for college-bound students and relies too much on quick learning and memorization.
"Too much minutiae. Too much emphasis on test preparation," Patty Carver, an environmental science teacher at Holton-Arms School in Bethesda, Md., told the Post about AP classes.
The private schools' elimination of AP courses has been a gradual trend for at least the past 15 years as a demonstration of their independence, the Post quoted Thomas Toch, director of Georgetown University's FutureEd think tank.
"They want to do their own thing," he said. "Not surprisingly, they don't feel beholden to any strategy or specialized curriculum."
A Huffington Post article from 2011 highlighted how many New York-area schools had dropped AP programs since 2001, bearing out Toch's more recent statements.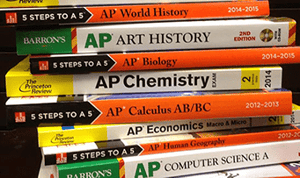 But the small, slow decline in private-school use of AP courses certainly isn't the trend in public schools – at least not urban and suburban public schools. As the chart above depicts, a record 2,741,426 students took AP courses and/or AP exams in 2016-17, the last year for which data is available. They came from 22,169 schools and took 4,957,931 AP tests, which translate to college credit for students with high enough scores.
One segment of public schools has seen diminished use of Advanced Placement – rural and poverty-stricken districts, according to an American Enterprise Institute study by Nat Malkus, the agency's resident scholar and deputy director of education policy studies.
Malkus and his researchers found that the percentage of small public schools using AP increased 11 percentage points from 2000-2008 and dropped about 10 percentage points by 2014. Rural public-school use increased 16 points in the first eight years of this century, then lost five points since then.
"In schools that do not have sufficient numbers of students prepared for AP courses, leaders would be wise to focus their limited resources on improving student proficiency in the years leading up to high school," Malkus wrote.
But overall, students taking AP courses are increasing, and the numbers were up from 2015-16 to 2016-17 in all but a handful of subjects, the College Board found. Losing students were Italian Language and Culture, Physics 2, European History, Japanese Language and Culture, and Art History.
Courses with the largest percentage gains were Research (+104%), Seminar (+62%), Studio Art-3D Design (+10%) and, at 8% each, U.S. Government and Politics, Human Geography, Spanish Language and Studio Art-Drawing. The Research and Seminar gains, the latter very popular among 10th- and 11-graders, more so than 12th-graders, show a bent toward independent learning.
Not surprisingly, core courses were the most popular AP classes among students who took AP tests. Below is the list of the 10 most popular AP courses in the 2016-17 school year: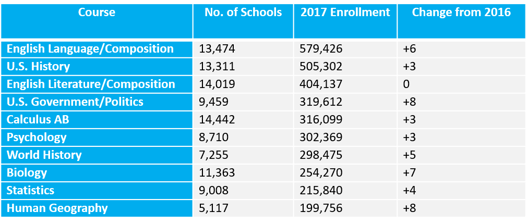 The only change in the list from 2015-16 is that U.S. Government and Politics traded places with Calculus AB, though both gained students who took the respective tests. This could be a sign that students became more aware and interested and aware of politics in the tumultuous 2016 election year.
One new AP course was offered in 2016-17: Computer Science Principles, for which 44,330 students in 2,625 schools tested in its inaugural year.
So, despite a slow, long-term decrease in the number of private and rural schools offering Advanced Placement programs, the initiative is still growing strong.
As Henry Johnson, chief of staff to the Montgomery County, Md., superintendent told the Washington Post about AP, "It provides an opportunity for our students to be competitive with other students across the country."