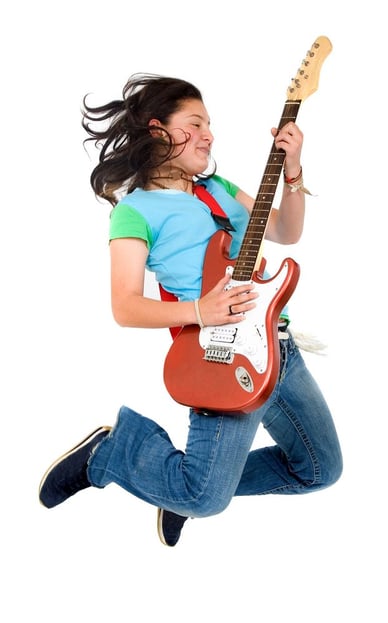 Both music and movement are intrinsic behaviors observed in children, even well-before they reach preschool age. Play music around a toddler and they will almost assuredly begin bobbing their head, bouncing up and down, or making some other movement in some semblance of dancing. Give a child a wooden spoon, and they'll quickly find a surface to bang it on, in their own unique rhythm.
As a result, a curriculum focused on music and movement is expected. Music and movement for preschool provides students with a structured environment designed to nurture their exploration and education in the discipline. Students may learn about the basics of playing an instrument or come away with rudimentary dance skills. However, the benefits of music and movement in preschool aren't limited to learning the skills associated with each discipline. The true benefits of music and movement go well beyond that.
As preschool represents a safe space in which children can explore and learn organically, music and movement can play a significant role in positive early childhood development. As children learn the basics of music and movement, the process helps to simultaneously boost cognitive development, foster creativity, develop social skills, and improve physical skills. Whether it's a class in ballet or playing a few notes on an electric keyboard, simply allowing children to partake in music and movement activities can fuel substantial growth in almost every area of childhood development. This guide will explore the many benefits of music and movement in preschool and its positive effects on childhood development. Let's dive in.
Why Music and Movement is Important for Early Childhood Education
Children learn how to experience music as they grow and develop, it's a completely organic process and a part of early childhood development. The process is similar to that of language learning where children are introduced to auditory stimuli they don't understand, but take cues, contextualize, and glean meaning from the stimulus. They eventually learn to understand and express themselves using what they've learned. Comprehension, differentiating between melody, discerning tone, identifying frequency, and other aspects of music is a part of the musical learning process. They will dance, sing, play, and come to develop a distinct music taste all their own. In short, exposure to music and movement is a key foundation of positive childhood development, in which a child learns to positively interact with the world around them.
Music and movement in preschools should provide students with varying opportunities to engage with music and dance. Music and movement curriculum may include allowing children to play and interact with some of the most popular instruments in the world. In other cases, a typical music and movement class session may include listening to and singing along with songs. This will enable students to develop a more complete and diverse set of skills related to music. These skills are transferable and can positively impact student learning in other subjects. For example, studying music can enhance language development which can aid in reading. Additional studies show that even amateur musicians show higher working memory, verbal intelligence, and focus than non-musicians.
Top
Benefits of Music and Movement for Preschool Child Development
It's clear to see why music and movement education is necessary to facilitate healthy development in children. That said, beyond its inherent necessity, music and movement education in preschools offers abundant benefits that shouldn't be overlooked.
The act of pressing keys on a piano boosts dexterity and hand-eye coordination. Dancing to music improves physical strength, flexibility, and stamina. The list goes on, so we've condense it.
Here are the top five benefits of music and movement for preschool child development.
1. Improve Physical Skills, Including Balance and Coordination
One of the most important parts of music and movement education is facilitating dance. Preschoolers are still working on their coordination, balance, and strengthening their muscles. Physical activity, such as that found through dance, can help preschoolers improve in all the aforementioned areas. Additionally, according to data from the CDC, consistent physical activity is essential to reduce the risk of diseases, such as childhood obesity, diabetes, and high blood pressure in children.
2. Foster Creative Thinking
Studies have shown that listening to music facilitates creativity by encouraging divergent thinking. Divergent thinking allows an individual to come up with creative solutions and processes. In a preschool setting, a student might hear an instrumental being played and begin to make up their own words or melodies to go along with it. They may create their own dances and even tap along to the music.
3. Boost Focus and Regulation in Children
The skills learned and nurtured through music and movement curriculum are transferable and can be used across multiple disciplines, even at preschool age. Research results demonstrated that music and movement helped to keep students attentive and focused when studying mathematics. Additional findings point to music and movement education helping to enrich children's emotional development and improve behavior. This focus and regulation can help students learn and perform more effectively in other subjects, as well.
4. Singing Can Facilitate Language Learning
Language and music learning occur simultaneously, with each discipline requiring skills that can help improve performance in the other. In the case of learning a new language, research has demonstrated that singing can help individuals learn foreign language phrases through "listen and repeat" exercises. The most ubiquitous example of language learning through music is the ABC song in English. However, the same strategies and techniques can be applied to help facilitate foreign language learning in children.
5. Music Education Correlates with Increased IQ
Studies have shown that music education correlates with increased IQ in children. Not to mention, the study went further to determine how music and movement education can have positive effects in the long-term. The findings indicated that six years of music education was associated with an IQ point increase of 7.5. Starting musical education at preschool age puts students at a great advantage by providing them with a solid foundation on which to build.
Conclusion
When it comes to providing a comprehensive preschool education and nurturing positive development in children, music and movement education is a requirement. However, it can be challenging to implement and keep track of all the programs and services you provide in your after school program. Whether you are looking to implement music and movement programming or need a better way of managing your program, we can help.
Vanco Child Care is an after school care software designed to simplify and streamline after school program management. Easily connect with families, manage administrative tasks, handle scheduling, and support electronic payments in one place. Moreover, Vanco Child Care is available to you whenever, wherever through a robust mobile-friendly platform.
Want to learn more about how Vanco Child Care software can elevate your after school program management? Get in touch today!