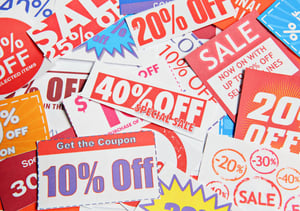 There are many tried and true methods for running a school store fundraiser. There are also many methods that have beaten the proverbial dead horse. I mean, how many magazine subscriptions can one person have?
We've assembled a few great ideas for fundraisers. We've also included some we think should be put out to pasture, and we've given you tips on how to execute these fundraisers and what pitfalls to avoid. Read on to find inspiration for your next fundraiser.
Fundraising Ideas That Involve Students
Student participation is important to successful fundraisers. Getting them involved isn't as difficult as it might seem either. There are ways to incentivize them, either with prizes or some other benefit they find enjoyable.
School Dances
These are great ways to raise money, and students of all ages love them. Students can run the show, too, with minimal oversight from faculty. It won't cost a lot of money to decorate the gymnasium.
You can easily find a local DJ who is willing to give you a deal if you place his ad in the school's newsletter. If you have a concession program already, it won't be hard to get a few PTA members to run it for the evening.
Offering advance ticket sales in your store at a discount will drive attendance and help with planning. Ticket and concession sales can add up to a profitable event that is fun for the students.
Talent Shows
Nothing is quite as fun as watching students show off their passion and talent. A battle of the bands, a singing competition or even karaoke can be a fun way to involve students.
Students competing will raise awareness. Turning the lights and microphones on is the only real expense. Ticket sales and concessions will turn a tidy profit on something the students will love doing and seeing.
Student Coupon Books
It seems like everyone is selling coupon books, and why not? They give the buyer value while raising money for those businesses offering coupons. So what if you created a student coupon book for sale in your school store?
You could include coupons for things like extra-long recess, first in line at lunch, or wear what you want day. The possibilities are virtually endless.
Traditional School Store Fundraising Sales
Your school store is ideally positioned to generate income. You already have a customer base. You have a store to display items and a payment platform to process sales, so why not take advantage of these?
If you have a web store, you can take advantage of that too.
Holiday Sales
A school holiday store fundraiser is a great way to capitalize on seasonal and holiday cheer. Schools have been doing them for years, but the successful ones aren't just selling wrapping paper. In fact, if that's all you can come up with, then you should consider something else.
Consider small gifts for Hannukah or stocking stuffers for Christmas. Plushies and candy grams are perfect Valentine's Day gifts.
Keeping them under $20, for the most part, is a good idea. Students will be able to purchase them for parents, siblings and friends. Your online store can generate income from parents who may not be able to come in during school hours but want to help raise money by buying something cute for their children.
Selling Easter baskets, chocolate bunnies, marshmallow peeps and jelly beans for Easter is another way to capitalize on a holiday. Everyone loves candy.
Displaying holiday items in your school store will create a welcoming feeling and generate interest and sales.
Arts and Crafts Sales
This form of fundraising is becoming more popular and more profitable. Your children are already creating arts and crafts in school. Why not sell them?
Granted, the parents of the students are the ones most likely to buy them, but at least they are getting something special in return. You could have your first-grade class write an essay about what they want to be when they grow up.
Publish them as a book and offer them for sale. There are plenty of online publishers that will handle this at very little or even no cost to you. They make their profit from the retail price, and the school gets its percentage as the author.
You can do this with drawings or paintings. Have them individually framed, and then invite parents into your school store for an art show where they can purchase them.
Suit and Dress Drives
This is thinking out of the box. Set up a time for girls to donate their dresses and boys their suits after formal dances, proms and cotillions. Then, as these events come back around, your store can display them for sale at a reduced price.
Parents will love getting these gently worn outfits for a much lower price than they would in a department store. And it helps teach students the value of giving back to the school and its students. Since the items were donated, you are turning a 100% profit.
Local Business Coupon Books
Like we said earlier, coupon books work. Just be careful it doesn't get too complicated. Spending a little time contacting local businesses and getting them to participate is the easy part. So is selling the coupon book in your school store or online.
If there's a local printer who has experience with this and is willing to help, fantastic. If not, try and keep it simple.
Businesses might have their own coupon artwork ready to print. If not, you should offer to do it for them. Don't go crazy about designing ads for people. Keep it simple.
The point is you need to keep the cost of producing the coupon book well below what you want to sell it for. Of course, what you sell it for must be much less than the total value of the coupons within the book. Better have the math department manage this one.
Raffles
This tried-and-true fundraising method is usually successful but not without its challenges. Essentially you have two options. First, you can have local businesses donate items or gift cards that you can turn around and offer as raffle prizes.
If you're using this method, you'll want to have plenty of prizes. Try and get the value of the prize around $25 or more. Selling tickets at $5 each or three for $10 gives a decent return.
You can't sell raffle tickets at this price for candy bars that cost $1, so keep this in mind when you ask for donations. Display these raffle prizes in your school store to build interest and generate sales.
The easiest and always popular raffle method is the 50/50 raffle. You sell tickets at whatever price you want. The winner gets one-half, and the school gets the other half.
Often you can sell more tickets this way because the prize can get large fast. A 50/50 raffle is great to do at a football or basketball game. You can have someone announce the raffle over your P.A. system and direct those interested in where to buy tickets.
You can drum up sales by announcing updates on how high the jackpot has grown throughout the game.
These can work at school fairs, dances, and anywhere you get a large crowd of students and their families together. You should be selling tickets to these events at your school store prior to the event. Make sure you offer raffle tickets to everyone buying tickets at the time of purchase.
School Spirt Wear Fundraisers
It's no secret, school spirit wear can help schools generate a lot of income and with little effort. Thanks to online school spirit stores, setting one up has never been easier too.
If you're looking for some fundraising ideas, check out these 21 ideas for school spirit wear fundraisers.
Parent-Focused Events
We all know the parents are funding the majority of fundraising events. Why not give them something in return? Here's a look at some great fundraising ideas the parents will really enjoy.
Wine and Cheese Night
Turning your gymnasium or cafeteria into a winery for an evening is a creative way to raise money that not only benefits the school directly but the parents as well. Parents are always looking for fun things to do on a date night, and this always gets rave reviews.
Parents can come to mingle with other parents and faculty while the children are home with a babysitter. Sipping wine, enjoying hors d'oeuvres, and exchanging stories with other parents is a great way to offer value for contributing.
Find a local liquor store willing to partner with your school, and perhaps a restaurant willing to provide small bites at or near cost.
Throw a Gala or White Party for Parents
This is in the same vein as the wine and cheese night, just a little dressier. Again, parents want to have fun too and what better way than to attend a fancy party. You can hold these at the school or even find a restaurant or other event venue that can give you a discounted rate for an off night.
Many event venues or restaurants are willing to provide hors d'oeuvres and the space for cheap. You can also make a little money on a cash bar. Ticket sales should be priced accordingly, and you won't have to handle set up or clean up outside of the school.
Offering advance ticket sales at a small discount in your school store or your web store is a great way to jump-start sales and will help with planning for space, food and drinks.
Silent, Live, or Online Auctions
These are great ways to raise money, especially at an event for parents. Get the local businesses to donate items and present them for bidding during the party. You never know how high some items might sell for.
Online auctions can be handled as an online school store fundraiser through your existing web store. You can run these at any time and take advantage of the holiday and seasonal trends and themes.
Either way, you can display items in your school store prior to the auction to build interest.
Dinner and a Movie Night
This is fun for the whole family and a great way to raise money. You can turn your football field, soccer field or playground into an outdoor movie theater. You probably already have a projector, but you can rent one and a large screen for not a lot of money.
If you can find a restaurant to cater, great! If not, food trucks are always willing to come set up shop for the evening, and most will donate a portion of the proceeds to your school. You can always invite families to pack a picnic if the food truck or restaurant angles aren't feasible.
Selling tickets in your store or online is easy to execute, and you can offer additional perks like snack packs for the evening with every ticket.
Community and Teacher Involvement in Fundraising
We aren't talking about getting local businesses to donate products or gift cards, although that's a start. What you want to find are companies that will go a little further.
Restaurant Percentage Nights
These are great ways to raise money for your school store fundraiser. Many local restaurants love hosting a Spirit Night and offer discounts or specials for students, parents and faculty to come to dine on a particular night.
They will also donate a percentage of their sales to your school based on your school's turnout. Your school store should sell gift cards to these places in advance, and the participating restaurant will sometimes sell them to you at a discount allowing you to raise even more money.
Sell Sponsorships
Most schools do this already. You'll see signs along fences, on the walls in the hallways and even on digital signs by the street that promote upcoming events. Your school store has space too, even if the signs have to be smaller.
You can get creative with sponsorship opportunities inside your school store. Try a weekly or bi-weekly giveaway to a random customer. It doesn't have to be an expensive item, either.
A $5 gift card to the local fast-food chain will attract plenty of attention, as will a free ice cream at the local ice cream shop. Many businesses are happy to pay a small amount for a counter sign and provide the giveaway.
You could sell larger signs to place on walls and windows, depending on your space. Try packaging the in-store signage with larger signs around the property. More signs add value to the businesses paying for the sponsorship.
Last of all, consider creating a tile in your online web store for local businesses to sign up for a sponsorship. This will help you bring in more revenue for your school.
Get the Teachers and Faculty Involved
Fundraising requires the involvement of teachers and faculty, typically in an oversight role. But have you ever thought about using them in other ways?
How about holding a contest to embarrass a teacher? Select three teachers willing to dress up in a crazy outfit or go in the dunk tank at the next school fair.
Then set up coin receptacles in your school store, each with a teacher's name on it. The store must collect a minimum amount to embarrass the teacher. You can even set up online donations through your web store and let students and parents get in on the fun.
Challenges to Fundraising
No one ever said fundraising was easy. There are challenges you will face, and they don't have to ruin your effort if you know what they are and how to overcome them. You'll want to make sure you have a good collection program for donations.
Finding Volunteers
Finding volunteers might be the second-most challenging part of fundraising after coming up with an idea. Volunteers are free, and many people simply don't have the time or inclination to spend setting up, running and breaking down fundraising events.
Nor do they have the time to go stumping around for donations, checking venues and coordinating vendors. That's why we told you earlier to find volunteers with a vested interest. If the fundraiser is to send the baseball team to the state championship for the weekend, you better have every player and coach involved.
If you do end up needing more volunteers than readily available, there are PTAs and booster groups that will offer enthusiastic help.
Motivating People to Fundraise
We aren't talking about volunteers here, or at least not primarily. Motivating people to participate in the execution of your fundraiser can be difficult. Whether you are selling gourmet popcorn, cookie dough, or Christmas ornaments, getting students to actually go out and sell these items presents a significant challenge.
This is always difficult because everyone is motivated by something different. Some enjoy a pat on the back. Others may need a little prodding. Some are only in it for the prize money.
This is why you should have incentives for participating. Give prizes to those top performers. The go-getters will go get sales, donations and whatever else you need.
Create competitions between classrooms and grades. The winning class might receive a special ice cream party or something similar. Group competitions get everyone involved because no one wants to be the weak link.
Getting and Staying Organized
Whoever heads your fundraiser must be very organized. The more complicated the fundraiser, the more organized this person needs to be. Create a plan that covers all the steps.