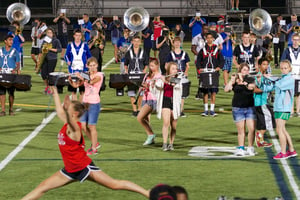 The sounds of mid- to late August will soon be heard across the nation. Coaches' whistles and young athletes' grunts will mark the start of high school football practice. Meanwhile the rat-a-tat-tat of the drumline and the unmistakable melody of the horns will herald the 2018 edition of marching band camp.
While anyone who is involved in band knows it is a yearlong activity and commitment, they also know that band camp signifies the beginning of the most exciting – and taxing – season of that year. 7 a.m. rehearsals; Friday night halftime shows followed by daylong Saturday competitions. But band camp is the time when everybody gets back together, new drum majors take the reins and new freshmen are initiated into the ranks.
Band camp can be a fun, productive couple of weeks…or it can be a disaster. Here are some tips for creating a positive experience that will set the tone for a successful season:
Be organized and ready: Band directors, assistants and drum majors should know who will be participating, what instruments they play and what their strengths and weaknesses are. The National Association for Music Educators (NAfME) recommends that staff members know exactly what their camp roles will be before the first day.
Set a goal for camp: Band camp usually takes place within the month before classes begin…and if there's a gap between camp and the start of the school year, there are surely daily rehearsals. The key is to have your program nailed by the first football game, so why not have it done by the end of camp?
Build a community: Just like in any other large group, band members tend to form cliques, be they among instrument sections, people in leadership positions, those in the same class, neighbor, etc. A blog on SmartMusic.com suggests creating fun activities to bring everyone together. For example, pit the winds and percussion against the brass and color guard in a game of capture the flag. The NAfME article suggests fun things such as Pajama Day or Crazy Hat Day.
Get down to business: Yes, have fun, but know when to change the mindset to getting on task. This is up to the band director, staff and student leaders, according to the SmartMusic.com blog. If the band members don't know when playtime ends and worktime begins during camp, the band will be inconsistent in performances and competitions. So, a serious demeanor on the podium will encourage a serious demeanor among the players – even if they're wearing pajamas.
Provide plenty of water breaks: Hydration is crucial at all times and in all locales, but we all know the August heat is especially brutal. Band musicians are working just as hard as football players; They're marching intricate formations, concentrating on playing music in sync – and just try carrying a tuba while you're at it. Better hydration equals better health and better sound.
Then, of course, there are the newest members of the band: the freshmen. They might have had some exposure to the high school band during their eighth-grade year, but now they're at the bottom of the totem pole. Virtual Music Office had some tips for freshman band members that may also help band directors and staff understand what these ninth-graders need to know:
Be quiet and learn. Don't speak up unless it's to ask a question or ask for help.
Respect your elders – including upperclassmen. Band does have a chain of command.
Approach a drum major or director if someone is harassing of mistreating you.
Never confront or challenge a director in anger – even if you're falsely called out. Approach them in private after rehearsal.
Don't take criticism personally. Everybody's been there.
Heeding these tips will help make band camp a smooth, productive and enjoyable experience – and increase the chances for a harmonious season to come.