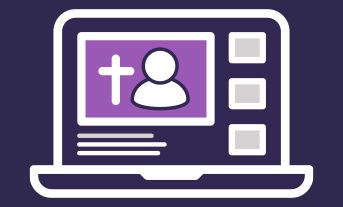 Churches are back to in-person services! That's great. But the fact is, the way many worshipers think about church has changed. Many worshipers now enjoy taking in services from their homes or elsewhere online.
This development has led church leaders to wrestle with a basic, but fraught question: Is it "really" church if worshipers attend online?  
Vanco posed this question to Pastor David Kummer of Concordia Evangelical Lutheran Church in Wilmington, Delaware. His resounding answer: Yes! 
Now we invite you to watch a recorded conversation between Vanco's church technology experts and Pastor Kummer. In our discussion, Pastor Kummer lays out why he believes it's important for churches to continue to offer online worship (even after the pandemic) and why online services should be considered a genuine and sincere form of worship. 
As Pastor Kummer explained in a recent opinion piece for the Acton Institute:
"What must be realized about online worship, however, is that it is additive in its congregational function. It does not replace in-person worship. It provides an option for people to engage with their community when they cannot be physically present within it—whether they're sick at home, on vacation, or, yes, whether they drank a bit too much the night before. The church at her best has never been in the game to force someone's hand." 
During our in-depth conversation with Pastor Kummer, we touch on:
Churches' hesitancy to fully embrace online worship.

Why members have taken to virtual church in such great numbers.
How churches can make virtual worship feel like in-person worship.

Why this trend is unlikey to change in the future.

Why online worship "still counts" as attending services.

How technology makes online services easy to broadcast and engage online attendees.
Whether your church is just getting started with online services or you're looking for ways to improve your church livestream, this is a can't-miss conversation from a leading pastor.
Watch the recorded discussion today, and learn how Pastor Kummer's view of online worship and the benefits of online worship can be applied at just about any church in America today.