Is PayPal a Good Option for Churches? Here's the Verdict!
Using PayPal for churches isn't new. PayPal has a long track record of managing payments for retailers and other businesses, so it's logical to consider this platform for churches that want to get started with online giving.
But PayPal for church tithing may not be the best solution for many churches. Why? PayPal is a proven solution for sending and receiving payments between businesses and individuals, but churches have unique needs and opportunities when they engage with church members and collect donations, beyond financial transactions.
This guide explains PayPal and its basic features and details why Vanco might offer a better online giving solution for churches.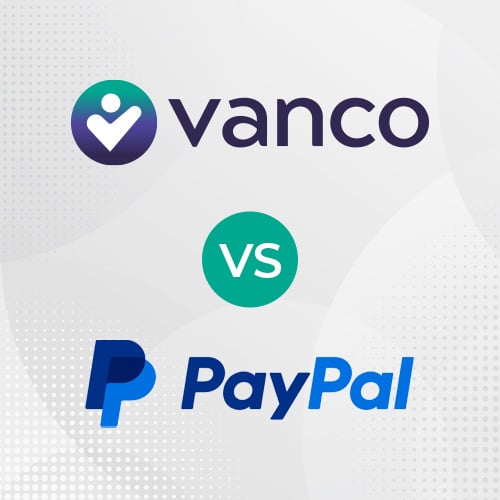 Get a Free, In-Depth Comparison Between Vanco, PayPal and Top Providers
As an online giving platform customer, you should understand both the services and the value you'll get when you select a provider. Be sure the system you invest in is the right fit for your church's needs. Get help navigating the complexities of plans from some of the largest eGiving providers.
Get your free comparison

Online Payment Basics and PayPal
Delve into the realm of online transactions with us as we explore the nature of online payment platforms. We'll guide you through the intricacies of these platforms, taking a detailed look at PayPal. Learn about its workings with our in-depth analysis.
What Is an Online Payment Platform?
Many people are familiar with online platforms that enable them to transfer payments to and from people and businesses. Using a web or app interface, people can avoid using cash or checks and shop securely online or in stores, with small and large retailers. They can also send and receive money to and from individuals for any reason.
What Is PayPal?
Since 1998, PayPal has been the standard for online payment systems. Briefly, PayPal stores bank account and/or credit card information to enable consumers to pay people and merchants without providing bank account or credit card information directly. PayPal is a go-between that connects people and businesses to enable money transfers for products and services plus simple payments and reimbursements.
How Does PayPal Work?
To use PayPal, individual customers set up and verify personal accounts, link them to either a bank or credit card account, and make and receive payments and shop online. Customers can also deposit their salaries or payments they receive into their PayPal accounts. In the same way, retailers and other organizations can set up business accounts and use PayPal to collect payments for products and services.

PayPal for Churches
Join us as we explore the potential of PayPal for religious institutions. We'll discuss how churches use this platform for tithing and other donations. Additionally, we'll explore the costs associated with these services, providing a clear picture of PayPal's fee structure for churches.
Can a Church Have a PayPal Account?
Can churches use PayPal for online giving? Yes. PayPal for church tithing helps churches collect payments from church members for a variety of reasons, including tithes and other donations. PayPal is a well-known platform that is easy for members to use to transfer money securely to their churches. However, there are number of drawbacks to consider for churches.

Should Churches Use PayPal for Online Giving?
As online payment processors and technology evolve, many organizations are considering new solutions. While PayPal for churches can serve a valuable purpose for congregations, churches' needs are more specialized compared with retailers, so many are looking for platforms that can meet these needs.
Specifically, churches are more focused on processing donations, either recurring tithes or campaign-related donations. Here are eight reasons why using PayPal for church giving might not meet churches' needs.
1. Inspiring Generosity
Churches want to be sure their members feel connected to the causes their ministries support. Unlike PayPal's drop-down menus that only provide short, generic names for the causes that are listed, churches want to share the story of each cause with rich visuals and descriptions that increase churchgoers' generosity. Find out how powerful, image-based storytelling can inspire your congregation to give.
2. Need for Recurring Donation Options
When it comes to recurring donations, PayPal only offers church members the option to give monthly. According to Vanco's 2023 Definitive Churchgoer Giving Study, only 20% of churchgoers prefer to give monthly, so additional options are a must. Also, using text to donate with PayPal isn't an option.
3. Technical Support
PayPal customers have a very difficult time getting help when they need it, and talking to a live person for support is virtually out of the question. Worse yet, organizations are often notified of random, unexplained 21-day holds that they can't fix on their own, and they can't reach anyone for help.
4. Integration Needs
PayPal doesn't focus on the integrations churches need to run their organizations effectively, especially with church management software programs. Integration with church software is critical because it saves staff time and increases the accuracy of records.
5. Church-Specific Functionality Needs
PayPal for church tithing doesn't have church-based functions. It provides functions related to raising funds, but churches need more. For example, many churches rely on online platforms to manage their events (tickets, seating) and social connections (worship services, church group chats, interactions with church leaders).
6. Added Processing Time
The process of receiving funds via PayPal involves first receiving the money in a PayPal account and then transferring it to a bank account. This creates additional processing time and delays access to the funds.
7. Potential Cost
What does PayPal charge churches? It's more expensive than it looks at first glance. This is because PayPal charges confirmed charities a 1.99% processing fee for ALL donations and payments, which is not the case for many vendors including Vanco.
Expensive Fees for Donations via Bank Transfers
While PayPal's rates for ACH payments are the same as their credit card rates (1.99%), for many church giving platforms, the cost for bank transfers is much cheaper. In many cases, it is roughly half the cost. According to Vanco Payments Churchgoer Giving Study, which interviewed 1,000 churchgoers across denominations on their giving preferences, 34% preferred to give through ACH. With so many churchgoers giving by ACH, this extra ACH cost can really add up.
8. Potential Fraud
While PayPal offers secure giving, donors are still susceptible to fraud. This happens when a fraudster mimics a charity and accepts funds on its behalf, but there's no way for churches or donors to recover those funds.
Now that you understand some of the challenges churches are finding when they use PayPal, keep reading to learn more about another great option. Consider a platform built specifically for churches, with their unique needs, relationships and opportunities in mind.

What Should Churches Use?
As you probably know by now, one-size-fits-all solutions like PayPal don't offer the best outcomes for churches. But what should you use in its place? Here's an alternative that 25,000+ churches across the country trust to boost donations and build engagement.
A Great Alternative for Online Giving
In terms of collecting payments, churches' needs are different from retailers, other organizations and even other nonprofits. Churches need easy, convenient and secure systems to collect tithes and other donations. But at the same time, they maintain special and personal relationships with church members and play an important part in these individuals' lives. They are also key members of wider church communities, locally, nationally and around the world.
For all these reasons, it's important to choose online giving software that is built for churches — Vanco.
Compared with PayPal for churches, Vanco's platform creates a better overall experience for donors while streamlining administrative tasks for church staff. In addition, Vanco offers features that help churches connect with church members both near and far.
Here are eight ways Vanco's online giving software can meet churches' special requirements.
1. Specific Causes
With Vanco, churches can use engaging visuals and descriptive storytelling that inspires members and helps them see how their dollars will make a difference. This is an important way to increase donors' generosity. For Vanco, donations aren't just transactions, they're part of the overall experience members get from their churches.
2. Robust Technical Support
We're known for quick, responsive and free support from our in-house support team. You can talk to a live person when you need help, and you can reach out your way, by calling, emailing or using the chatbot. We also provide emergency 24/7 customer support.
3. Wide Integration
Our platform is integrated with over 60 church management systems, so churches can easily track donations, for example, to identify which donations went to general funds versus specific causes and projects. For church staff, this eliminates manual data entry. For bookkeepers, this reduces reconciliation and reporting to a fraction of the time.
4. Many Donation Options
With Vanco, members can choose to give through text, online, on the mobile app and in person using credit card readers. Members who choose recurring donations can decide how often they want to give — weekly, biweekly, twice a month, monthly, quarterly and annually — which over 80% of churchgoers prefer.
5. Specific Church Functions
In addition to an inspiring online giving experience, Vanco focuses on helping churches engage with their members, with several key functions:
A robust event ticketing and management platform for church activities, fundraisers and much more
A free mobile app that helps members connect with leaders and each other and form groups that can communicate easily without having to set up external group chats to keep up with members
An engaging online worship experience that makes it easy for members to focus on sermons, review sermon notes, connect with each other and give without being pushed out to other sites and locations
Guidance, coaching and support from professionals on best practices for engaging churchgoers
Marketing materials to help roll out Vanco's online giving platform to members
Thought leadership, such as our Definitive Churchgoer Giving Study
6. Streamlined Processing Time
Vanco releases funds daily, directly to the church's bank account with no manual input holding up the process. There are no processing delays in steering donations to important causes.
7. Security Plus Fraud Support and Solutions
Vanco's system is Payment Card Industry (PCI)-compliant, the highest level of data security. If you run into potential fraud and the recipient won't return the funds, Vanco will work with you to find a solution.
What Do Churches Think of Vanco?
Don't take our word for it. Before you make a decision, find out what other churches think of Vanco and listen to their reviews and experiences. Find out why a system built for churches is the best solution for your church.
Vanco Gains Praise from Pastors, Church Staff and Others
CFO Heidi
See how one church switched from PayPal to save countless hours and plenty of stress.
Pastor Peter
Why Pastor Peter and tens of thousands of other pastors choose Vanco!
Treasurer Dave
Church finance staff and volunteers love Vanco. Watch now to see why!
Get your FREE, comprehensive comparison today. Because your church deserves the very best.
Explore each provider's service offerings, understand their value propositions and see how they stack up against each other. Gain the crucial insights you need to determine the right fit for your church's unique needs.
Choose wisely, choose confidently. Get your FREE comparison today!