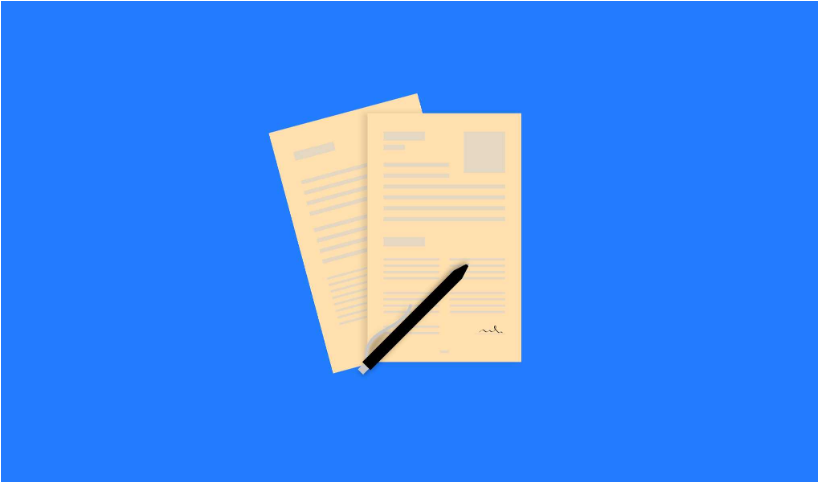 If you must close your daycare center for any reason, finding the right daycare closing letter to parents' sample doesn't have to be difficult!
When daycare centers must close due to a sickness like the flu or the recent pandemic or another worldwide health crisis, parents and families need to know immediately. In the event of a recurrence of COVID, you may need to send a COVID letter to parents from daycare staff to inform them of the closure and keep everyone involved in your center safe.
Below are daycare closure letter template samples that you can use to send to parents. You can use them in full or break them down to fit your center's needs.
The Importance of a COVID Letter to Parents from Daycare
The COVID-19 pandemic brought every parent's greatest concern to the forefront. While an illness closing down a daycare in the short term is cause for concern, the pandemic created a widespread panic over health and safety issues. An estimated 16,000 licensed childcare centers closed permanently as a result.
While vaccination rates have increased and virus transmission rates have decreased, there is still cause for worry. New mutations and COVID variants like the Omicron variant may still wreak havoc. Even one sick child or positive test in a center worker could close a center for up to 14 days to quarantine and properly disinfect.
Notifying parents is of the utmost importance when an outbreak occurs. They need to understand the reasoning behind the closure. They also need to know if there is an estimated reopening date.
That's why having a daycare closure letter template on hand is so useful. You want to be prepared in case the inevitable happens again.
How Should You Distribute a Daycare Closure Letter?
The government requires that all centers must notify the parents and the regional licensing office of a COVID exposure or other illness that can spread quickly. Before you write your daycare closing letter to parents, you need to follow some guidelines first.
Print a parental notification and post it in a visible place for parents and guardians to see, like on the front door of the center. You should also follow with written correspondence distributed as physical handouts and an email distribution.
Develop an email in collaboration with the local health department or following current CDC guidelines. Send it to parents and daycare staff to inform them of a positive reported case of COVID-19 in a child or staff member. Assure them that the childcare facility will work with the local health department to notify exposed people about the proper testing and quarantine protocols.
Above all, keep everyone involved informed by maintaining ongoing communication with families through methods like phone calls, texts, email blasts and communication boards.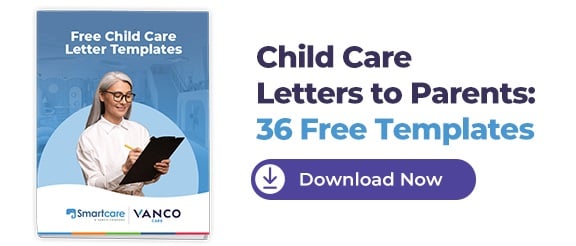 Best Practices for Writing a Daycare Closure Letter Template
While it is easier to stay generic, a personal approach is best. Use the names of your parents and children if applicable. Sign and date the letters from the center operator.
Use plain and understandable language. Be specific about the concerns involved. This will leave little room for speculation, with parents trying to guess what you really mean.
Acknowledge the impact the decision will have on parents and on the center. That this was not an easy decision. Try to include answers to important frequently asked questions parents may have, including:
Your last day of operations

Any payment issues

How you plan to stay in touch
Your daycare closure letter template should also clearly communicate if you need parents to act on anything specific. For example, if they should pick up any strollers or other personal items or equipment by a certain day and time.
While it is important to identify when there has been an outbreak at your daycare center, you must also maintain confidentiality. If possible, protect the identity of any child or staff member who was exposed to or received a positive COVID-19 diagnosis. Do not intentionally name names.
When writing messages to parents, it is also critical to inform them about the importance of not participating in the stigma and discrimination against any suspected person who may have COVID-19.
Daycare Closing Letter to Parents Sample #1
This daycare closing letter to parents sample is specifically used to inform parents that there has been an exposure to COVID at your daycare center. Your COVID letter to parents from daycare should address all the areas of health and safety within your center. You should convey concern for the children and staff involved while also reassuring them that you will undertake every possible avenue of compliance required to reopen the center as soon as possible.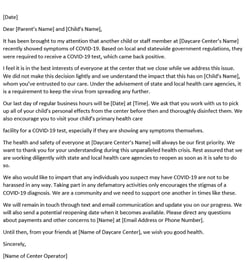 Daycare COVID Letter (Download Now)
[Date]
Dear [Parent's Name] and [Child's Name],
It has been brought to my attention that another child or staff member at [Daycare Center's Name] recently showed symptoms of COVID-19. Based on local and statewide government regulations, they were required to receive a COVID-19 test, which came back positive.
I feel it is in the best interests of everyone at the center that we close while we address this issue. We did not make this decision lightly and we understand the impact that this has on [Child's Name], whom you've entrusted to our care. Under the advisement of state and local health care agencies, it is a requirement to keep the virus from spreading any further.
Our last day of regular business hours will be [Date] at [Time]. We ask that you work with us to pick up all of your child's personal effects from the center before then and thoroughly disinfect them. We also encourage you to visit your child's primary health care facility for a COVID-19 test, especially if they are showing any symptoms themselves.
The health and safety of everyone at [Daycare Center's Name] will always be our first priority. We want to thank you for your understanding during this unparalleled health crisis. Rest assured that we are working diligently with state and local health care agencies to reopen as soon as it is safe to do so again.
We also would like to impart that any individuals who you suspect may have COVID-19 are not to be harassed in any way. Taking part in any defamatory activities only encourages the stigmas of a COVID-19 diagnosis. We are a community and we need to support one another in times like these.
We will remain in touch through text and email communication and update you on our progress. We will also send a potential reopening date when it becomes available. Please direct any questions about payments and other concerns to [Name] at [Email Address or Phone Number].
Until then, from your friends at [Name of Daycare Center], we wish you good health.
Sincerely,
[Name of Center Operator]
Daycare Closing Letter to Parents Sample #2
Other types of illnesses that are not COVID related may also require a daycare center to close. Any contagious illness, especially among young children, can spread in close environments with exposure to shared surfaces and toys. It could be something as severe as a respiratory or intestinal flu to an outbreak of lice or exposure to mumps.
Your daycare closure letter template should address how your center will manage this illness based on what you're dealing with. Consider the structure of the template below.
General Illness Daycare Closure Letter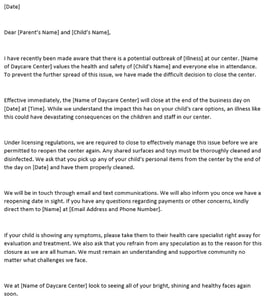 [Date]
Dear [Parent's Name] and [Child's Name],
I have recently been made aware that there is a potential outbreak of [Illness] at our center. [Name of Daycare Center] values the health and safety of [Child's Name] and everyone else in attendance. To prevent the further spread of this issue, we have made the difficult decision to close the center.
Effective immediately, the [Name of Daycare Center] will close at the end of the business day on [Date] at [Time]. While we understand the impact this has on your child's care options, an illness like this could have devastating consequences on the children and staff in our center.
Under licensing regulations, we are required to close to effectively manage this issue before we are permitted to reopen the center again. Any shared surfaces and toys must be thoroughly cleaned and disinfected. We ask that you pick up any of your child's personal items from the center by the end of the day on [Date] and have them properly cleaned.
We will be in touch through email and text communications. We will also inform you once we have a reopening date in sight. If you have any questions regarding payments or other concerns, kindly direct them to [Name] at [Email Address and Phone Number].
If your child is showing any symptoms, please take them to their health care specialist right away for evaluation and treatment. We also ask that you refrain from any speculation as to the reason for this closure as we are all human. We must remain an understanding and supportive community no matter what challenges we face.
We at [Name of Daycare Center] look to seeing all of your bright, shining and healthy faces again soon.
Best Regards,
[Name of Center Operator]
Following the information and tips in this guide will help you craft your closure letter with precision and care.
Get 70+ Editable Daycare Templates for Almost Every Situation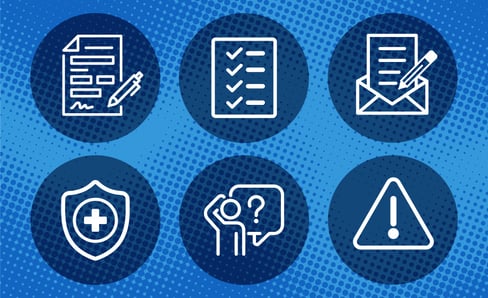 We know daycare providers like yourself are busy. That's why we made dozens of templates to help you manage the various aspects of your organization. From billing and invoicing to marketing materials, we have it all. Download all 70 today!