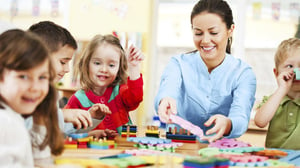 It's a problem that many low-income families face: My child(ren) must have child care before and after school, but I might not have enough money to pay for it.
The good news is, federal and state governments have a variety of programs designed to help pay for these school-age child care expenses, many of which are operated by and within the schools themselves. The other good news for the schools is that school payment software can accept both government and parent payments and reconcile them to the same student account, enhancing the cashless campus initiative.
The U.S. Department of Health and Human Services has a Child Care and Development Fund that, according to its website, provides assistance to low-income families who need child care due to work, work-related training and/or attending school. The aid is provided through state or tribal child care, education or workforce departments.
Most states provide child-care assistance for children up to age 12 or 13, with some extending the maximum age to 18 or 19 in cases of special needs. Parents must meet eligibility requirements, which differ by state and regional offices but always include an income cap.
The website ChildCare Aware has a state-by-state resource map that links users to all the resources for assistance available in each state, the District of Columbia, Puerto Rico and the U.S. Virgin Islands.
ChildCare Aware also has a search function for parents wishing to locate child-care facilities, in case their school doesn't have such as service.
Another Cabinet-level entity, the U.S. Department of Education (DOE), is trying to make it easier for college students with children to afford child care while they continue their studies. The Child Care Access Means Parents in School (CCAMPIS) program provides grants to colleges and universities to establish before- and after-school child-care centers for children of the institution's students.
Colleges and universities can apply for the program if they have students receiving a total of at least $350,000 in federal Pell grants. Low-income parents who are eligible for Pell grants are eligible to place their children in these centers.
The DOE awarded a total of $14,982,678 to 86 institutions for Fiscal Year 2017-18. The deadline for the next school year is July 24. The University of New Mexico received the largest award for the last school year, $427,596, followed by the University of Houston ($375,000), Utah State University ($374,158) and Portland State University ($373,871). Of the 86 schools on the list, 40 are community colleges.
As the chart below shows, California schools received by far the most CCAMPIS grants, $3,883,092, followed by New York ($1,526,501) and Texas ($1,275,431).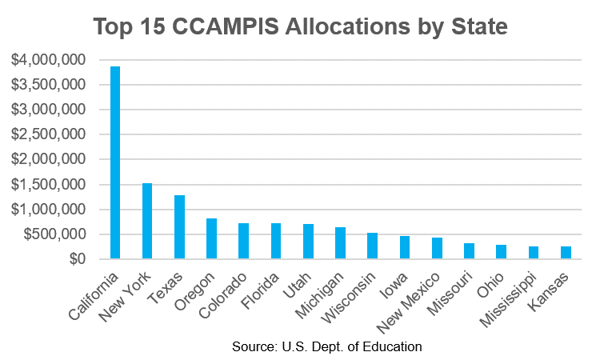 The grants are awarded in four-year cycles, but the allocations listed reflect the current year's figures. Among the top grantees, for example, New Mexico, Houston and Portland State all received the same amount as the previous year, while Utah State received a $12,609 increase over its 2016-17 grant.
With more and more child-care programs opening every year, and schools entering the field with increasing regularity as a way to supplement tax income, government assistance is available to help low-income parents defray at least some of the cost. That can relieve a lot of headaches.