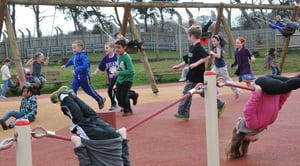 How important is recess for younger elementary students? Several studies have found that recess time has been reduced in many schools as increased emphasis is placed on maximizing academic time.
Olga S. Jarrett, a professor of child development at Georgia State University, wrote that "No Child Left Behind's focus on test scores has resulted in cutbacks to both the arts and in physical activity." Common Core standards have built on that since they were adopted in 2011. Jarrett quotes a 1998 New York Times article in which then-Atlanta Schools Superintendent Benjamin O. Canada said, "We are intent on improving academic performance. You don't do that by having kids hanging on the monkey bars."
That puts schools in a dilemma. Much depends on test scores and academic achievement, including funding, reputation, attractiveness to teachers and students – even the property values of homes in their attendance zones. And, of course, the primary mission of the schools is to graduate students trained with the skills to succeed in college or in a career. Play time doesn't necessarily advance that mission.
Or does it?
Recess and Child Focus
"Freedom to move, run and play, especially outdoors, has a tremendous impact on children's abilities to focus and control themselves throughout the day," Marie Conti, head of The Wetherill School and a director of the American Montessori Society, said in an article for the Rasmussen College blog.
Research published by the American Association of Pediatrics states that "a period of interruption after a period of concentrated instruction" is crucial to cognitive processing in younger children, and that recess results in greater attentiveness and productivity in the classroom.
In other words, all work and no play might make Jack a very dull boy – and a very stressed and unfocused one, as well.
Recess and Social Skills
In addition to brain function, recess can also become the genesis for leadership, or even a business career. Seriously. "Recess time gives more opportunity for socialization, teamwork and practice with conflict-resolution skills," Conti said in the Rasmussen blog. There's always some sort of argument happening on the playground. Working them out can develop leadership and negotiation skills. They learn to deal with issues so they can return to having fun.
The same Pediatrics piece delves into timing of recess, noting that Japan and other countries give primary-school students 10- to 15-minute breaks every hour. This cadence is based on the thought that attention spans at this age start to waver after 40-50 minutes of concentrated class time. Meanwhile, the norm in American schools is a 20- to 30-minute play period before or after lunch – with after lunch preferred because it wastes less food. Think about kids shorting their lunch time because they're so eager to get out and run around.
Recess Vs. Physical Education
Recess is often tied in with physical education, and they have their similarities. Both involve being active and exercising, and both are breaks from intensive academic concentration. But recess is more unstructured play, while phys ed is much more structured and is a learning situation.
That doesn't make one more beneficial than the other. The research shows that some sort of physical break from sitting in a classroom and focusing on academic subjects helps students in many ways.
To paraphrase En Vogue, "Free your mind, and the scores will follow."