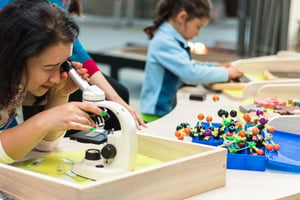 The concept of enhancing education in Science, Technology, Engineering and Math (STEM) has been around since almost the beginning of this century. While advances in these subjects have been made, there's still a long way to go until the sciences are at the level of reading, writing and arithmetic, according to experts in the field.
A Brookings Institution study found that only 16 percent of high school graduates are "proficient in and interested in a career in STEM," so various organizations and state legislatures are making suggestions and creating programs to increase that number.
For example, Colorado and Nevada in 2017 adopted what are colloquially known as "STEM seals"on high school diplomas. To earn the seals, students must complete science, math, computer or engineering courses above the normal graduation requirements. The year before, Ohio created a STEM honors diploma, which requires five math and five science credits, two of those in advanced science.
Texas created a STEM endorsement in 2013, Hawaii started a STEM honors diploma in 2011, and New York created STEM recognition on high school diplomas in 2006. Similar legislation in other states failed in the past couple of years, primarily because of opponents who saw STEM recognition as the furtherance of standardization and a weakening of local control, according to an edweek.com article.
One issue experts are facing, however, is ensuring that all students will have opportunities to receive the additional education.
"The reality is there are a lot of schools where there are no STEM Advanced Placement classes, and those schools tend to serve low-income students and students of color," the edweek.com article quoted Claus von Zastrow, research director of Change the Equation, a group representing businesses pushing for stronger STEM opportunities in schools, as saying, "You have to create the pathways for those kids."
Though more and more school districts are adding or enhancing STEM-related curriculum. Even amid budget cuts, an article in eSchool News suggests ways in which the subjects can gain more visibility.
Improve teacher education in STEM curriculum. If teachers are to train students how to code and create new computer programs, the teachers need to learn that, as well. The article suggests that school administrators must find resources to teach teachers how to teach STEM.
Change the way STEM is taught. With most students almost permanently attached to their devices, the old way of lecture/homework teaching could be going the way of the dinosaur. "Edutainment" could be a word that enters the mainstream in the next few years. Blending lessons into gaming, for example, and furthering use of smartphones and tablets in the learning structure could be a way to keep the students engaged.
Another trend is to transition STEM into STEAM, adding Arts into the mix. The thought is that understanding the concepts of art and design can further the understanding of science and math. Hands-on activity that includes art can better ingrain the scientific method, an article in EdTech magazine states.
A further extension adds an R, for Reading, to the mix, resulting in STREAM, which, according to EdTech, offers "a multi-discipline approach that starts to look like good, cross-curricular teaching."
Whatever the acronym, the goal is to encourage more students – especially young women -- to become proficient in, and seek careers in, the STEM fields. That is where the future of innovation will lie.