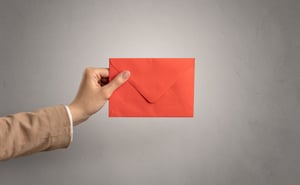 With the number of churchgoers decreasing, it's more important than ever to encourage tithing.
If you're unsure how to write stewardship letters, this guide can help. Stewardship letters for churches are relatively easy to write if you follow a few simple steps.
Table of Contents
How to Write Church Stewardship Letters for Churches
We've worked with tens of thousands of churches for more than 20 years to help them improve their stewardship. In our time honing our stewardship techniques, we discovered seven key tips to build an amazing stewardship letter for churches. By following our seven key tips, you can easily write stewardship letters for churches that work.
1. Addressing Appeal Letters
Imagine if you received an appeal, only to have your name misspelled. Attention to details matter, especially when sending direct mail. Your opening address on stewardship letters for churches should include:
The full mailing address of the sender
Date of letter's composition (or when it may reach recipients)
Recipient's name, title, and address
Salutation
As for how to write stewardship letter addresses, this depends on why you're sending letters. For example, new donors necessitate more formal language, such as "Mr., Ms., Mrs." or "Dr." You may also wish to include corresponding professional accolades, such as J.D., M.D., and so on.
With a formal ask, formality is better. If your appeal letters are more sentimental, a personal touch goes farther. Instead of a formal address, consider "The Smith Family" or even first name references.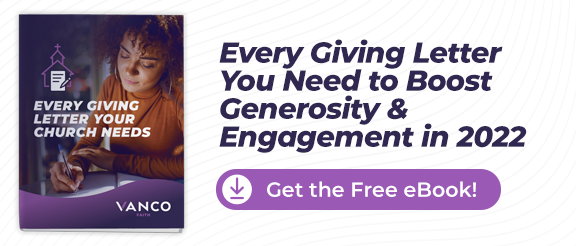 2. Expressing Gratitude for Their Stewardship
Following the address and salutation, it's time for your opening statement. This is the first paragraph in any letter, and for appeal letters, it's vital. Your opening statement needs to characterize the rest of your ask.
When drafting your opening statement, you want to communicate a few different details:
New projects or mission goals to explain why you're asking
Gratitude for past donations (for recurring or repeat donors)
Urgency and importance, depending on current events or must-haves for the church
Your opening statement must be clear, factual, specific, and brief. Many congregation members will receive asks from other nonprofits or faith-based organizations around the end of the year. To ensure stewardship letters for churches resonate with recipients, you have to explain why as simply as possible.
Your opening statement is all about expressing gratitude to current or past donors. Your appreciation needs to be genuine while encouraging more giving. Keeping everything factual and specific entices donors to continue (or even increase) their giving.
Examples of a good opening statement could follow different formats or styles. See some ideas for church fundraising below:
Strong emotional appeal with an anecdote
Factual results of how donations helped this year
Dramatic consequences of underfunding (what the church may lose)
Any one of these examples fits well into an opening statement. You can provide further detail for donors (based on donor type) in the rest of the body text. The body text helps explain what donor stewardship supports.
3. Explaining What Fundraising Supports
After the opening statement comes the body of the letter, this should stay on-topic and remain brief. The point is to avoid losing donor interest while justifying your need or narrative from the opening statement.
This justification is critical for first-time and repeat donors. If worded correctly, you can generate more stewardship and increased gift totals. The wording in your explanation needs to incorporate a few key elements:
Individual, personal language for each congregation family or member
Second person voice

for even more personal impact
Storytelling elements with the problem, ongoing changes and potential resolution
Concrete results possible from increased stewardship offerings
Focus on the congregation, not the church. Readers can easily detach from the personability when they think of a larger group or a simple building. Grounding your explanation in sentiment and community reaches deeper than generic need.
The more personal and sentimental the justification, the more likely your donors will respond. The last thing donors need is excessive detail or something that feels manipulating. Overwhelming recipients with too much drama comes across as inauthentic.
4. Describe the Church's Financial State and Need
Your body paragraph should also include a description of the church's financial state. This description can inspire donation through sheer simplicity. If worded correctly, it can offer motivation for reluctant donors.
Personal mentions of past gifts and the results they produced can encourage donation increases. Sending letters to members who have never donated is also important.
Recognizing that every member comes from different financial means is important. The best thing to do when asserting the church's need is to highlight that every dollar counts.
If targeting affluent members who have not yet given, avoid pushing too hard. Instead, consider statistics about the percentage of donors who do or don't give. And reiterate how every dollar helps and how sacrifices for the community are signs of goodwill and faith.
5. The "Ask"
After providing specific, factual details in your explanation, it's time for the ask. Stewardship letters for churches have a few different formats for asking. The ask portion of the appeals letters can be a form or more text.
This is either a second body paragraph or where donors choose how much they give. You can list suggested contribution amounts and remind them (again) what they give matters. Explain how their donations support the mission and the congregation.
Your suggestion for the ask portion can include any of the following elements:
Numbers in graduated amounts
Offer flexible payment options (monthly or annual)
Mention flexible payment methods (SMS, credit card, etc.)
A blank line for write-in amounts
Your reminder can even specify that their contributions set the literal budget. Focus less on the negative aspects of this. Instead, speak to hopeful goals for the future.
6. Focus Forward With Church Mission Goals
Focusing on the future offers more inspiration for your congregation. You can extend the ask portion of your letter to include concrete financial targets. If your church needs expensive equipment or adornment, this is the space to explain why.
This should be your final paragraph. The contents of this section are the "why" for your ask. Although your opening statement and explanation introduce the need, the closing statement closes the loop.
For current donors, include a final note of gratitude—remark on how contributions lead to new developments for the church. Feel free to encourage an increased donation for bigger and better changes in the future.
First-time donors can respond well to this section. If a sentimental opening statement did not hit home, future growth might. Some donors respond to immediate needs, while others want to look ahead.
Highlighting how new donations enrich the community can inspire long-term members to donate more. This can make new members feel valuable. It may also inspire their dedication to other efforts for the congregation's future.
7. Closing Stewardship Letters for Churches
The closing of your appeal needs to tie everything together. It should also integrate everything you've mentioned previously. Use sincerity and your official title when closing.
Whoever drafts and signs the letter should be in a position of authority, such as a pastor or lay ministry leader. Make sure the name is recognizable, as this inspires further emotional connection for the congregation. When donors connect a face and person with an ask for aid, they tend to care more.
When closing the letter, highlight the need and appreciation one last time. Then, make sure to provide necessary contact information for anyone who may have questions.
A Sample Stewardship Letter
Bear in mind, stewardship letters for churches are not all direct mail. Some of your appeals letters may be digital, especially for a prompt response. See the example below for your reference, making sure to personalize it based on a specific donor or church member.
Dear [Personalized Salutation],
Last spring, our lives changed drastically—how and where we could work, eat, gather, serve and worship. Buildings closed, but clergy and parishioners at [ Church] stepped forward to assure ministry continued. Through activities such as [cite examples], we responded, in both word and action.
This year reminds us that financial support, in the form of a pledge to the Operating Budget of [ Church], is vital to carry out the church's work. Whether we gather for worship inside our building, in our parking lots, or online, we continue to be the body of Christ through our ministries, our witness, and our care for one another.
We cannot know what lies ahead of us, but we remain confident in the assurance of God's abiding and steadfast love. Because of your generous and faithful gifts, our church can keep doing what love requires of us by nurturing life-giving, joyful ministries both inside and outside our parish walls.
Nearly all members of [Church] make an annual financial pledge. Some members tithe, committing ten percent of their income to the work and missions of our church. Others give proportionally by committing a certain percentage. Still, others give as they are able.
What is most important is that everyone supports in the form of a financial pledge. We ask that you prayerfully consider how you might contribute.
Included with this mailing is a pledge card for [year]. Please join others in our congregation by making a financial pledge by [Date].
If you have any questions or would like to discuss further making a financial pledge to [Church], please don't hesitate to get in touch.
Faithfully, [Clergy or Lay leader]
A Few Notes On This Template Letter
Note how generic this language is (as this is a template), yet it still highlights a church's potential needs. Consider the direct mention of every financial pledge's significance to the Church's operational budget. Normally, an ask for something like this is only relevant in times of significant financial need.
You can personalize a letter like this based on the giving campaign established for your church's needs. If it's not the operating budget but clergy salary or covering benefits for other employees, say so. Whatever your specific congregation needs, use appeal letters to ask for it.
When you appeal to newcomers or long-time church members, make sure you validate their participation in the community. Explain how essential their pledges are to the community's future. Don't be afraid to use strong emotional language to connect with the congregation.
Find More Valuable Resources for Church Fundraising With Vanco
Our software can support all of your giving needs. These examples of stewardship letters for churches are not the only resources we offer. And, your congregation can use every resource available.
Looking for Letter Templates to Get Started?
Without a framework, or an example, crafting an appeal or a thank-you message can be cumbersome. That's why we built a complete guide that not only offers 35 letter samples and templates for nearly any situation, but also offers specific guidelines to help.
Download the guide for free!