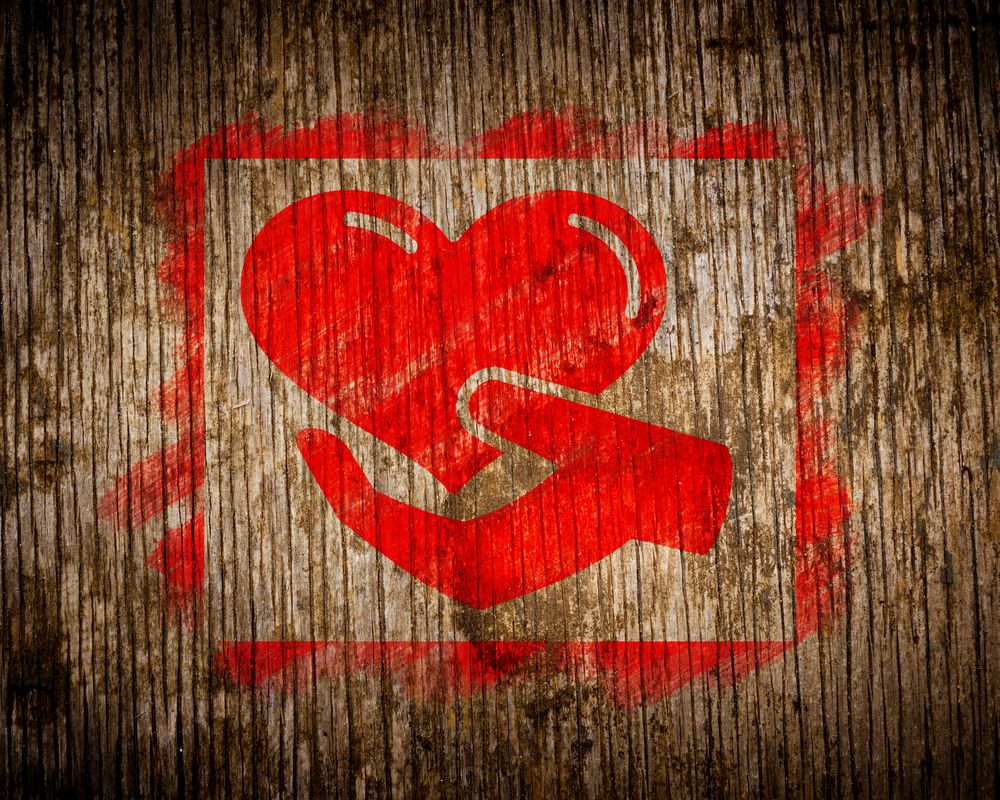 Today, church fundraiser ideas must be both creative and effective.
There are many heartwarming stories of communities joining together to help local churches in their time of need, but unfortunately this aid isn't always enough. To ensure they have funds to continue their vital work, churches must continue to look for new and unique church fundraising ideas. They cannot rely on collecting tithes alone.
But generating the most profitable church fundraiser ideas is challenging and it's a big ask, even for the most seasoned church fundraisers. This guide explores the 10 top fundraising ideas for churches and provides a comprehensive catalog of 114 more ideas. No matter what your church is raising money for, you'll find many exciting church fundraising ideas you can start working on today plus tips on how to implement them.

Table of Contents
Why Fundraising is Essential for Churches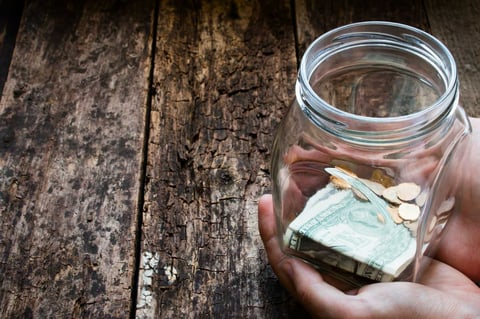 There are many reasons that churches must fundraise, and not all of them are financial. That said, understanding why churches need fundraising ideas is easier if you have a thorough understanding of the forces behind church fundraising. Here's an explanation of the most important drivers of church fundraising.
Churches don't bring in much money, because they are nonprofit entities

.

Most churches are considered

501(c)(3) tax-exempt organizations

under U.S. tax law, which means they are deemed public charities. Most churches rely almost completely on donations from members and non-members alike.

Fundraisers mean outreach, and outreach typically means increased funding

.

Fundraisers allow churches to connect with local community members and businesses. These connections are extremely valuable because they help increase the pool of prospective donors, so the church can provide more aid and community outreach. Virtual fundraising ideas, including using an

online giving platform

, can increase outreach exponentially.

Churches must cover operating costs.

Churches are not businesses, but they do have operating costs. They are responsible for covering costs like electricity, gas and water. They may also be responsible for paying rent or paying off loans, depending on their circumstances.

Fundraising typically invokes the spirit of the scripture.

The scripture is quite clear. 2 Corinthians 9:6-8 says: "Remember this: Whoever sows sparingly will also reap sparingly, and whoever sows generously will also reap generously. Each of you should give what you have decided in your heart to give, not reluctantly or under compulsion, for God loves a cheerful giver." Fundraising is an opportunity for church members to give back to the community and church and to embody the spirit of giving.

Top 10 Fundraising Ideas for Churches
Fundraising ideas aren't hard to come by, as fundraising has been done pretty much since the dawn of time. However, it's important to distinguish between fundraising ideas that are good in theory but aren't' actually all that effective. This list of tried-and-tested fundraising ideas, plus newer innovative virtual fundraising ideas, offers viable solutions to earn funds for your church and increase community outreach. However, the best and most effective church fundraiser ideas are the ones that best suit your church, community and congregation. Here are the top 10 fundraising ideas for churches in 2023.
1. Basket Raffle
Cost: $

Difficulty: Moderate
Basket raffles largely rely on the kindness and generosity of the small businesses in your community. These businesses typically donate items to be arranged in a basket and raffled off by the church. The key to a successful basket raffle is to build as many baskets as possible and ensure that the baskets cater to a variety of interests.
2. Church Yard Sale
Cost: $

Difficulty: Moderate
Everyone has items in their homes that they no longer use that are collecting dust and taking up space. Ask your congregation to donate these items you want to to your church's yard sale! Place signs up around town and advertise on social media to draw a crowd. Any leftover items can be stored until the next sale or donated to help the less fortunate.
3. Community Event
Cost: $$

Difficulty: Hard
Whether you host a block party or create a winter wonderland, hosting a themed event for community members is a surefire way to earn. Simply charge for admission and connect with local vendors to collect donations to help you pull the event off. This is also a virtual fundraising idea, as it should be advertised online and you can post about the event on your church's social media pages and ask followers to spread the word.

4. Bottle and Can Drive
Bottle and can drives are typically low-effort fundraising options, but they can be some of the most profitable church fundraisers that yield a high reward, especially if done consistently. Set up a can donation station on your church's premises, advertise it to your congregation (ask them to spread the word around town!) and routinely recycle the cans for cash. You'll reap cash rewards and help the planet.
5. Auction
Cost: $

Difficulty: Moderate
An auction is an awesome church fundraiser idea because the vast majority of items being sold can be sourced cheaply or donated by local businesses. Additionally, large ticket items often draw large crowds, so your church may even entice nonmembers to participate in the auction. This is another event to advertise on social media, as it's important to get as many people involved as possible. There are different ways to make this a unique church fundraising idea. You can hold a traditional auction, with a volunteer auctioneer, or run a silent auction with sealed bids. You can also hold the auction virtually to reach even more potential bidders.
6. Virtual Offering Plate
Your church may have members who can't make it to services in person. If these members are immunocompromised or have other challenges, they may be missing out in other areas of their lives as well. An online church service is a great way to connect with those congregation members. Setting up a virtual offering plate during your church's online church services gives those watching at home the opportunity to give.
7. Movie Night
Cost: $

Difficulty: Moderate
Hosting a movie night doesn't mean that your church must have a huge projector and sound system. You can scale down to hosting a family movie night on whatever device is available. Charge per entrant and encourage guests to bring items like pillows, lawn chairs and blankets to make themselves comfortable during the film. If you want to go the extra mile, you can connect with a local movie theater and ask about hosting a movie night in an empty showing room.

8. Local Business Partnerships
Cost: $

Difficulty: Moderate
Partnering with a local business (or more than one!) is a great way to bring the community together and support small businesses. It's a win-win. A business or restaurant may host a sale with a portion of the proceeds going to your church or dedicate a day or time period during which they donate all sales proceeds to your church.
9. Bake Sale
Cost: $

Difficulty: Moderate
Yes, bake sales are among the most common fundraising ideas for church on the planet. However, there is a reason they are so popular — they work! Bake sales are usually low- to no-cost fundraising ideas that enable church members to show off their baking skills and other talents make money for the church. Church members may choose to pay for the cost of ingredients themselves or your church can connect with a local grocer to sponsor the event.
10. Social Media Giving Campaign
Cost: $

Difficulty: Moderate
Social media is a powerful church marketing tool, even without relying on paid campaigns. Churches can launch simple, free fundraising campaigns with just a single post and hashtag. Your church may tap into the generosity demonstrated on the global Giving Tuesday initiative, where social media users may take to social media channels to showcase their donations and invite others to do the same.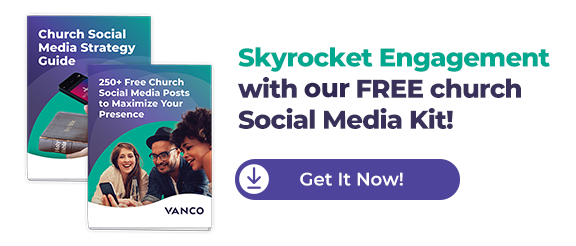 Post to your church's social media account inviting followers to post selfies of their pledges to give using the hashtag #GivingTuesday. Because this is a virtual fundraising idea, you'll need to set up an online donation station to help people give.
More Unique Church Fundraising Ideas
That's the top 10, but let's keep going! There are many more great church fundraiser ideas ahead.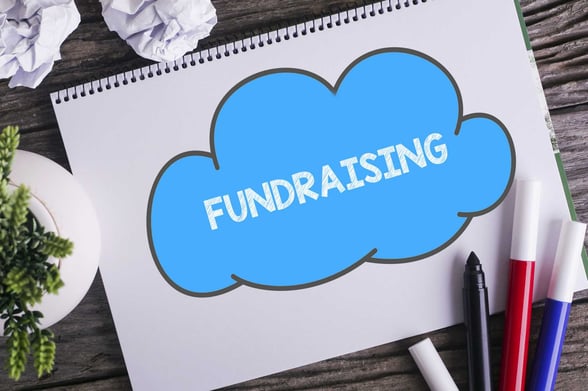 11. Themed Dinner Night
Cost: $$ - $$$

Difficulty: Moderate
Organizing a themed dinner night offers a unique opportunity for church fundraising. From an Italian spaghetti evening to a Hawaiian luau, the possibilities are endless.
When choosing a theme, think about the tastes and preferences of the church community. If your congregation has diverse backgrounds, hosting a global food night can be a great hit and makes this one of our top church fundraiser ideas.
The success of this fundraiser hinges on details and preparation. First, pick a date that doesn't clash with other church events.
Once you've got the date, spread the word. Use posters, social media and community announcements. The goal is to get everyone excited about the upcoming event.
Next, think about the venue. The church hall might be perfect. But if you want an authentic feel, renting a special venue can make a difference.
This may increase the cost, but it also can increase the ticket price, as the experience would be more unique.
Volunteers play a big role in such events. You'll need people to cook, serve, decorate and clean up.
Consider reaching out to church members who have a knack for cooking or experience in event planning. Their expertise can add a touch of professionalism.
Another aspect to consider is entertainment. Having a live band, dance performance or cultural showcase that aligns with the theme can enhance the overall experience. If your theme is Italian, for instance, hiring a local band to play Italian songs could be a hit.
Ticket sales are crucial. Determine a price that covers costs and ensures a decent profit. Early bird prices or family packages might attract more attendees.
And don't forget the power of donations. Some might not attend but would still like to contribute.
12. Coffee Shop Sundays
Cost: $$

Difficulty: Easy
Imagine this: Sunday mornings at the church, not just for sermons but also for a cup of fresh coffee and delightful pastries. Coffee shop sundays can turn into a regular church fundraiser activity.
Start by setting up a temporary coffee stand in a spot where it's easily accessible after services. But remember, it's not just about coffee. Add hot chocolate, pastries, donuts and other baked goods to the menu. Offer these delights for donations. Keep the menu simple yet enticing.
Relying on volunteers can help manage costs. From brewing coffee to serving pastries, church members can be involved in various roles.
For an authentic touch, consider a barista training session. A local coffee shop might offer a short course.
Also, think about the coffee itself. Partnering with a local roaster or coffee shop can offer fresh beans or grounds. This supports local businesses and introduces members of the congregation to new flavors.
Beyond Sundays, consider making this church fundraiser idea a regular event. Midweek prayer meetings or Bible study sessions can also include a small coffee setup.
13. Scripture Mastery Challenge
Cost: $

Difficulty: Moderate
The Bible holds a treasure trove of verses and stories that guide our faith. Hosting a scripture mastery challenge invites congregation members to deepen their scripture knowledge. This fundraising idea for church can be both educational and fun.
The idea is simple. Participants get a list of scriptures to study. After some time, there's a friendly competition to see who's mastered them most successfully. Questions can range from scripture quotes to deeper insights into the stories.
Spread the word through church announcements and social media. This event can attract participants of all ages. Younger members can learn while older ones can showcase their knowledge.
Charging a small entry fee can help raise church funds. To keep everyone engaged, offer prizes. They don't have to be grand; simple rewards like gift cards or books can motivate many.
For those who wish to study but not compete, offer a study group. This way, everyone can benefit from the challenge, whether they join the competition or not.
14. Church Fitness Challenge
Cost: $$

Difficulty: Moderate
A fit body and a fit soul go hand in hand. The church fitness challenge is a unique church fundraising idea and a great way to inspire members to take care of their health while supporting the church. Here's how it can work.
Set a fitness goal for participants. It could be steps per day, miles run in a month or hours of exercise.
Participants then ask friends and family to sponsor their goal. For example, a sponsor might give a dollar for every mile run.
To kick things off, host a launch event. This event can be a simple walk around the church neighborhood. It's a chance to get everyone excited and to share fitness tips.
During the challenge, encourage members to share their progress. They can post photos or updates on the church's social media pages.
Also, consider teaming up with local gyms or fitness experts. They might offer free classes or workshops for participants. This not only gives the challenge a professional touch but also promotes community ties.
At the end, celebrate everyone's achievements. Host a small ceremony to honor those who met their goals. Remember, the focus is on health and community, not just raising church funds.
15. Church Cookbook
Cost: $ - $$

Difficulty: Easy
Everyone has that one special recipe passed down through generations. Gathering these treasures into a church cookbook can be both a bonding experience and a way to raise church funds.
Start by asking congregation members to share their favorite family recipes. It's a chance for them to show pride in their culinary heritage. Make sure to get a mix of appetizers, main courses, desserts and drinks.
As the recipes come in, a team can work on layout and design. With today's software, creating a professional-looking cookbook is easier than ever. The goal is to make it visually appealing, with photos of dishes, if possible.
Printing is the next step. Local printers might offer a discount for a community event.
Once printed, the books can be sold after services, during church events or even online. Remember to set a price that covers the printing cost with a bit extra for the church.
16. Handmade Craft Sale
Cost: $ - $$

Difficulty: Easy
Crafting is a hobby for many, and the results can be pure works of art. A handmade craft sale invites the church community to showcase their talent, and at the same time becomes a church fundraising idea that involves everyone.
Begin by choosing a date and venue. The church hall or an outdoor space can be ideal.
Next, put a call out for crafters in the congregation. From pottery to knitwear to paintings, there's no limit to what can be showcased.
Renting stalls can be a source of revenue. Crafters can pay a small fee to display and sell their items. This helps cover the event's costs.
On the day of the sale, encourage a festive atmosphere. Play some music, serve refreshments and create a space where people want to stay, chat and shop.
Promotion is vital for this fundraising idea for church. Use the church's social media pages, community boards, and announcements to get the word out.
Highlight a few crafters and their works as teasers. This sale raises funds and supports local artisans.
17. Hymn Request Hour
Music touches souls and hymns have a special place in the hearts of the faithful. A hymn request hour turns this love for hymns into a unique church fundraising idea.
Here's the concept: During a designated service or special event, members can make donations and request their favorite hymns. The church band or choir then performs the requested hymns. It's a simple yet deeply personal way to connect with faith.
Preparation starts with a list. Compile the hymns that can be performed, considering the available instruments and singers. Share this list ahead of time so members can think about their choices.
On the day, set up a request station where members can make their donations and list their hymn choices. A live element can add excitement.
After every few hymns, announce the next one and the name of the person who requested it. This personal touch can make members feel valued and connected.
While it's mainly about the music, consider offering refreshments or having a small reception afterward. It provides an opportunity for the congregation to mingle and share their thoughts on the hymns they heard. It's a blend of faith, community and fundraising in perfect harmony.
18. Church Car Wash
Cost: $ - $$

Difficulty: Easy
Who doesn't love a freshly cleaned car? A church car wash provides a service to the community while also being a source of church funds. Plus, it's a fun way for congregation members to work together.
First, pick a day with good weather. Set up in a visible area like the church parking lot.
You'll need buckets, soap, sponges and water hoses. If possible, set up different stations: one for washing, another for rinsing and a third for drying.
Promotion matters. A week before the event, let your community know about the car wash through church announcements and social media. On the day, place signs near roads to direct drivers to the location.
Charge a set fee for each car wash. Offer a few add-ons, like tire shine or interior vacuuming, for an extra charge. Before the event, recruit volunteers. The more hands you have on deck, the faster the cars get cleaned and the more vehicles you can service.
19. Photography Session Day
Cost: $$ - $$$

Difficulty: Moderate
Capturing moments is precious. A photography session day can provide families and individuals with high-quality photos while raising funds for the church. It's a win-win.
Start by partnering with a local photographer. Some might offer their services at a discount or even free, knowing it's for a good cause.
Book a day and set up a space in the church or an outdoor setting. Ensure thea location has good lighting and a beautiful backdrop.
Offer different packages. Maybe a family session, individual portraits or even candid shots. Set prices that provide value to members and benefit the church.
Spread the word about the event. Use church events, social media and announcements. Highlight the photographer's work as a teaser of what to expect.
On the day, manage bookings to ensure everyone gets their turn. Provide props or accessories for people to use to add fun to the session.
20. Church Talent Show
Cost: $$

Difficulty: Moderate
Everyone has a talent, be it singing, dancing or even magic tricks. A church talent show is a unique church fundraising idea that provides a chance for members to shine and showcase their skills.
Start with sign-ups. Give members a few weeks to think about their acts and register. This gives you a sense of the variety and number of acts. Depending on the response, you can set the length and flow of the show.
Choose a date and promote it. Sell tickets for a nominal fee that covers any setup costs and adds to church funds.
Make sure to set up a stage, lighting and sound systems. If the church doesn't have the equipment, consider renting it.
During the show, let the talents shine. Between acts, engage the audience with fun facts about the performers or light-hearted commentary. It's not just about raising funds; it's about celebrating the diverse talents within the community.
21. Gospel Karaoke Night
Cost: $$

Difficulty: Moderate
Karaoke is a fun activity where people can sing their favorite songs to backing tracks. For a church twist, how about a gospel karaoke night? It combines the joy of singing with the beauty of gospel music, making it a great church fundraising idea.
Start by securing a good karaoke machine, preferably one with a collection of gospel tracks. You can rent or borrow one.
Choose a date and set up a stage in the church hall or an open space. Charge an entry fee, either per song or for the whole event.
Spread the word and encourage members to participate. Highlight the fun aspect; it's not about having the best voice but about enjoying the music. Maybe even throw in a prize for the best or most spirited performance.
22. Board Game Marathon
Board games have a way of bringing people together, sparking competition and laughter. Hosting a board game marathon is an engaging way to involve members and also raise funds.
Select a variety of games, ranging from classics like Monopoly and Scrabble to more modern ones. If buying all these games isn't feasible, consider asking members to bring their own to share.
Set up tables and chairs in a spacious area. For this church fundraising idea, charge an entrance fee. Offer snacks and drinks for sale to keep players energized.
You can also introduce challenges or mini-tournaments within the marathon. Maybe the person who wins the most games gets a prize.
Remember, the key is variety. People have different tastes in games, and offering choices ensures everyone finds something they like.
23. Church Escape Room Challenge
Cost: $$$

Difficulty: Hard
Escape rooms are popular team-building exercises and can make a great fundraising idea for church. They involve puzzles, clues and time limits to "escape" or solve the main puzzle. A church escape room challenge can be a unique and fun way to raise church funds.
First, decide on a theme. Maybe it's a biblical story or a general church-related mystery. Design the puzzles and clues around this theme.
The challenge is to make it neither too hard nor too easy.
Transform a room or area in the church into the escape room. Use props, lights, and sounds to set the atmosphere. It's all about immersion.
Set a time limit for each group, maybe an hour, and see which team can solve the mystery in the shortest time.
Promote the escape room challenge in church events and social media. Charge each team a fee. Remember, it's not just about the puzzles; it's about teamwork and having a shared experience.
24. Seed Sale for Gardeners
Gardening is a passion many share. And what's better than watching plants grow from a tiny seed? A seed sale for gardeners is a green, effective and sustainable way to raise funds for the church.
Start by sourcing various seeds. You can contact local nurseries or farmers. Pick a mix of flowers, fruits and vegetables to appeal to all types of gardeners.
Packaging is crucial. Use small envelopes, label them clearly and maybe add a short note on care instructions.
Spread the word about the sale. Ensure to mention the benefits of gardening.
Not only is it therapeutic, it promotes a love for nature and care for the environment. Charge per packet or offer deals for bulk purchases.
25. Charity Sports Match
Cost: $$ - $$$

Difficulty: Moderate
Everyone enjoys a good game, whether they're playing or cheering. Organizing a charity sports match can be an energetic and exciting church fundraising idea.
Choose a popular sport in the community. It could be basketball, soccer or even something like dodgeball. Form teams from within the congregation or invite local teams to participate.
Rent a local sports facility or use the church grounds if they're suitable. Sell tickets for the match, offer refreshments on the day, and maybe even hold a small halftime show or performance.
The fun doesn't have to stop at the match. Consider organizing a small after-party or gathering.
It's essential to promote the charity aspect. Talk about how the funds will be used and the impact they'll have. It's a way for the community to come together, enjoy some sports and contribute to a good cause.
26. Bricks and Tiles Fundraiser
Cost: $$

Difficulty: Moderate
Monuments, walkways and church walls often have a story. A bricks and tiles fundraiser is a unique church fund raising idea that gives your congregation the chance to be a permanent part of that story.
The idea is straightforward. Offer bricks or tiles for sale that will be used in a church construction or renovation project. But these aren't just any bricks or tiles — they can be inscribed with the donor's name, a short message or a Bible verse.
This concept works well for pathways, walls or even church halls. Every time someone walks by, they'll see the names and messages, creating a lasting bond with the place.
To make this work, partner with suppliers who can provide and inscribe the bricks or tiles. Ensure the quality is top-notch, as these will be permanent fixtures in your church. Promote the sale by explaining its significance.
It's not just about raising funds; it's about creating a legacy.
27. Coffee Subscription Service
Cost: $$$

Difficulty: Hard
People love their daily dose of coffee. So, why not turn this love into support for the church? A coffee subscription service is a fresh idea. Here's how it works.
The church can partner with a local coffee roaster, then offer monthly or weekly deliveries of fresh beans or grounds to members.
Members can choose their favorite blend or try something new each month. They get quality coffee delivered right to their door, and the church gets regular funds.
There's a bonus here. When members brew their coffee, they'll remember the church. It's a warm way to start each day.
28. Historical Church Tours
Older churches often hold many secrets. Their walls have seen a lot over the years. Offering historical church tours can be a great way to share this rich history.
Begin by researching the church's past. Maybe there's a unique architectural feature or a story about its founding members. Some churches might even have ties to significant historical events.
Next, set dates for the tours. Find passionate guides from within the congregation. They can share stories and facts with visitors.
Charge a small fee for the tour. You can also offer special group rates for schools or organizations.
The tour can end with a small snack or meal. It gives visitors a chance to discuss what they learned and it adds a touch of hospitality.
29. Pet Blessing Day
Pets are like family. And many people love the idea of having their pets blessed. So, a pet blessing day can be a heartwarming event for the congregation and a fun fundraising idea for church.
Plan the day well. Choose a space, either indoors or outdoors, depending on the number of pets and the weather. Make sure there's enough room for both pets and their owners.
Invite a church leader to offer blessings. It can be a short prayer or message for each pet. Consider setting up a small station with water and treats for the animals.
Charge a small fee for each blessing. To make the day even more special, offer a certificate or a small token for each pet. It's a keepsake owners will cherish.
Pet Blessing Day can be more than just blessings. Invite local pet stores or services to set up stalls.
They can offer products or share information. It turns the day into a fun community event.
30. Flower Sale
There's a charm in flowers that people can't resist. Bright petals and fresh scents can lift spirits. So, a flower sale is one of the classic church fundraiser ideas that always seems to win hearts.
Start by teaming up with a local nursery or flower supplier. They might offer bulk rates or special discounts for the church.
Next, decide on the variety. Seasonal flowers are a hit because they're fresh and timely. But classics like roses or lilies can also be in the mix. You can also offer bulbs for sale, which buyers can plant in the spring or fall and enjoy during the next growing season.
On the day of the sale, set up stalls outside the church or in a community center.
Encourage members to spread the word. They can invite friends, family and neighbors. Flowers make great gifts, so timing the sale near holidays or special events can boost sales.
A fun twist? Allow people to mix and match. They can create their own bouquets for a personal touch.
31. Church Calendar Sale
Cost: $$

Difficulty: Moderate
Calendars help us plan and remember important dates. A church calendar sale is a reminder of faith all year long. It's another great choice when thinking of church fundraiser ideas.
Begin by picking the themes for each month. It could be Bible verses, church events or even pictures of the congregation.
Make sure the calendar has a mix of images and words so it appeals to everyone.
Get these calendars printed on good quality stock. It makes them last longer and gives a professional touch.
And remember, they aren't just for church members. Many people appreciate a beautiful calendar, even if they don't belong to the church.
Sell these calendars after Sunday services or during community events. The start of a new year or academic year is the best time.
But even at midyear, there's a demand. After all, who doesn't need an extra calendar for their workspace or kitchen?
32. Workshop Series
Cost: $$$

Difficulty: Hard
Sharing knowledge is a gift. And organizing a workshop series is a fresh and unique church fundraising idea that combines learning and fundraising. It stands out among other church fundraiser ideas because it adds so much value.
First, find out what skills or knowledge the church community can share. Maybe there's a baker who can teach cake decorating. Or a gardener who knows all about organic gardening. Even members with tech skills can offer workshops. The options are endless.
You can also offer webinars for appropriate topics, which you can broadcast to community members near and far.
Once you have a list of topics, plan the schedule. Decide how long each workshop will be and where it will take place. It could be in the church hall, a community center or even outdoors.
Charge a fee for each workshop. Offer discounts for those who sign up for more than one to encourage more participation.
Promote these workshops well. Use social media, community boards and word of mouth. Highlight the skills people will gain, because it's not just about raising funds — it's about building a skillful community.
33. Missionary or Project Sponsorship
Cost: $ - $$$

Difficulty: Varies
One of the most direct fundraising ideas for a church is the sponsoring a missionary or special project. This approach has a strong impact because people see where their funds are going.
When a church member decides to embark on a mission trip, the expenses can add up. There's travel, lodging, food and many other costs. Asking the community to sponsor a missionary means everyone has a part in this noble task. It's not just the person traveling; the whole church is involved.
Begin by sharing the story of the missionary or the project. Why are they going on this mission? What do they hope to achieve?
When the congregation understands the "why," they're more likely to help. Use photos, videos and testimonies to make the story more real.
Update the church on the progress too. When sponsors see the good their money is doing, they feel a deep sense of satisfaction.
The same concept applies to projects. Maybe the church wants to build a school in a needy area or perhaps there's a plan to dig a well in a village. By sponsoring the project, the congregation feels they're part of something bigger.
34. Puzzle Swap
Puzzles are a timeless way to relax and challenge the mind. But once you complete a puzzle, it often just sits in its box, waiting. The puzzle swap brings new life to these old puzzles. It's a fundraising idea for church that's both fun and eco-friendly.
Encourage church members to bring puzzles they've already completed. Request puzzles in good condition, with no missing pieces.
Set up a day where everyone can come and swap their puzzles for a small fee. The thrill here is in the hunt, finding a puzzle that excites and challenges all over again.
Puzzles come in various themes and difficulty levels so there's something for kids and adults. It's also a great way to spend quality time with family, piecing together a new story.
35. Religious Art Exhibition
Cost: $$ - $$$

Difficulty: Moderate
Art speaks to the soul. That's what makes a religious art exhibition a beautiful congregation fundraiser. It blends faith with creativity, drawing both church members and art lovers.
First, reach out to local artists in the community. You'd be surprised how many gifted individuals are right in the congregation.
Ask them if they'd like to display their religious art pieces. This could be paintings, sculptures or even handmade crafts. If possible, include a mix of professional artists and budding talents.
Promote the event in the community. Highlight the spiritual theme and how it aims to inspire through art.
Charge an entrance fee, and perhaps even offer some art for sale. The artists get exposure, and the church raises funds. It's a beneficial situation for all.
During the exhibition, create a serene atmosphere. Play soft religious music in the background. Offer refreshments. Make it an experience, not just a viewing. Engage with visitors, discuss the artwork and let the pieces stir conversation.
36. Candlelit Prayer Evening
Creating a serene atmosphere for reflection and connection is at the heart of the candlelit prayer evening. It's one of those church fundraiser ideas that truly resonates with the core values of many congregations.
The idea is simple. Transform the church space into a haven of peace with candles everywhere. The soft, flickering light creates an environment that invites deep thought and prayer.
Charge a small entry fee for the evening, but keep in mind that the goal is both to raise funds and to offer a spiritual experience.
As people enter, give them a candle to light and place it wherever they choose. This personal touch allows participants to feel they're contributing to the ambiance.
Throughout the evening, feature a few scheduled moments where members from the congregation share uplifting stories, read scriptures or play soft, spiritual music. Remember, the night is all about finding peace and connecting with one's faith.
37. Debate or Discussion Evening
Cost: $$

Difficulty: Moderate
Engaging the mind and stirring conversation is a different and unique church fundraising idea. A debate or discussion evening provides an excellent platform.
Select a relevant topic that resonates with your congregation and the wider community. It could be a theological topic, a social issue or even a discussion of the history and traditions of the church.
Invite knowledgeable speakers or panelists who can present different views. Ensure there's a balance to keep the debate fair and enlightening.
Promote the event well in advance. Highlight the topic and the speakers. Charge an entry fee and if possible, offer refreshments for an additional cost.
The aim is to create a space where ideas can flow freely, questions can be asked and thoughtful conversation is the norm.
While debates can get heated, always keep the tone respectful. After all, the aim is understanding and growth, not winning an argument. Encourage attendees to share, listen and most importantly, learn.
38. Quilt Auction
Cost: $$

Difficulty: Moderate
When people think of church fundraiser ideas, the art of quilting might not be the first thing that comes to mind. But hosting a quilt auction can be one of the most heartwarming and unique church fundraisers for adults and children alike.
Quilting is an age-old craft that combines artistry with storytelling. Each quilt has a story, stitched together by the hands that made it. And in a church setting, these quilts can represent community, faith and love.
So, having an auction where these beautiful pieces are sold can be a meaningful way to raise funds.
Start by rallying the skilled quilters in your congregation. They might be excited at the idea of crafting a quilt for a good cause.
If you have a sizable group, consider having a theme for the quilts. It could be based on a Bible story, a season or even the history of your church.
Once the quilts are ready, pick a date for the auction. Promote the event across all church platforms, highlighting the craftsmanship and the stories behind each quilt.
On the day of the auction, display each quilt with a short description or story card. This gives potential bidders a deeper connection to the items.
The beauty of a Quilt Auction is that it not only raises funds but also celebrates the talents and stories within the congregation. It's a reminder of the threads of community and faith that bind everyone together.
39. Sponsored Fast
A sponsored fast turns personal sacrifice into a collective effort. It's a unique way for members of the church to show their faith and commitment while also supporting a cause.
The concept for this fundraising idea for church is simple: participants choose to fast for a certain period, be it a day or more. Instead of spending money on meals, they donate that amount to the church. Friends, family, or other church members can also sponsor those fasting, pledging an amount for each hour or day they commit.
Preparation is key for a Sponsored Fast. Ensure participants are aware of the health aspects; not everyone can or should fast, especially for extended periods. Always advise them to consult with a healthcare professional before starting.
To keep everyone connected during the fast, consider setting up a virtual or physical meeting spot. Here, participants can share their experiences, read scriptures or simply offer support to one another. This shared experience can deepen the bonds within the congregation.
The Sponsored Fast can be tied to a specific cause or project the church is supporting. Maybe it's a mission trip, a building renovation or support for a local charity. By connecting the fast to a tangible outcome, participants can see the direct impact of their sacrifice.
40. Caroling for a Cause
Cost: $

Difficulty: Moderate
When the holiday season approaches, festive music fills the air and joy is contagious. One of the timeless fundraising ideas for a church during this season is caroling for a cause.
Gather a group of willing singers from the church, ranging from kids to adults. With a songbook in hand and maybe even some light instruments, they can visit local businesses, parks, or houses, sharing the joy of song. In return, listeners can give small donations to support the church's projects.
Expenses might include printed songbooks, transport if needed and perhaps some simple costumes or props to enhance the festive mood. This makes it one of the more affordable church fundraiser ideas.
The beauty of caroling for a cause is twofold. It spreads festive cheer and the message of faith to the community. At the same time, it raises funds for the church in a heartfelt way.
Plus, it allows members of the congregation to actively participate, making it a community-centered event.
41 .Tithing Pledges
Cost: $

Difficulty: Moderate
Traditionally, tithes represent ten percent of each donor's income. While not all churches tithe, this approach may appeal to donors who want to make regular commitments to the church. Today, with the right technology, it's easy for members to make regular tithes and for churches to collect them.
42. Sponsor-a-Pew
Cost: $$

Difficulty: Moderate
Give church members the opportunity to establish personal and significant memorials in the church building by sponsoring pews. This unique church fundraising idea is special for every donor. Select a format (such as a plaque) that's appropriate for your church and work with donors to print the names and/or messages they want.
43. Donation Matching
Cost: $

Difficulty: Moderate
Similar to local business partnerships, another powerful church fundraiser idea is to work with a single church member or a group of members and/or local businesses to set up a donation matching program where these donors make equal contribution to church members' donations during a certain period of time.
44. Candle Sales
Cost: $

Difficulty: Moderate
Candles are popular home décor for many individuals. Work with a candle company to order candles to sell through the church or to sponsor a candle sale where a portion of the sales go to the church.
45. Church Merchandise Sales
Cost: $

Difficulty: Moderate
Work with a design and printing company to create church-branded and themed merchandise like T-shirts, mugs, car decals, water bottles and many other products. You can sell the items all year round and at most church events.
46. Pumpkin Patch
Cost: $$

Difficulty: Moderate
In the fall, a great fundraising idea for churches is a pumpkin patch. Work with a local farm or market to buy (or have them donate) pumpkins of all sizes. Have them delivered to your church grounds and watch church members walk through the pumpkin patch and choose the perfect one. Or work with a farm to have them donate the proceeds from all or part of a day's sales from their pumpkin patch to your church.
47. Wine and Paint Night
Cost: $

Difficulty: Moderate
Many towns and cities have retail painting studios, or you can bring in a local artist to lead a wine and paint night — a great church fundraiser for adults. The leader provides a guided painting experience paired with a wine tasting. Charge a fee that covers the leader's time and supplies or see if a studio would be willing to donate them.
48. Benefit Play or Skit
Cost: $

Difficulty: Moderate
Recruit some talented volunteers from your congregation and have them stage a theatrical play or series of skits. Invite the whole community and charge admission to this special, one-time-only show!
49. Pancake Breakfast
Cost: $

Difficulty: Moderate
On any Sunday, or during a meaningful church event or holiday season, host a pancake breakfast for the community. Charge admission and provide a wide variety of pancake flavors and toppings that everyone will enjoy.
50. Envelope Fundraiser
A fun fundraiser idea for church is to add a little mystery. Put cards with different (reasonable) donation amounts in envelopes and let members pick envelopes, then make those donation amounts.
51. Music Lessons
Cost: $

Difficulty: Moderate
Tap a member of your church choir or band or a local musician to offer music lessons to church members for a fee. This is a great church fundraiser for adults and children who want to explore new musical instruments and voice skills or improve budding skills.
52. Couples' Dance Night
Cost: $$

Difficulty: Moderate
If you have an appropriate room in your church building, or if you can get a venue for free or for a reasonable price, host a romantic evening for a couples' dance night. Depending on your budget and the skills in your church or local community, you can provide the music directly with a sound system, see if a church member might volunteer to act as DJ or hire a band.
53. Hymn Sing-along Night
Open your church in the evening for a congregation hymn sing-along night! Choose some popular and favorite hymns and get your church choir and band involved for a fun and casual event. You can also sell refreshments and church-themed merchandise.
54. Prayer Journal Sales
Cost: $$

Difficulty: Moderate
This church fundraiser idea involves working with a printing/publishing company to design and print prayer journals you can sell at church every Sunday and at many church events. Church members of all ages can use prayer journals to record the thoughts, hopes, dreams, worries and prayers that are important in their lives. Providing a journal from your church makes these journals personal and significant to everyone who has one and makes a special and unique church fundraising idea.
55. Children's Camp
Cost: $$$

Difficulty: Hard
A children's camp during the summer months or school vacation weeks can be a great opportunity for children to make new friends, learn new skills and explore all kinds of different games and activities. This is a big undertaking, so look for church members with experience running camps or facilities and organizations that are willing to work with you to sponsor the camp. Your registration fee must be high enough to make the camp profitable, but not out of reach for families — you want to maximize participation.
56. Golf Tournament
Cost: $$$

Difficulty: Hard
A church-sponsored golf tournament can be one of the most profitable church fundraisers, but you'll need help to make it a reality. Put out a call for golfers in your congregation who can help find a golf course that might be willing to donate a day on the course for your tournament and work through tournament logistics like teams, fees, equipment, meals or refreshments and other details to make the day a success.
57. Direct Mail Campaign
Cost: $

Difficulty: Moderate
One of the most effective church fundraiser ideas is to simply ask for donations through a direct mail campaign. Craft a well-written and personal letter to church members that outlines your church's needs and makes a heartfelt request for donations, then mail it to your church congregation and community. This can be a great way to raise money without hosting an event.
58. Donation Kiosks
Cost: $

$

Difficulty: Moderate
If you're taking advantage of online church donation software, it's a logical idea to add donation kiosks to your church building. These electronic donation stations are central locations where church members can make donations quickly, easily and safely while they're at church.
59. Parish Retreats
Cost: $$ - $$$

Difficulty: Moderate to High
This unique church fundraising idea helps church members connect in a very special way, away from their daily jobs, homes and concerns. Organize a parish retreat either in your building (if you have an appropriate separate space) or in a facility near to or far from your church building. Charge each attendee a participation fee and then watch church members experience spiritual renewal plus new people and perspectives they might not normally encounter at regular church services.
60. Donor Appreciation Dinner
Cost: $$

Difficulty: Moderate
There are many ways to celebrate donors, but a visible and engaging church fundraiser idea is to host a donor appreciation dinner. Raise money by charging for tickets to a dinner that honors past and present donors, or donors who have contributed valuable time and money to the church. Save money by hosting the dinner in your building and look for a caterer or local cook who can provide a meal for a reduced price or free of charge. Celebrate important members of your congregation during this special evening.
61. Gospel Brunch
Cost: $$

Difficulty: Moderate
This fundraising idea for church gets the church community involved after Sunday services. Provide music and great food at a gospel brunch! Get your choir, band and/or musical church members to provide the music and look for volunteers (or a local restaurant) to provide brunch fare. Charge a fee to attend the brunch and listen to your congregation come alive!
62. Dress Down Sunday
To inject a different vibe into Sunday services, give church members the chance to dress down for a small fee. Announce the event and the fee and provide some casual dress guidelines. This church fundraiser for adults and children will put everyone in a different frame of mind and give them a break from their routines.
63. Host a Guest Speaker and/or Lecture Series
Cost: $ - $$

Difficulty: Moderate
Get church and community members involved with your church on a different level, with a thought-provoking, renowned guest speaker in a stand-alone event or as part of an organized series of lectures on religious or community topics. Charge an entry fee to the events and watch attendees get interested and enthusiastic.
64. Tea and Testimony
Host an afternoon event where members can enjoy tea and light snacks and share their testimonies. Look for volunteers to brew tea and coffee and provide baked goods, then find a comfortable space in your church or nearby where attendees can share their personal testimonies and be inspired by others' spiritual journeys.
65. Rent Church Space
Cost: $

Difficulty: Moderate
If you have modern and usable spaces in your church, you can run this church fundraiser almost year-round by renting your space out to local groups. Community and school groups are often looking for spaces for events and meetings and would be happy to consider your space as they plan them. If you have kitchen facilities available, this opens up many new opportunities for outside groups.
66. Singing Telegrams
Put your church choir members to work for a good cause with this fun church fundraiser idea. Connect church members marking special occasions for others with choir members who can deliver heartfelt or lighthearted singing telegrams to people celebrating all kinds of events and milestones.
67. Bible Study Kits
Cost: $

Difficulty: Moderate
One way to get church leaders involved directly in fundraisers for church is to have them assemble Bible study kits with different themes that you can sell to Bible study group members and other church members alike. Work with church leaders to select relevant and important themes to emphasize in the kits and make them available for sale at Bible study sessions, Sunday services and other events during the year.
68. Digital Sermon Downloads
Cost: $

Difficulty: Moderate
To continue to spread the Word after Sunday services end, offer sermon recordings for a small fee. Church members who can't always get to church in person or members not living locally can feel like part of the congregation with these downloads. Even members who attend services regularly can use the downloads to revisit important teachings and inspiring messages and music.
69. Choir CD Sales
Cost: $

Difficulty: Moderate
This unique church fundraising idea can help you spread the joy of music beyond Sunday services. Record the church choir performing and produce and sell CDs of the recording. You can sell CDs at church and most church events year-round and reach church members near and far by selling CDs online and shipping them to donors.
70. Personalized Prayer Cards
Cost: $

Difficulty: Moderate
Provide portable inspiration and support to your congregation with personalized prayer cards. Create, print and sell cards with personalized prayers for various life events, seasons and situations. In addition to selling the cards at church, you can offer the cards online and ship them to donors around the country and the world.
71. Fitness Classes
Cost: $

Difficulty: Moderate
If you have appropriate space in your church, look for an experienced church member or local volunteer to lead fitness sessions, such as yoga and Zumba, at your church. Charge a fee for each session or for a series of sessions and help church members improve their health and well-being. You can also offer sessions online for members who can't attend in person.
72. Church History Book
Cost: $

Difficulty: Moderate
Work with members of your church community who are interested in documenting your church's history and spiritual journey and compile and sell a book telling the story. This fundraiser idea for church creates a lasting record of your church and its ministries, people and role in the community.
73. Prayer Breakfast
Cost: $

Difficulty: Moderate
This is a simple fundraising idea for church that you can hold on an ongoing basis. Schedule a monthly or quarterly breakfast at church with a spiritual theme. You can raise funds by charging each attendee for breakfast, but more importantly, you'll see connections and engagement grow among church members.
74. Ministry Fair
Cost: $

Difficulty: Moderate
Church fundraisers often include craft fairs, book sales and art shows, but consider this unique church fundraising idea: a ministry fair! A ministry fair helps you showcase various church ministries and the great work your church is doing in the community and beyond. You can also use this event to offer church-branded merchandise and youth group and other services available to church and community members.
75. "Dinner with the Pastor" Raffle
Cost: $

Difficulty: Moderate
One way to get church members involved in the life of your church is to get to know your pastor. This church fundraiser idea helps you raise funds by selling raffle tickets for a dinner with your pastor. The raffle winner gets the chance to share a meal with the pastor and discuss spiritual or church community topics that are important to them.
76. Faith-based Workshops
Cost: $

Difficulty: Moderate
Beyond fitness and general subject workshops and webinars, consider a series of faith-based workshops on religious topics. Arrange these workshops just as you would general interest workshops or webinars, but look for leaders and experts who can provide insight and education on spiritual, biblical, historical or other religious topics. Simply charge each attendee a fee for participation and materials.
Fundraising Ideas for Church Youth Groups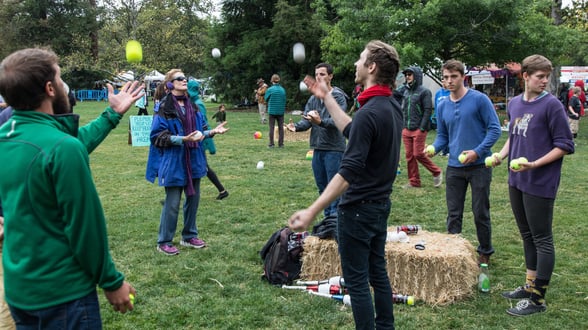 Your church youth group is a great source of ideas, energy and enthusiasm for church fundraisers. Take advantage of the next generation of church members by getting them involved in some of the most unique church fundraising ideas.
77. Youth Group Babysitting/Parents Night Out
Cost: $

Difficulty: Moderate
Introduce parents in your congregation to your youth group through a parents' night out babysitting event. If your church has nursery/play facilities, that's ideal for this church fundraiser for adults and their children. Charge rates that are slightly below local childcare rates to give parents a good deal, then look to your youth group to provide plenty of volunteers to provide supervision, care and fun to children. Post a sign-up sheet online and be sure to let grateful parents know what projects their money is supporting.
78. Group Outing or Outdoor Adventure
Cost: $$ - $$$

Difficulty: Moderate
Let your youth group inspire a great new church fundraiser idea that works for groups. If you plan an off-site event, like hiking, boating, lake or beach trips or bowling or miniature golf tournaments, you can raise money while entertaining younger church members. Or consider a group outing to a local sport team game or a simple group picnic or dinner. And don't forget to sell church-branded merchandise, like T-shirts or bags to add to the funds.
79. Pet Wash
Cost: $

Difficulty: Moderate
Move beyond car washes to pet washes! This is a fun fundraising idea for churches, especially for youth groups. Invite the church and local community to bring their dogs or other pets to get washed and groomed by your youth group volunteers. Charge for each appointment and provide extras for additional funds, like special grooming services.
You'll need supplies for the event, including a sheltered space with water and power, plus hoses, nozzles, towels, brushes and combs and treats for the "customers." You can also sell refreshments to their owners to enjoy while they wait.
80. Mother-daughter Tea Night
Cost: $$ - $$$

Difficulty: Hard
If you're looking for a more formal church fundraiser idea, consider a mother-daughter tea night. You can sell tickets to the event and decorate the venue with a light, whimsical theme. Your youth group can help by acting as waiters at the event, all dressed up in fancy attire. Serve coffee, tea, juice, lemonade and punch along with cakes, pastries and other snacks.
81. Scavenger Hunt
Cost: $ - $$

Difficulty: Moderate to Hard
Another ambitious fundraising idea for churches is a scavenger hunt. Your youth group can design and plan the activity, considering the location (indoors or outdoors) and developing the puzzles, clues and logistics. Charge an entrance fee for participants (individuals or teams) and watch them enjoy completing the hunt.
82. Book Fair or Sale
Cost: $

Difficulty: Moderate
A popular church fundraiser idea is a book fair or sale. This is a thrifty and green way to get books into the hands of readers in your congregation. Have your youth group ask for book donations from the congregation and advertise the sale online and around town. If you have a church gym or other large space, have the youth group set up tables and offer the donated books for sale. Alternatively, the youth group can invite individuals or bookstores to sell books at tables or booths and collect a portion of their sales or a rental fee for the spaces.
83. Dog-walking or Pet-sitting Services
Your youth group is a great source of volunteers for a dog-walking and/or pet-sitting service through your church. You can offer these services to church and community members when people are often away, such as the summer months or holidays. Advertise these services on social media and in your church community and be sure to reach out to church members who might need extra help caring for their pets.
84. Lawn Care Services
Cost: $

Difficulty: Moderate
Another great church fundraiser idea for your youth group is to offer lawn care services to church and community members. Charge a flat fee or set a schedule of fees for different services like lawn mowing, raking, weeding and other lawn and garden chores. This is a great way for your youth group to take on job responsibilities and engage with members of the church and the community at large. Be sure to focus on older members of the community who might need extra help.
85. "Rent a Youth" Day
Cost: $

Difficulty: Moderate
Think beyond lawn care with this unique church fundraising idea. Think about additional odd jobs and services your youth group can provide to raise funds for church. Put the word out to community members to give them the opportunity to make a donation to "hire" church youth to run errands, do small cleaning and repair jobs in their homes and any other services you can think of.
Church Building Fundraising Ideas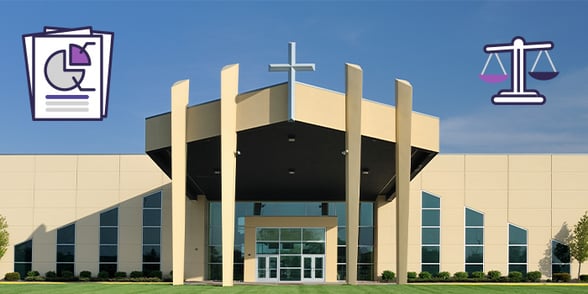 Your church building is important to your church and to church members, and it can also be a local community space beyond church services and events. For that reason, church fundraisers that contribute to the building and/or maintenance of your church facilities might be of interest beyond your church membership. These ideas can help you raise money for your church building fund and bring your community together in special ways.
86. Spaghetti Dinners
Cost: $$

Difficulty: Moderate
A great way to bring a community together is at a spaghetti dinner. With everyone in your church building or at another venue, you can highlight the ways this fundraising idea for church will benefit your facilities. Most everyone enjoys a plate of pasta — it's a simple and flexible meal you can put together to feed a crowd. To make this fundraiser work, charge participants a fee to enter or for each plate of food. Look for extras to offer, like different sauces and toppings, plus drinks and desserts.
87. Ice Cream Social
Another church fundraiser idea that brings people together, either in your church building or on church grounds, is an ice cream social. You can charge participants one fee to try multiple ice cream dishes or charge for each dish. Either way, be sure to have a wide range of ice cream flavors and toppings on hand to make everyone happy.
88. Benefit Concert
C

ost: $$$

Difficulty: Hard
A more complex, but potentially one of the most profitable church fundraisers, is a benefit concert. To arrange the concert, you'll need to find an appropriate venue and local musicians to provide the music.
A concert gives you a wide scope for fundraising, primarily from ticket sales and other optional donations from both church members and the wider community. But you can also have booths or tables where you can sell church-themed merchandise and refreshments.
89. Trivia Night
Trivia night is a tried-and-true church fundraiser idea that is popular and easy to run. Find a group of volunteers who are willing to write or choose plenty of trivia questions, find a suitable space (either in your church or nearby) and sell tickets to individuals and/or teams who want to participate. Think about extras for the event like prizes for the winner(s), refreshments and merchandise to sell, and any other products and activities you think might make the evening more enjoyable. Hold these events regularly if they are popular!
90. Walk-a-thon
Cost: $

Difficulty: Moderate
For a church fundraiser that includes the whole community beyond the church, host a walk-a-thon. This type of fundraiser literally passes through the community, so it's likely to appeal to many members of the community in addition to church members. There are several components to a successful walk-a-thon: a safe and clear route, participants who collect pledges from friends, family and community members to sponsor them over time or distance, a time during the year when the weather is comfortable for walking plus water and first aid supplies.
At the event, look for other church fundraising ideas that can add to the fun, like selling refreshments and providing activities and entertainment for non-walkers. Also consider prizes for winners in different categories (most money raised, age groups, longest distance, etc.). Raise money for your church building and get the community moving with a walk-a-thon!
91. Online Crowdfunding
One of the easiest and most common fundraising ideas for churches is crowdfunding. Most everyone in your church and community will recognize this method because it's a quick and easy way to fund causes that are important to them. Use a platform like GoFundMe, Kickstarter or Indiegogo to set up your fundraiser, then spread the word to your congregation and ask them to share the campaign page with friends and family far and wide. You can also post a link on your church social media pages to widen your audience.
92. Farmer's Market
Cost: $$

Difficulty: Moderate
Another unique church fundraising idea and great community event is a farmer's market on church grounds. Members of your congregation and residents in your community will enjoy buying fresh produce plus crafts and other items from local providers, all for a good cause. Invite local farmers and artisans to join the farmer's market to sell their goods and donate a portion of their proceeds to your church. You can also charge an entry fee.
Also look for other ways to raise money, such as games and activities, music and church-branded merchandise.
93. Cooking Classes
Cost: $$

Difficulty: Moderate
Do you have some great cooks in your church or community? Invite local chefs or cooks from your congregation to provide cooking classes for the community. Charge a session fee for participation and set up a series of sessions covering a variety of cuisines and dishes. Another option is to provide webinars, if the cook is willing to teach online.
94. 50/50 Raffle
Cost: $

Difficulty: Moderate
If you're sure you can reach a wide audience, consider holding a 50/50 raffle as a church fundraiser. Sell raffle tickets to church members, community members and many others. Promoting your raffle is important. You want to raise as much money as possible because your church building fund will split the proceeds with the winner. Publicize the raffle around town, online and anywhere else you can reach potential donors who want to get involved.
95. Community BBQ
Cost: $$

Difficulty: Moderate
Nothing brings a community together faster than a great barbeque. This church fundraiser idea is popular because there are many ways to run it. Hire a local BBQ outfit to provide food for the fundraiser, ask members of the congregation to supply the food and/or turn it into a BBQ contest among cooks. Charge individuals and families to attend the BBQ and add other fundraisers, like activities and games, drinks and desserts, and merchandise.
96. Donor Wall
Cost: $$ - $$$

Difficulty: Moderate
For a church building fundraiser that focuses actually involves your building, create a donor wall in your church where you display the names of significant donors. Choose a medium for the names and/or messages, such as plaques, tiles or bricks and work with donors to confirm wording for their spots.
97. Pet Pageant
Cost: $

Difficulty: Moderate
One favorite fundraising idea for churches is a pet pageant, where church families bring their pets for a parade on church grounds. Beyond charging for tickets to enter, you can also create a competition with themes and prizes. Also offer food and beverages supplied by church volunteers or local vendors plus games and activities to earn extra funds
98. Family Fun Day
Cost: $$

Difficulty: Moderate
Depending on your church facilities or grounds, highlight your church building — and your church building fundraiser — with a family fun day. Invite the whole community to participate in this exciting and unique church fundraising idea. Simply charge individual and/or family entry fees to an area where you have games, activities and entertainment running all day long. You can also sell food and drinks and church merchandise.
Easter Fundraiser Ideas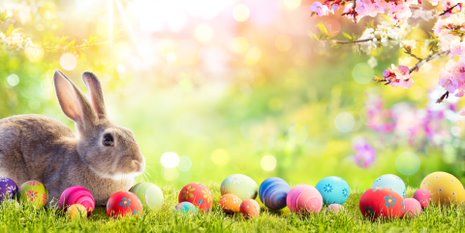 The Easter holiday and the Easter season can inspire many lighthearted and engaging church fundraiser ideas. This special holiday and time of year provides many opportunities to invite your community to join together to raise money for your church and enjoy the fellowship of some great events.
99. Fish Fry
Cost: $ - $$

Difficulty: Moderate
During the Lenten season, hosting a fish fry dinner is especially popular. You can also run this fundraiser year-round on Fridays. Charge an entry fee to the event and look for cooks in your congregation with special fish recipes or work with a local fish market or restaurant to provide fish and all the fixings.
100. Lenten Coin Collection
During Lent, encourage church members to donate their spare change for an easy church fundraiser. You can place interesting jars, bottles or other containers in your church and watch the coins multiply. Or ask families to gather spare change during Lent and bring it for the offering plate on Easter.
101. Campaigns Related to Sacrifices
During Lent, the idea of sacrifice is an important theme. Asking church members to donate money to represent sacrifices can be an inspiring church fundraiser idea. There are many ways to do this, such as donating the money they would have spent on a daily cup of coffee or meals in a restaurant, or more significant sacrifices that are personal to them. Acknowledge these sacrifices and remind church members of the ministries their donations support.
This fundraiser can also be effective beyond the Lent and Easter seasons. Consider requesting church members to make sacrifices any time of year for different and important causes.
102. Easter Egg Hunt
Cost: $$

Difficulty: Easy
A fun and exciting Easter season church fundraiser idea is an Easter egg hunt. This is a great church fundraiser for adults and children alike. Recruit volunteers to dye eggs or fill plastic eggs with treats and scatter and hide them around the church and/or church grounds. Charge each family a fee to enter the hunt and then watch to see if the "hunters" can find all the hidden eggs.
103. Easter Basket Raffle
Cost: $$

Difficulty: Moderate
Another engaging Easter-themed fundraising idea for church is an Easter basket raffle. Ask your church members to donate items for Easter baskets or donate money to purchase baskets and gifts. Have some creative volunteers assemble and decorate the baskets, then raffle them off! You can offer baskets of varying sizes and contents, from small and simple to a large grand prize.
104. Easter Candy or Chocolate Sale
Cost: $$

Difficulty: Moderate
For many people, Easter is synonymous with candy! Save people a trip to the store and raise money for your church by selling candy and chocolates at church. If you have some willing and talented volunteers, they can make spring- or Easter-themed candy, or you can work with a vendor, like See's Candies or Sarris Candies to get supplies. Buy a variety of types and flavors to meet different tastes and preferences. Remember to plan this type of fundraiser well in advance so you're ready to hold your candy sales in the days and weeks before Easter.
105. Easter Bake Sale
Right behind Easter candy on people's lists are Easter treats of all types and varieties. So, hold an Easter bake sale with homemade treats like cakes, brownies, cookies, cupcakes, pies, fudge and so on. Ask a group of volunteers to bake and sell Easter treats in the days and weeks before Easter at Sunday services and other church gatherings.
106. Easter Bake-Off
Add on to your Easter bake sale with an extra, unique church fundraising idea — an Easter Bake-Off! Ask contestants to pay a small fee to enter the Bake-Off and bring Easter-themed desserts to a friendly competition. You can recruit judges or charge church members a small fee to taste and judge the entries themselves. Award prizes to winners in different categories.
107. Easter Egg Decorating Contest
Cost: $

Difficulty: Moderate
A perfect Easter-themed church fundraiser idea is an Easter egg decorating contest, which is fun for all ages. Charge each participant a small fee to enter the contest, then bring their decorated eggs to church. Invite church members to pay a small fee to judge the contest, either with paper votes or by dropping spare change into collection plates or buckets near each egg. The egg with the most "votes" is the winner. You can award prizes to winners in categories like best decoration, most creative, funniest or for contestants in different ages groups.
108. Easter Bonnet Parade
Another time-honored tradition at Easter is dressing up in spring clothing and hats. While Easter bonnets might not be as popular as they once were, holding an Easter bonnet parade can be a fun and nostalgic fundraiser for church.
Invite contestants to participate in a parade wearing their bonnets, which can be homemade, vintage, something else or simply their favorite hats. Charge a small fee to enter the parade and/or provide a donation box to collect funds.
Step into the Future: How Modern Church Giving Tech Can Transform Your Donation Landscape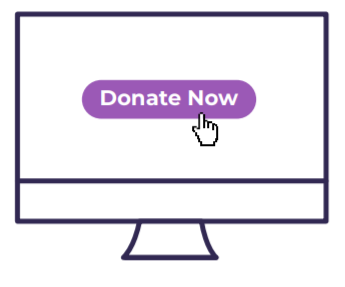 In an era where every sector is getting a digital overhaul, churches are also poised for a transformative leap. Adopting modern giving technology isn't just a trend — it's a monumental shift that's simplifying, amplifying and redefining fundraisers for church for the better. With every great church fundraiser idea, combined with digital tools, churches are not just collecting donations but sparking a revival of generosity, making each act of giving an enriching and captivating experience.
Check out the five technologies tens of thousands of ministries are using to boost donations and church fundraising.
109. Online Giving Pages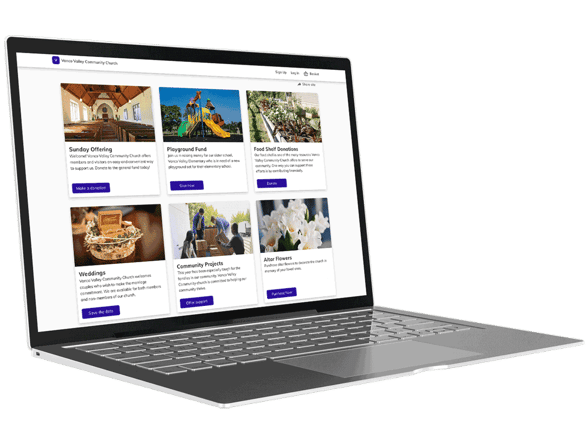 Online giving pages are pivotal tools for churches, seamlessly connecting congregants with their missions. These pages facilitate convenient donations and hold immense potential to convey the narratives behind each church fund.
These platforms aren't just transactional; they're storytelling mediums. They enable churches to craft compelling narratives about their diverse causes, explaining why each fund holds profound significance. By illustrating how contributions directly impact lives and communities, churches can forge profound emotional connections with donors.
This approach engages donors and amplifies the church's impact.
110. Mobile Giving App
Mobile giving apps redefine the landscape of church donations and fundraising. These apps transcend mere convenience by offering a plethora of features that streamline the donation process and elevate fundraising efforts.
These apps seamlessly facilitate donations through smartphones, catering to congregants' digital lifestyles. Beyond quick transactions, these apps provide a toolkit for churches to enhance their fundraising activities. They enable churches to create tailored campaigns, share compelling stories and engage supporters through multimedia content.
With push notifications and alerts, these apps keep donors informed about events, projects and urgent needs, ensuring their engagement remains consistent. Additionally, their secure and user-friendly interfaces inspire confidence, fostering sustained participation in all kinds of fundraising ideas for church.
Mobile giving apps are dynamic platforms that not only gather donations efficiently but also empower churches to cultivate deeper connections with their communities, boost fundraising endeavors and foster more engaged congregations.
111. Text-to-Give for Churches
Imagine a world where your congregation can instantly translate their generous impulses into tangible support, right from their phones. This is the promise of text-to-give technology. In today's fast-paced environment, convenience is king. And for churches, this means providing a giving method that's immediate and effortless. The text-to-give approach does just that, removing barriers and ensuring that when the spirit moves someone, they can immediately act on it. By incorporating this technology, churches are witnessing a significant surge in donations, fundamentally revolutionizing how fundraising is done.
If you want to learn more about this church tech, check out our text-to-give for churches page.
112. Mobile Card Readers for Churches
With so few members, guests and visitors carrying cash these days, it can be hard for many to give at church fundraisers. That's why so many churches have turned to mobile card readers that can easily attach to phones or tablets to create point-of-sale terminals. Here are just a few reasons to consider mobile card readers for church fundraisers and in-person giving.
Versatile payment options:

In an era of choice, accept everything, from traditional credit cards to the latest digital wallets.

Swift and smooth:

Designed for the impatient world, donations now happen in a flash with a simple card swipe or tap

.

Trust in

every transaction:

With top-notch encryption, every donation is protected by industry-leading security.
Reimagining physical gatherings:

As congregations reunite, embrace the future of giving with mobile card readers.
To learn more about this amazing technology, check out our church credit card swiper page.
113. In-Livestream Giving
In-livestream giving lets churches seize on generosity when church visitors feel most inspired to give. Here's just a few reasons why it works so well.
Immediate action:

Why wait? When a

sermon moves someone, they can show their appreciation right there, without missing a beat.

Captured

moments:

By blending giving with your livestream, you're capturing the peak moments of generosity.

No hassles, just giving:

Cut the fluff. With a direct in-livestream giving option, donations become straightforward and instant.

Stay ahead of the curve:

This isn't just the future; it's the present. Ensure your church isn't left in the digital dust.
If you're interested in seeing how in-livestream giving works, check out our in-livestream giving page, which explains the technology in detail.
114. Recurring Giving for Churches
Recurring giving is a cornerstone in fostering sustained growth for churches' financial contributions and fundraising endeavors. This approach can have a significant impact on enhancing churches' financial stability and their ability to pursue impactful missions.
Recurring giving simplifies the process of donating by allowing congregants to establish automated contributions on a regular schedule. This consistent influx of funds bolsters the church's financial planning and empowers efficient allocation of resources to initiatives, ministries and community outreach.
Recurring giving also cultivates a deeper bond between donors and the church. It nurtures commitment and engagement, fostering a heightened sense of belonging and responsibility within the congregation. As donors witness the tangible outcomes of their ongoing contributions, their connection and faith in the church's mission deepen organically.
In terms of fundraising, recurring giving offers a dependable foundation on which churches can construct their campaigns. The assurance of a consistent portion of the budget from recurring donations enables churches to channel their focus into innovative and ambitious projects that resonate with their communities. This dynamic can ignite enthusiasm among congregants and attract new advocates who acknowledge the church's dedication to sustainable positive transformation.
Bonus Idea: Consider Virtual Fundraising
Fundraising is one of the most important aspects of a church's success. Not only does fundraising help to ensure a church's financial viability, and brings community members and parishioners together for a good cause. That said, not every fundraiser needs to be done in person.
In fact, virtual fundraising is a powerful tool that can increase donations to your church. Vanco's online giving platform offers churches the opportunity to raise and collect donations online, making it even easier for people to give. With the power of this service, churches can reach new levels of donations and leverage the power of convenience. Learn more about how Vanco's online giving platform can help your church fundraise.
Get the Free eBook to Improve Church Stewardship
Keeping the lights on, the doors open and missions funded aren't what inspired most church leaders to pick their careers, but they are key to the health of each church and congregation. Discover how to become a master of church stewardship with our ultimate guide.