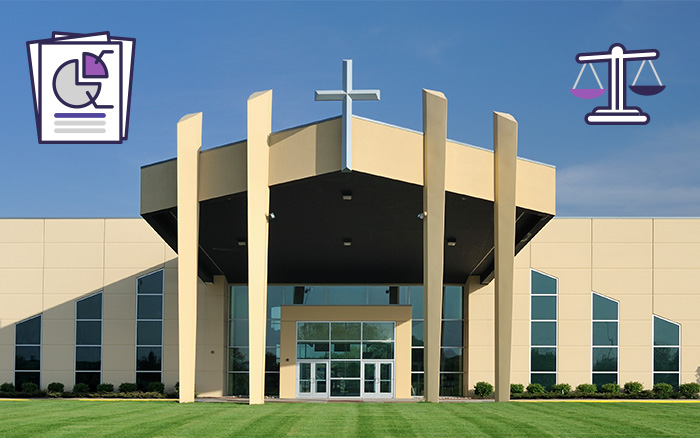 Are you looking for guidance on how to manage church finances? Are you in charge of church financial planning and need help navigating the complexities of managing funds? This guide breaks down all the critical aspects of church finance management, from cash flow to budgeting to creating church financial reports.
You'll get a comprehensive overview of church finance basics and a detailed, step-by-step approach to church budgeting, financial planning, reporting and management. There are also tips on supporting church members with information about the importance of church finances and different ways they can donate to the church. And finally, the guide includes a vital reminder that churches should look to God for help providing for their needs.
Keep reading for information on the many aspects of church finances and how to manage church funds.
Table of Contents
1. Setting Short- and Long-Term Objectives for Church Finances
The better you understand your church's financial objectives, the easier it will be to create a successful plan for managing church funds. Start by setting short-term and long-term goals with clear deadlines.
Short-term goals should focus on immediate needs like budgeting or generating revenue. Long-term goals should focus on larger investments such as purchasing property or creating endowments.
Make sure to break down goals into manageable objectives that you can achieve over time. You can set and accomplish these goals by simplifying the related steps:
Compare Your Revenue and Expenditures for Accurate Financial Planning
Do you know how much your church has earned and spent on a yearly basis? To plan church finances, look at your revenue and expenditures over the past several years. Generally, five years is enough.
Then, use those figures to determine your percentage of growth or loss year-over-year. Doing this will give you an accurate picture of where you've been and where you need to go to reach your goals.

Take Those Percentages and Project Your Possible Finances Over the Next Five Years
Once you compare revenues and expenditures, use that data to project your potential finances over the next few years. Again, look for any shortfalls or overages in your projections.
If there are any issues or changes, adjust your goals and objectives. Doing this will help you stay ahead of the game and prepare for unexpected changes in your church finances.
Identify Immediate Remedies for Shortfalls and Set Goals for Growth
If you anticipate financial shortfalls in the next year or two, you should find ways to address them. First, consider fundraising, such as organizing church events or applying for small business loans.
Look to see if there's potential for shortfalls toward the end of your five-year period. If so, consider setting smaller goals to reach larger objectives. Focus on outreach campaigns and building relationships within the community.
Here are a few ideas on ways to grow your church's finances:
Create a Financial Reserve for Unexpected Emergencies and Allocate Money for Church Projects
If your church is in abundance, consider setting aside a portion of your balance for emergency funds. Aim for 10 to 15 percent of your income and keep it ready in case of potential unexpected expenses.
Allocate funds to the projects you feel are most important to your church. That will help you manage your finances while ensuring those important projects remain a priority.
Plan Ahead for a Secure Future and Prepare Your Church Finances for Long-Term Growth
When planning your church finances, consider what comes after those five-year projections. Then think 10 to 20 years into the future and create a plan for your church's financial growth.
Consider both short-term and long-term goals and how you can achieve them. For example, short-term objectives may include upgrading your HVAC system. Long-term goals may involve purchasing a new sanctuary or building.
Secure your church's financial future by saving money. Also, create a plan for other financial concerns beyond your immediate needs.
2. Create a Comprehensive Church Budget to Maximize Its Resources
Formulating an accurate church budget is an integral part of managing its finances. Start by assessing the current financial situation. Then determine how much you can allocate to short-term objectives.
Make sure to factor in projected costs and discounts when calculating your budget. That will help you maximize church resources and ensure that all areas of operations are covered.
Creating a comprehensive budget is the most critical step in managing church finances. First, develop an established plan that outlines income, expenses and savings goals. Doing that makes it possible to measure and control finances.
Through budgeting, you can track where your money is going and maximize church resources. With a budget, you can achieve your financial objectives while staying on track.
When allocating church funds, you should aim for a balanced budget. On average, you should allot no more than the following amounts in each of these categories:
Personnel - 30%
Facilities - 20%
Programs and Services - 40%
Administration and Fundraising - 10%
By adhering to these guidelines, you can ensure that your church has the funds it needs. A balanced budget helps maintain your church's financial health. And it provides the important resources to carry out its mission.
If you're spending more than you should, it's time to take a closer look at your budget categories. See where you can cut and allot funds to more critical areas, such as running your church's community programs. Doing this will help you stay within budget while providing essential services to those in need.
3. Create a System to Manage Church Funds
Once you set your objectives and goals, it's time to create a system to manage church funds. You must put a budget in place and update it regularly.
You'll also need to create a system for tracking expenses, donations and other sources of income.
This system should include these components:
Ensure the Right Personnel Are in Place to Handle Financial Operations
Having the right personnel in place is paramount when managing church finances. That includes having a treasurer or finance committee responsible for all financial operations. This person or church finance committee should know church finances and have a successful financial management track record.
You'll also want to have accounting professionals available to provide financial advice. By having a knowledgeable team, you can ensure that all financial operations are handled correctly.
Set Up Proper Procedures for Handling Cash
Ensuring all funds received are appropriately accounted for is key to a successful operation. Start by setting up a secure procedure for handling cash and other forms of payment.
This should include having a detailed record of all transactions and deposits and developing strict guidelines to protect church funds from being lost or stolen.
Create an Investment Plan
Another vital part of managing church finances is creating an investment plan. Start by taking the time to research and analyze the different available investment options. When it comes to investing, you want to ensure that funds are used safely and profitably.
Finally, you can diversify your investments across multiple sectors and asset classes. Stocks, bonds and mutual funds are all good options to consider. Before investing, research and ensure you understand the risks associated with each option.
Perform an Independent Audit
Performing an independent audit ensures the proper handling of the church's funds. Do an annual audit, and have the finance team review the results. Examine all financial records during the audit to ensure that there are no irregularities or discrepancies and that the records are as transparent as possible.
Also, create a transparent system that outlines how church funds are managed. Doing this will help build trust and foster relationships with church members. Finally, make all financial records accessible to the necessary parties.
With the right strategy, you can maximize your church resources and stay on budget.
4. Stay Informed About Church Financial Regulations and Laws
Be sure to stay informed about church financial regulations and laws. That includes knowing how to report income and calculate taxes owed and deductions. Doing this can help ensure that your church complies with the rules.
Depending on where your church is located, you may need to follow different laws and regulations. Managing church finances can be tedious, but you can handle it with the right strategy.
5. Create a Three- to Six-Month Emergency Fund Reserve
Establishing a three- to six-month reserve fund for emergencies is wise. This reserve fund can protect your church from budget shortfalls, giving you peace of mind that you can immediately address any financial needs.
Be sure to define what would constitute an emergency. This ensures that this cash reserve is not used for non-emergency purposes. This reserve fund can increase over time and provide additional financial security.
6. Make It Easy to Give
In addition to traditional methods of giving, it's also vital for churches to offer online giving options. That makes it easy and convenient for church members and donors to support the church from anywhere. There are many options available, including:
Text-to-Give
With text-to-give, church members can make donations from their phones. They can send a text with an amount or keyword that links to your church's donation page. Doing this makes it quick and easy for people to give at any time of the day.
Plus, text-to-give is secure and PCI compliant. This compliance ensures donor information remains safe and secure.
With this easy giving option, your church can raise more funds, because the church becomes more accessible to those who are unable to attend services in person.
Mobile App Giving
Many churches now offer mobile giving apps that enable members to give on the go. This easy-to-use option allows church members to give from their mobile devices. That provides another convenient way for people to support the church.
Online Donation Platforms
Online donation platforms are another convenient way to accept donations from anywhere. These platforms allow donors to make one-time or recurring donations easily. Here is a list of benefits of using an online donation platform:
Increased donations through automated recurring giving
Streamlined processing of funds with automated receipting
Improved donor engagement with custom thank you messages and updates
Automated reporting for more accurate financial tracking
Easy integration with existing church management systems
By using an online donation platform, churches can make giving easier for donors. Doing this also ensures more accurate financial tracking and reporting of church finances.
Churches can also expand their reach to those who cannot attend in-person services.
7. Offer a Recurring Giving Program
Recurring giving is a great way to guarantee consistent donations that help with long-term financial planning. It allows donors to commit to regular giving, which helps churches plan more effectively.
This program also offers donors the convenience of automated donations, which means members can provide consistent support.
By offering recurring giving, churches can ensure they have the funds they need. Plus, this program can help churches create stronger relationships with donors.
By taking the proper steps, churches can secure reliable financial plans. In addition, churches can expand their reach by offering online giving and recurring giving.
With the proper planning and resources, churches can meet their financial needs. And they can ensure they have the resources to continue doing the work they're called to do.
8. Remind Church Members to Give Regularly and Support the Mission
Regular giving is vital for churches to meet their financial needs. To make sure this happens, church leaders should remind members of their commitment to giving faithfully. These reminders help show the importance of giving and meeting the church's financial goals.
By encouraging members to give regularly and support the mission, churches should expect to receive more funds. Ultimately, this fund increase will help churches impact their communities and beyond.
There are numerous ways to discuss tithes and offerings. Here are a few creative ones, including:
Create Opportunities to Discuss Giving in Church Services
Mention church giving during sermons relevant to the scripture being taught. Do this by bringing up the topic and reminding members of the importance of financially supporting their church. It can also be an excellent opportunity to show how donations can help further enhance its ministries.
Share Testimonies of How Giving Is Making an Impact
Incorporate stories of how giving has impacted your church. Hearing these stories can inspire and encourage members to support their church's mission. Testimonies can highlight specific financial needs of the church and how donations can help meet those needs.
Encourage Dialogue About Finances During Small Group Meetings
Small group meetings can be an excellent opportunity to discuss church finances and how giving has impacted the church. They are a powerful way to share stories, discuss financial goals and remind church members of the importance of giving.
Small group meetings can be a great way to create conversations about managing church funds. These conversations should encourage members to give.
Host Seminars or Workshops on Church Finances
Seminars and workshops can be a great way to educate members on how the giving process works. They provide an opportunity to discuss financial planning and ensure that the church's financial needs are met. That can be a powerful way to increase understanding of finances.
Invite Financial Professionals to Speak at Church Events
Invite financial professionals to come to speak and share their expertise on church finances. Speakers can give church members financial advice and help increase engagement and create conversations around church giving.
Send Newsletters or Announcements
Send regular emails reminding church members of upcoming giving opportunities. Be sure to inform them of how their donations will further the mission. Newsletters can provide updates on financial progress and showcase how contributions are impacting the church community and beyond.
Create Online Resources for Donors to Increase Transparency
Create online resources such as forms, videos or FAQs to give church members more information about how their donations are used. These resources increase transparency and members' understanding of church finances.
No matter how you approach it, church financial planning is essential to ensure the long-term success of your church. These strategies can help increase engagement and raise more funds.
Create Conversations About Church Finances
Finding ways to talk about church finances can be tricky. Still, it's important to start open conversations about money and engage church members in the giving process.
For example, you could create an informal forum or discussion group to discuss church finances. Or find ways to bring it up during a sermon when it works with the passage you are preaching on. By making church finances a regular topic of discussion, members can better understand the giving process.
Encourage Donors to Give Outside of Sunday Services
Finding ways to increase engagement with church finances doesn't have to be limited to Sunday services. There are a variety of other opportunities for donors to give.
For example, churches can provide online giving opportunities involving community members. Additionally, church members could be encouraged to give through automated monthly tithes.
Encourage Church Members to Invite Their Friends and Family to Get Involved
It's essential to encourage members to invite their friends and family to get involved in the giving process. Having friends and family join in supporting the church can be a powerful way to increase engagement with church finances.
Expanding engagement with the church allows church members to share stories of how their donations are making an impact. And it helps create lasting connections to the church.
Encourage Digital Giving Through Social Media and Other Platforms
Churches can encourage digital giving by leveraging social media platforms. For example, members can learn more about their contributions by creating social media posts or videos and feel more engaged with the cause. Many of these platforms provide easy ways for donors to give online.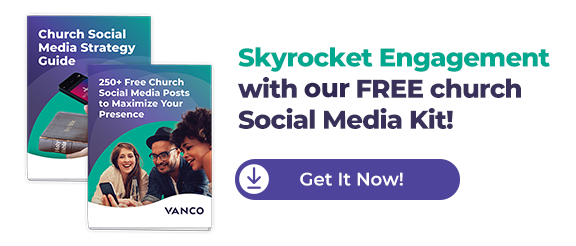 Create a Giving Campaign to Support the Church's Finances and Mission
Creating a giving campaign is another excellent way to increase engagement with church finances. You can encourage members and newcomers to join your church's mission.
Do that by setting goals and raising money for specific initiatives or projects. That can be beneficial for short- and long-term fundraising efforts.
These campaigns can give donors a visual representation of how their donations are used. That can make them more likely to give.
Show Appreciation with Personalized Thank You Messages and Updates
Churches should show appreciation for donations by sending personalized thank you messages. Doing this helps make church members feel appreciated. And it helps them understand how their contributions impact the church's mission.
Providing updates encourages further engagement among church members.
9. Use Accounting Software for Easier Church Financial Planning and Management
The right accounting software can make managing church finances easier and more efficient. Accounting software can streamline tasks, such as tracking donations and budgeting. This software allows churches to track their financial performance in real time.
Having a system for storing records will help ensure the church's finances are kept up-to-date.
Implementing financial planning strategies can help churches become more secure. They also help them to be more effective in carrying out their missions. With the right resources, church members will know their contributions are making a positive difference.
10. Establish a Financial Policy Manual
The church's finance team ensures all financial resources comply with the church's financial guidelines and match the church's vision.
One of the finance team's duties is to produce a written church finances best practices document that includes:
Procedures for reporting suspicious financial activities or potential fraud
Conducting an annual external audit of its finances by an independent third party
Establishing a team of individuals to review all matters related to church finances
Creating a list outlining the duties of the church treasurer in managing and sharing financial reports
Creating a system of checks and balances to ensure that all church funds are used ethically
Creating a timeline for regularly retrieving financial reports and overseeing fiscal activities
Establishing a protocol for reporting any financial discrepancies or inconsistencies
A code of ethics and conduct that is signed and agreed on by each individual responsible for managing the church's finances
Guidelines for how funds are to be allocated, used and monitored
Reporting requirements for church finances
Establishing protocols for reviewing and approving budget proposals
Guidelines for how donations should be handled and accounted for
Establishing a financial policy manual can help church leaders manage finances transparently and efficiently.
11. Review Financial Reports on a Quarterly Basis
Church leaders must review financial reports quarterly. Reviewing this activity ensures that all finances align with the church's mission.
The reports confirm there are no discrepancies or irregularities. You should share these reports with all church members to promote transparency and accountability.
Regular reviews of financial reports can also help identify any areas of weakness, which might become potential opportunities for improvement. Understanding the church's spending makes the church's future direction clearer.
An astonishing 80% of church fraud cases go undetected every year! That is why it's essential for church leaders to keep a close eye on financial reports and activity to identify and address any suspicious activity right away.
By reviewing the church's finances, leaders can make sure they use the funds for their intended purpose. They can also feel confident that their church members' contributions are making a real impact.
With proper financial planning, churches can ensure they are making the most of their resources and providing their members with a practical and transparent system.
12. Remain Open to Your Church Members
Communication is key to ensuring that church members are aware of the church's needs. For example, suppose attendance is growing, but tithing and donations still need to be higher. It may be because new members have not been informed about the church's financial situation.
Reminding all members that the church requires their support to thrive is essential.
Church leaders should invite members to meetings to discuss the church's financial plans and get feedback. Having an open dialogue with church members is essential for keeping all parties on the same page. And that's especially important when it comes to managing church finances.
13. Do Not Hesitate to Seek Assistance on How to Manage Church Funds
When tackling church finances, it's important to have the right resources and support available. Feel free to reach out to experts who can offer guidance. Having an experienced financial advisor can make all the difference.
Access to resources and support can make managing church finances much easier, so don't hesitate to seek assistance!
14. Church Leaders Should Pray Together for Financial Increase for the Church
Praying with a unified voice shows that church members agree. Therefore, they should ask God to provide them with the resources they need. This act of faith puts trust in God to be their provider and can help create a spirit of unity among all members.
When praying, church leaders should focus on the church's needs and how they can meet them. They should also ask God to show them how best to use their resources and funds in ways that honor Him.
Praying for a financial increase also allows members to come together in agreement. It can help build a strong sense of unity and trust within the church family that God will provide.
Leaders should also encourage other members to pray for the church's finances so everyone can take action. That could include setting up a prayer group or encouraging members to pray on their own time. Praying together shows faith in God's ability to provide and bring financial increase to the church.
By making prayer part of the church's financial plan, leaders can ensure everyone works together for financial increase. This act of faith can help create a strong sense of unity and trust. It helps members know that God will provide what they need. Praying together is integral to church financial management, so don't forget to take advantage of this powerful tool!
As your church grows, it's important to remember how best to manage church finances. Praying can help bring financial increases to the church, so don't forget to invite the power of God into your financial planning. With faith and support from church members, you can rest assured that your church's finances are in good hands.
15. Realize God Is Your Provider and Have Faith for an Increase in Funds
When managing church funds, it is essential to remember that God is the ultimate provider. However, having faith in an increase in church finances can help strengthen the church's financial planning. And ultimately, this can lead to a prosperous future.
Church leaders can better prioritize their spending by understanding that God will provide for all our needs. And that also helps to create a budget that reflects the church's values and goals.
Faith in an increase in funds requires trust that God will provide what is needed. Church leaders can turn to scripture to remind themselves of God's promises.
Scriptures such as Philippians 4:19 state, "And my God shall supply all your needs according to His riches in glory by Christ Jesus." That can help church leadership stay grounded and focused on serving God with the funds entrusted.

Church leaders should remember that God is faithful even when times are challenging. They should remember that His provision is enough to meet all needs. They must also be creative to stretch resources as far as possible through careful budgeting and volunteer support.
Your church will remain financially secure and prosperous for years to come with the right resources and support.
Free Tools & Templates to Help with Church Finances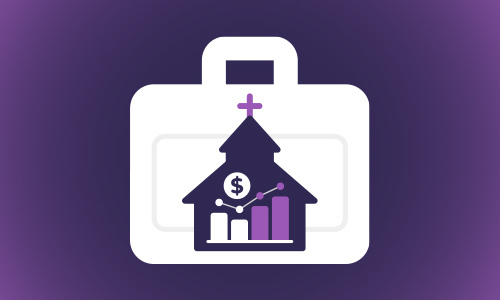 Could your church use powerful tools to help manage and maintain its finances? Here are three key resources included within our free kit to help you and your team:
Church finance committee agenda template

Church budget planning template

Church finance statement template
Access all the free resources now!