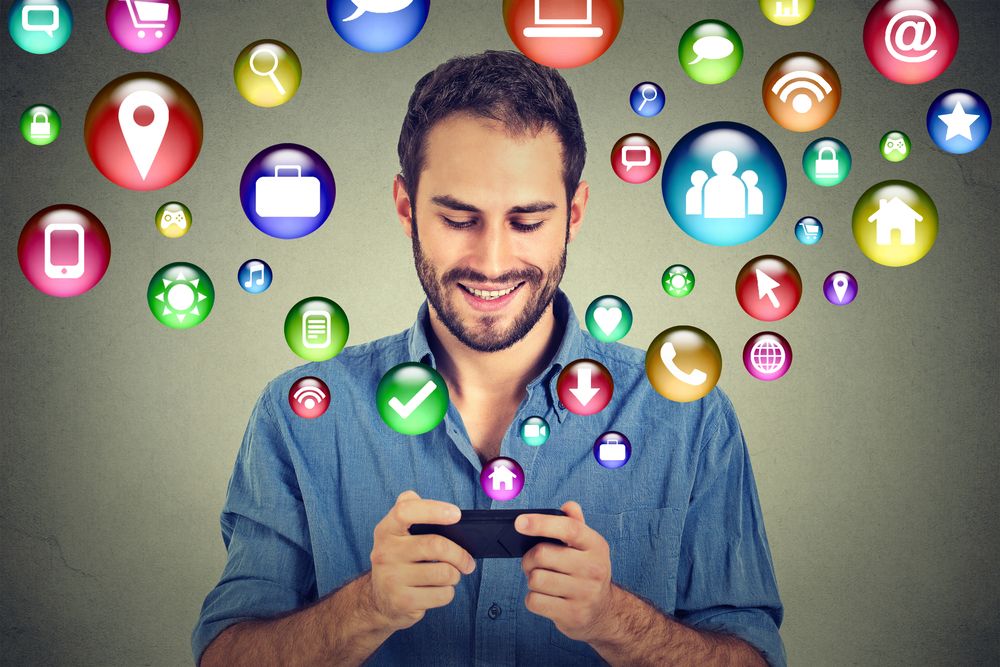 Social media for churches is just one of many tools ministries must use to promote their church. Without social media and other tools to promote churches, your ministry could suffer from the decline in membership churches across the country have been seeing.
Unlike years past, new members are harder to come by. Churches need to be savvy on how they attract and engage them. Social media for churches helps with engagement.
Instead of only connecting with visitors and new members during weekly services, your church can connect online, helping them engage throughout the week. Remember, for many members, their faith and their congregation serve as the their foundation. These things give them strength and sturdiness to stay upright in hard times. This is why these members stay with the church for their whole lives.
Like anything of value, the building of this foundation takes time and support. Your leadership can build this support for new members and visitors by engaging them, which is why social media proves such a useful tool for churches.

Whether you are a long-term user of social media platforms or are getting your feet wet, you need a church social media strategy. The information below can help you get started or hone your social media outreach so that you are more efficient and effective.
Table of Contents
How to Create a Church Social Media Strategy
"And [Jesus] said to them, 'Go into all the world and proclaim the good news to the whole of creation'." (Mark 16:15). Going "into the world" looks a lot different today than it did 2,000 years ago. Back then, there was no such thing as social media strategy or any other digital tools to connect with individuals.
Thankfully there are many different avenues for proclaiming the Gospel in the modern world. You don't have to do it the hard way.
It is incumbent on Christians––and churches as a whole––to investigate the most effective and impactful avenues for "proclaiming the good news."
The COVID pandemic has prompted individuals, businesses and organizations to look for alternative ways to connect with people. Churches are no exception. Many congregations have found that social media is a fantastic way to spread the gospel virtually.
There are many benefits of social media for churches. Here are some basic ideas for how to get started with your church's social media strategy.
A Powerful Tool
In 2005, when the Pew Research Center started tracking this trend, only five percent of all American adults used some type of social media. By 2011, that number had risen to about half. Today, it is about 72 percent, with more than 90 percent of all millennials saying they use at least one form of social media.
And regardless of whether social media is "your cup of tea," it is a powerful asset that you can use to reach existing and new church members. Think of it as a free church marketing tool that can inform, inspire and bring people together.
Formulate a Plan
The first thing you will want to do is lay out a plan for how you want to engage people through each social media outlet. Think of church social media outreach as its own ministry, with objectives and timelines. Meet with your staff about this issue. Be sure everyone is on the same page regarding what you want to achieve and how you will accomplish it.
Also discuss the issue with leaders in your church, like the deacon council or vestry. And be sure to include different age demographics, so that you get a variety of information about strategies for particular platforms.
Use Different Platforms to Reach Distinct Audiences
Know that different forums will reach different groups of people. For instance, you can assume that your Instagram audience will be younger than your Facebook one. So, you should take that into account when formulating how you will use it.
Know that managing several different social media accounts requires a lot of time. If this is beyond the capabilities of you and your church, consider scaling back and focusing on one or two platforms. It is better to have a few well-run accounts than many mediocre ones.
If you do not use a particular platform in your personal life, you will want to familiarize yourself with the nuances of it. Determine its assets and advantages. Who uses it and for what purposes do they use it? And think about whether participating in the platform will help you meet your goals.
Poll Your Congregation
To take it a step further, ask your congregation how they use social media and what content they find most helpful. Conversely, ask them what social media posts they find to be the most off-putting or useless. Get a sense of what they want to see and how that can be incorporated into the church's brand.
Leverage online tools to poll church members. You can glean a lot of information from some basic questions, like what social media platforms they use the most, how often they use them, and what they use them for.
Also, finding out what types of posts they often share on their own pages can give you a sense of what kind of content they think is most important. For example, you might ask members to describe the topic of the last five things they shared on their Facebook pages.
Coordinate Accounts
Depending on the size of your church, you might want to have different accounts for distinct ministries. And decide what the objectives should be for each. You will want to coordinate these efforts with other ministers or staff responsible for these programs.
For instance, you might decide that the main church Facebook page will post only reminders about regular services and events. And the youth ministry Facebook page will have more detailed information for teen programming.
And you can drive traffic to each other's pages without being redundant about the relevant information. It is okay to have overlapping content, to an extent.
But what you don't want is the exact same message on every account. The content of each page should reflect the unique audiences that follow them.
These "sub-accounts" should not replace the main church page but should be a supplement to it.
Develop a Posting Schedule
Regardless of the number of social media platforms and accounts you decide on, it is important to have a schedule for posting. Determine how frequently you will post different types of content. It doesn't have to be "set in stone," but have a basic "content calendar."
For example, you might plan to use Twitter for sermon quotes or to share newsletter links. So, you might plan to send those out every Monday morning, or on the day the newsletter goes out.
You can always do more but have a bare minimum of several posts a week on any given platform. The point is to be a steady presence in your followers' feeds. At the same time, you don't want to inundate them with dozens of posts a day.
The other reason to have a calendar (even a loose one) is it ensures you are consistent. If you advertise certain events through some forums but forget others, then followers will not be able to treat these platforms as a reliable way to keep up with what is going on at the church.
You can also make use of things like Facebook's native tool, which allows you to schedule posts. So, if you only have time to type up a post late in the evening, but want it to go out the next morning, that is easy to set up.
Leverage All Tools Available
Understand and put to use all the functions of each social media platform. For instance, Facebook allows you to create events and invite people to them. So, you can actually use it to both advertise and gauge interest in events at your church.

You might use certain platforms for very specific requests. For instance, participants can sign up to bring certain dishes to a church-wide potluck.
But note that there are limitations to each forum as well. One major one that, no matter how popular the particular platform, not all your members will be on it. So, while it may be useful for reaching the majority of your congregation, you cannot rely on it as the sole avenue for getting information out.
Go Beyond Typical Platforms
One way to address the issue that not all members will be on every social media platform is to use other online tools for church members. Online apps that are specific to your church can help with everything from fundraising to scheduling nursery volunteers.
Church apps can allow certain groups to access different documents. For instance, only members of a finance committee might have access to the church budget.
Having a single place where all members can go to access the information is useful. And these apps are more effective and secure than, say, a Facebook group.

Do Not Become Obsessed With Numbers
You may find yourself wondering how you compare to other organizations. Do you have more followers than the church down the street?
Of course, you want to reach as wide an audience as possible. And analytics are important--they can point you in the right direction and help save you a lot of time.
But the number of followers you have should not be the only gauge of success. Your online goals are unique to your church and ministries. So, your social media presence will be distinct and should not be measured by external standards.
Church Social Media Strategy: Content
Once you decide on the best platforms for your church and particular ministries, then you can think about the type of content you want to put out. Here are some basic rules for putting your best foot forward.
Be Strategic
Social media can become congested. There are approximately 6,000 tweets every second. That's 500 million every day.
It can be difficult to know how to stand out. One way is to always focus on quality over quantity. Becoming "more popular" does not necessarily translate to meaningful church growth or expanded ministry opportunities.
More is not always more. You want to reach as wide an audience as possible. But sharing every post across as many channels as possible can be too much. And it can come across as lazy. Create content that is useful and meaningful to your members, and you will succeed.
But you also want to be a steady presence in any given forum. Posting too little can make you fall off the radar. You want to strike a balance between novelty and regularity.
You also do not want to post only the same types of things. For example, sharing a link to a sermon is fine. But if a feed is full of nothing but sermons, it can become less interesting to many followers.
Be Authentic
There is no prescription for the exact content you should put out. It is particular to your church and its membership. But, one easy rule to follow is to be yourself. Do not try to replicate what you see other churches doing. You can learn from their strategies and things they are doing well. But incorporate those practices into your own unique social media brand.
Inform and Inspire
Social media messaging should contain relevant information for members and seek to inspire them to act. You want to provide your followers with knowledge and wisdom, and then be motivated to do something with it.
The call to action does not always have to be something grand. It could be as simple as encouraging members to pursue daily devotionals or to spend more time outdoors with their family. It could also be more direct, like recruiting people to help out with a ministry.
Engage Your Audience
Facebook alone has over 2.6 billion users worldwide. But, the goal of your church is not to reach millions and millions of people. It is to steadily grow your congregation and to engage existing members.
Engage any questions or comments you receive (insofar as it is appropriate to do so). Use the platforms to have conversations, not merely to distribute information.
From a technological standpoint, this also helps get your content out. Many social media algorithms, including Facebook's, reward engagement and penalize passive consumption of information. This means that the more people interact with your posts the more likely those posts are to be seen by others.
Be Willing to Change Things Up
From time to time, reevaluate the usefulness of each social media forum. Digging in your heals will do you no good if a social media strategy is not working. Be willing to adapt and meet people where they are, not where you think they should be.
Get Visual
An analysis of over one million blog posts demonstrated that those with a picture every 75 to 100 words got double the amount of shares as those with fewer images. And this trend held true across various platforms, including Facebook and Twitter.
And, while variety is always good, repetitive images can also catch people's eyes. For instance, if you include the same image for the weekly post linking to your sermon, it can allow users to quickly identify what it is and click on it.
Be Succinct
If you include large blocks of text, people will scroll right by the post. With some exceptions, most people will not spend the time to stop and read a lengthy sermon on their phone, in the middle of their lunch break.
But note that this does stop you from linking to longer, more substantial pieces of information in social media posts. In fact, you should often do that, when possible. There is evidence to suggest that, like pictures, external links make posts more popular.
But do not post links by themselves. If you only include a link to a sermon or other content, then it is also likely to be passed over. A short, concise blurb that tells the reader what the link is will draw them in and then point them to more substantive content.
For instance, rather than posting the entire text of a sermon in a post, summarize it in a few short sentences. Or, include a quote from it. Then, link to a video of the sermon or the entire transcript.
Don't Forget About Video
Videos have the strongest draw for those on social media, and if your church has a virtual worship service, you're already making videos. Use YouTube to post sermons and other segments from your Sunday services.
If you're not sure how to start, don't worry. We built a free guide to help you get started.
Try Something New
Each congregation is unique, so there is no fool-proof strategy that applies to every church. If you find what you are doing is not working, try something new.
Also, do not worry about failing. Social media is fast-moving and, for that reason, is very forgiving. If you find that a strategy has not worked, there is nothing stopping you from changing things tomorrow.
Don't Start from Scratch - Launch Your Social Media the Easy Way!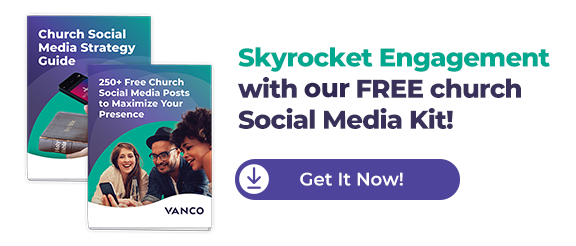 Take your church's social media to new heights with this FREE, comprehensive resource. Designed to eliminate guesswork, it's packed with 250 ready-to-use posts, a foolproof guide to mastering your church's social media strategy, and beautifully crafted images for major holidays. Stop staring blankly at the screen, wondering what to post next. This is your chance to watch your online interaction skyrocket! The resource is easy to use, no strings attached, and is a testament to our passion for helping churches harness the power of social media.
Why wait? Claim your FREE Social Media Kit today and deepen your community connections like never before.
Creating a Church Social Media Policy - Why It's Needed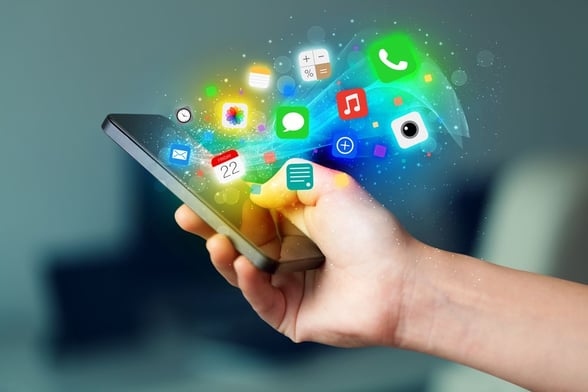 You're active enough on platforms like, YouTube, Facebook and Instagram, but do you have a church social media policy?
Social media policies aren't just for businesses anymore. Keep reading for reasons why you need a social media policy and what you should consider adding to it.
What Is a Social Media Policy?
In simple terms, a social media policy is a document that outlines how people should conduct themselves online when they're posting on the behalf of an organization. Ideally, they should be a living document that can evolve along with social media platforms and trends.
Your policy can give people some insight into your church's official channels, establish rules about language and content and help set brand standards for social media. People should be able to easily reference your policy if they don't know what to post, where to post or even how to post it.
The social media policy you create won't just help your internal staff. If you choose to make certain parts of your policy public, you can show your congregation members about the best ways to talk about their church on social. This can lead to getting even more followers and new members.
Why You Need a Church Social Media Policy
Coming up with a social media policy may seem a bit strange if you're already active on social media. People know how to post content. You have plenty of volunteers and almost everyone is familiar with the most popular platforms.
Congregations that already have active profiles have even more of a reason to set social media guidelines for churches. Policies help set guidelines, add clarity to your work and can protect you in case things go wrong.
Protect Your Brand and Reputation
You don't have to be in the marketing business to see just how much damage a single post or tweet can do to a brand. Sadly, social media scandals can affect churches and pastors just as much as they can affect businesses and brands.
Your social media profiles aren't just ways to share uplifting news and do outreach. Social profiles are like big branding billboards that tell the public everything they need to know about you and your church.
Branding probably isn't high on your list of priorities, but it's important to understand just how important a church's brand and reputation are online. Churches and their members are held to a stricter moral and ethical standard than others.
A social media policy can help protect your church's public perception and reputation. Your policy will ensure that people are acting properly on the behalf of your church online.
Educate Your Members
Your church social media policy won't just set guidelines about proper conduct. It can also help teach people about the best ways to use social media.
A member that wants to get involved in social ministry may not know how to properly tag people. They may not understand other important things like post visibility, hashtags or how to switch accounts.
Having a solid social media policy gives people an insight into the best ways to use different platforms and helps ensure you're getting the most out of your posts. This makes it much easier for new people to get involved on social and helps ensure posts are being done correctly the first time around.
Establish Security Measures
Do you know who has access to passwords for certain social accounts? Is someone in charge of changing passwords once certain members of the church leave? Who should someone talk to if they notice suspicious activity in your account?
Your social media policy can answer all of these important questions and more!
Security is important for every organization, and that includes churches. Your church's social media profile can contain a lot of important information. Private messages may contain sensitive information about church members.
In some cases, if you have a credit card tied to your account, hackers could even get access to that.
This is why it's important to have a social media policy that addresses security concerns. All it takes is one person forgetting to logout or losing a password to cause problems.
Prepare for Problems
In a perfect world, everyone would conduct themselves civilly online, but you need to prepare for problems from other users. Instead of scrambling to find a solution to a problem when it arises, take time to plot out a response protocol in your social media policy.
Set Rules About Member Stories
Churches can be some of the most loving and trusting environments you can be in. Some congregation members wouldn't think twice about sharing difficult and personal information around family matters, job problems or even issues with addiction.
Some of your members may be fine talking about certain things during Bible studies and prayer groups. However, they may not be open to having members outside of their church circle knowing their personal business.
Making a public post about a personal prayer request to help someone going through cancer treatments may not be okay. Posting about someone needing prayers for an undisclosed medical issue might be. Or the person someone is posting about may prefer to be left off social media altogether.
This is another reason why we highly recommend putting together a social media policy. A well-meaning member could easily cause trouble or offense by sharing news. Set rules around what kind of news is okay to share on social media and what's best left for smaller groups.
Tips for Creating a Stellar Social Media Policy
Now that you see all of the good a social media policy can do for your church, let's talk about the best way to create one.
When you're creating your policy, it's important to be as thorough as possible. Some of the rules you have around content and posting can be unique, but there are some universal things you should do and include if you want to have a comprehensive policy.
Gather Your Team
If you have one person handling the creation of your social media policy, you're going about this all wrong. You don't have to involve the entire congregation, but you should have some key stakeholders that help with your policy creation.
Involving different people helps ensure you aren't creating your policy in a vacuum. Varying opinions and new perspectives can help you see certain things in a different light and ensure that different voices are heard.
Elders, deacons, trustees and the pastor are obvious choices for who to involve. Getting people in leadership positions to help out is always a good idea, but this could be a great time to tap into some church talent.
Let your flock know you're creating a social media policy and anyone with marketing experience is encouraged to join. Getting insight from a professional can help make your policy even more effective.
Establish the Ground Rules
Your social media policy is going to focus a lot on content, but you should still take a little time to address some basic things everyone posting for your church should know.
We also highly recommend having a place where people can easily access login information. A system like LastPass can allow people to log in to certain platforms without having to directly share sensitive passwords.
Address Appropriate and Inappropriate Content
You may think you don't have to tell people about what's appropriate to post and what isn't, but there are plenty of topics that can fall into a grey area.
This is why it's important to be very explicit about what content you'll allow on social media. There are so many grey areas when it comes to content and social media. You have to think carefully about what you're okay sharing.
A good rule to follow may be that if you have to question something, it's not safe to post. Other churches may be more comfortable with having the pastor or a deacon review questionable material beforehand if someone handling social thinks the content has real value.
Determine Your Brand Voice
When you're coming up with your social media policy, don't just give people direction on what they can and can't say. A solid social media policy can tell people how they should sound when they post. Take time to think about your "brand voice" and how you want that to come across in the content you post.
Outline Approvals
When you're thinking about content approval flow, come up with a system that's easy to follow and is as streamlined as possible. Having multiple people involved in the approval process can slow things down and could affect the timeliness of your content.
We recommend using a posting and scheduling tool for social media if you're thinking about making an approval process. Many will try free tools that enable scheduling, like Hootsuite. This makes it easy for people to preview posts, edit content and even alert people when there are things that need to be reviewed.
What to Consider in a Church Social Media Policy: Potential Rules
Laying out rules around content, developing posting schedules and sharing passwords can be easy. Coming up with rules that show your church's values can be a little more tricky.
It's ultimately up to you and your social media committee to decide what you want to focus on and how you want to handle your presence. However, if you're looking for some rule suggestions, we recommend adding a few of these to your policy.
Church and Gospel Come First
Using social media for your church can be a lot of fun. Sharing funny memes, responding to new people and growing your following are all important.
It can get easy to get caught up in sharing the latest news and adding new followers. Make sure everything you post still has the ultimate goal of spreading the word.
It can be hard to make fishers of men from small talk and memes. It's okay to post something funny or cute every now and then, but be sure to post plenty of meaningful content that highlights your church community and commitment to Jesus Christ.
Fact Check Your News Stories
If you're okay with posting news articles or content linked to current events, encourage your staff to do a little research before they post anything on social media. Sharing a fake news story could easily damage your reputation and could make you seem less trustworthy in the eyes of your congregation.
Some churches find that it's best to only post articles from certain sources they know they can trust. Consider putting together a list of news sites and organizations you can rely on for accurate reporting.
Know Everything Is Public Record
Social media is also a lot more permanent than people think. Deleting or hiding posts from your timeline won't guarantee people never saw your content. You can easily get alerts for posts and can take a screenshot in a matter of seconds. Some platforms can even keep records of user data and content long after it's "deleted" from news feeds.
It can be easy for social media to feel like a cozy little bubble. You curate your following, block people and control what shows in your feed. That feeling of safety can be nice, but it can also lull you into a false sense of security.
Remember, your profiles are publicly accessible.
Stay Positive
Something that seems a little tongue and cheek to you could come off as mean or judgmental to other people. Consider making it a rule that your content needs to be positive and uplifting to avoid possible misconceptions.
Free Social Media Kit - Amplify Your Church's Online Presence!
Discover the power of our FREE Social Media Kit designed specifically for churches. The kit includes...
1. Engaging Social Media Post Templates: Effortlessly create captivating posts that resonate with your congregation. Boost online interaction and grow your community.
2. Proven Strategy Guide: Uncover the secrets to effectively harness social media for church growth. Follow our step-by-step guide for tangible results.
3. Holiday Image Posts with Impact: Leave a lasting impression during special occasions. Utilize beautifully designed posts with compelling captions for maximum engagement.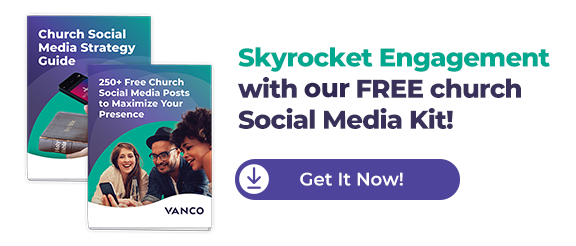 Don't miss out! Claim your FREE Social Media Kit now.