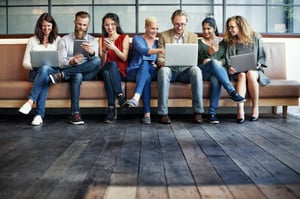 With the right online worship resources, managing virtual services can be easy. If you are looking to start hosting online worship, or if you are currently hosting services online but are looking for ways to improve, continue reading our online worship guide below. In the guide, we detail the free or affordable tools available to you.
Online Worship Resources
When it comes to planning online worship, there are tons of resources available. From planning songs and sermons to copyright information, and everything in between.
Let's take a look at what resources you'll need.
Creating an Online Home for Your Church
For your online worship to be successful, your members, guests and newcomers need to be able to find it. This means you'll need a website. If you already have a website, you can skip ahead, but if you don't, or have a website that is difficult to manage, consider these low-cost options that won't require you to hire a web developer.
The days of needing to pay hundreds or thousands of dollars to build a professional website are over. With DIY website builders, all you need to do is choose from a list of available templates, make a few edits to match your church's distinct personality and that's it. Even the least tech-savvy users can build a website from the following providers in just a few hours.
1. Wix
What's nice about Wix is that you don't even need to commit to buying a website before building your website. This allows an aspiring virtual ministry to see if this solution is right for them. Wix is used by many small businesses because it costs very little and doesn't take professional skills to use. If you're looking to see what the system looks like for yourself and how to use it, Wix has put together a list of ten video tutorials that will help you go from a website newbie to a master in no time.
2. Squarespace
Squarespace is very similar to Wix, and it is used by individuals in churches and small businesses across the country. This means there are a lot of resources for creating a Squarespace website. If you're looking to see what creating a website on this platform is like, check out this video, describing how you can build a webpage within minutes.
Each of these providers charge very little per month—under $30 in many cases—and the plan covers your domain name and hosting, expenses you would need to pay for any website.

Tools for Livestreaming Online Worship
Many churches have been livestreaming their in-person gatherings for years to reach a greater audience. If that is your church, then you likely already have many of the technical pieces of hosting online worship already in place.
For those who are just getting started, we built a useful guide to help you begin.
Either way, you'll need is the correct software. Online worship software allows you to record, host and share your service with the world through the internet. There are many options available. Here's a few popular choices.
Streamingchurch.tv allows you to livestream a church or worship service, host it on the platform and share it wherever you need to. You can embed the live video directly onto your website by simply pasting the code onto your site.
For premium members, they also automatically record and save your live event. Videos are available in your media library for people to revisit in the future.
The stream works on any viewing device: computer, tablet or mobile phone. Plus, you can share the livestream to Facebook, Twitter and YouTube, allowing you to meet your viewers where they are.
They also offer a "simulated live" feature, allowing you to record and produce your worship service ahead of time and play it as a more polished livestream.
This is a popular method, especially if you're able to have a few audience members in the room while filming.
This platform comes equipped with many other features as well, including moderated live chat to increase engagement and viewer maps to see where people are connecting from.
SundayStreams, another livestream platform for churches, has been acquired by Boxcast.
Boxcast also makes it easy to livestream your Sunday worship meeting. It automatically archives your streams, is compatible on any device and offers unlimited streaming.
You can share the stream directly to your website, Facebook Live, YouTube, Apple TV and Roku.
You can also add your logo or text banners over the video. This is helpful when you want to include a speaker's name or a Bible verse during the stream.
You can also use Vimeo to livestream and archive your services.
They offer many of the features listed above. They also include their video editing studio to help you creatively control the quality of your livestream and make it as engaging as possible.
You can embed the livestream anywhere and share it to many other platforms such as Facebook Live and YouTube.
Did you know 69% of adults in the U.S. use Facebook (Pew Research)? Facebook's livestreaming service offers the perfect solution for churches wanting to offer Sunday worship online. You can use it for free and setting it up is easy. Just how easy is it? Well, in just over two minutes, this pastor demonstrates how to set up a livestream for a church service.
You can also follow this Facbeook Live instruction guide to get started.
7. YouTube Streaming
According to FacTank, even more adults use YouTube than Facebook, which makes it another online worship resource you can use to livestream your services. When streaming your worship services to YouTube, it is slightly more complicated. You'll need to first meet YouTube's requirements. Then you'll need to have a YouTube channel and some type of streaming software. Fortunately, there's streaming software available for free, and Google helps guide you to a list of options. Overall, the process is still simple, but it may take new churches 20 to 30 minutes to set up their first stream. If you're interested in trying out YouTube, check out this video.
8. Zoom
Since COVID-19 closed in-person services across the country, many churches got acquainted with Zoom. Most found the software affordable and easy to use, and when it comes to livestreaming services, it provides the simplest way to broadcast livestreams. Using a simple trick, churches can broadcast through Zoom, YouTube and Facebook Live simultaneously. Because so many of your visitors have familiarity with one or more of these platforms, it allows members to access your video stream through their preferred medium.
Equipment for Online Worship
If you have a smartphone, you can easily create professional videos while spending less than $100. Here are just a few inexpensive online worship tools that can help you turn your smartphone into a high-end piece of recording equipment.
If you want higher-end cameras and equipment, then you might want to check out this guide to help find the best camera for streaming and recording church services. As for the accessories to go with the camera, you'll still need the following pieces of hardware to pull off a quality online worship service.
9. Smartphone Tripod Adaptor and Tripod
This equipment will allow you to connect your smartphone or camera to a tripod to give a steady visual display. The tripod adaptor lets you easily mount your smartphone to the tripod. Many companies manufacture this equipment, and it is easy to find a kit at a low cost.
10. Lighting
For your online visitors to feel as if they are attending in person, you'll need to address the lighting. As with much of the camera accessories, the range that you can spend is wide, from $10 to a few hundred dollars. However, if you're just starting out, using a simple ring light attachment that connects to your smartphone or camera will make a world of difference. Whatever you decide, any sort of attachment will improve the quality of your video.
11. Microphone
Many smartphones have high-grade cameras included within them. Unfortunately, they don't have spectacular microphones. This is the case for many cameras as well.
Because your online viewers need to hear the messages conveyed by your pastor and the songs from your band or choir to be uplifted by your online worship services, you will need to have some additional hardware. But don't worry, this piece of equipment won't set you back much.
Any external microphone will significantly improve your sound quality, but if your worship services focus on the pastor and their sermon, you'll want to use a lavalier microphone that can clip onto a shirt. This is a cheap way – you can find one for less than $20 – to focus on your pastor's voice as they deliver a sermon or convey key messages.
12. All-in-One Rig Set
This is one of the easiest ways to get all the necessary equipment to maximize your smartphone's or camera's video recording capabilities. These portable sets generally work with any type of smartphone. They come with easy-to-use lighting systems, a microphone and a tripod. In many cases, they are less than $40, such as the set demonstrated in this video. What's particularly neat about the set demonstrated in the video is that it has handles, which allow you to smoothly pan and adjust the camera without shaking the picture. This will help your camera operator provide better footage of the service for online viewers.
If you have a large budget, you can opt for the more high-end equipment for each piece of hardware, but it isn't a requirement. Most members and visitors won't expect studio-level videos right away. They will simply be grateful they're able to worship online when they aren't able to physically attend church. If you find your online services are a hit for those in the community, you can easily upgrade your equipment without breaking the bank.
Tools for Recording Worship Services
If you're already livestreaming services or plan to do so, you should consider offering recordings to your members and visitors. Aside from giving members the convenience of accessing past services whenever and wherever they like, you can use the recordings to expand your audience. When new visitors are looking for a congregation to join, it helps for them to have an accurate depiction of your services, and nothing does that better than a video recording. Here are a few worship tech tools to help you get started.
13. Zoom Recordings
Getting started with video recording is especially easy if you use Zoom for livestreaming. You can find the steps to the simple process here.
If you're looking for a way to enhance your livestreams with edits or to simply create a shareable recording, this free software will do the trick. OBS is not only easy to use, but it has many of the features offered by paid editing software, which can cost hundreds of dollars for a yearly subscription. Check out this 30-minute video tutorial to see if this software is what you're looking for. It will help you get up to speed so you can start creating professional videos in no time.
Copyright Law for Churches
As you probably already know, you can't simply reproduce, play, sing or display other people's copyrighted songs, music or videos.
Content created by other people is protected by copyright to ensure they are properly compensated when other people use their work. This applies to a church or worship band playing songs written by other artists, displaying the words of songs on the screen and sharing a video.
In order to do this, you need to get explicit permission to reproduce their work. The easiest way these days is with a copyright subscription service. As you pay your provider, they in turn negotiate the right for you to reproduce material and ensure the creator is compensated.
There are many different types of licenses depending on the content you are looking to reproduce, how you intended to use it, and where and how it will be broadcasted.
For example, you may need a reproduction license or performance license to perform songs in a church or live setting. Or you might need a podcast license if you are recording the content and making it available on podcast platforms.
15. CCLI (Christian Copyright Licensing International),
CCLI makes it super simple for churches to license worship music for in-person or livestream performances. CCLI covers the majority of Christian music used in worship settings, making it a one stop shop.
Examples of Worship Services that Inspire
One of the best things you can do to plan your online worship event is both simple and fun; watch other people's stuff.
Depending on the resources you have available, you may or may not be able to replicate what you see. But you can take notes of what they are doing differently and determine what you might be able to implement.
16. Examples of Inspiring Worship Services on YouTube
Some of the most popular church and worship services on YouTube include:
For your church to share its message in the sanctuary and online, you'll need resources to keep the lights on. That's where financial stewardship comes in. Managing financial stewardship has never been easier thanks to online applications that make giving simple, while encouraging repeat giving.
We would like to put an emphasis on repeat giving. In our decades of work with tens of thousands of churches, we found that to be the best financial stewardship tool available to churches. And it's not just us, according to Philanthropy Daily News, monthly givers donate 440% more over their lifetimes than one-time donors. The other key advantage besides increasing donations is that automatic giving helps make weekly or monthly donations consistent, erasing odd spikes and lulls in gifts and making it easier to budget.
Here are just a few low-cost, online worship resources to help you encourage automatic giving.
When giving is easy, members donate more often. With a mobile app, your members can give within a minute through their smartphone wherever they are. It also allows givers to make recurring gifts.
Giving with a text message is the easiest way for members and guests to donate. Like the mobile app, givers can choose to make their donation recurring. In the case of Vanco Text, users are prompted through a text message with a query asking if users want to make their gift recurring.
An online giving page is a great way to direct website users to contributing. Through the online form on the giving page, donors can choose to make their gifts recurring as well. An online giving page is a little more complex than the other two options, which is why there are several strategies you should use to maximize the efficacy of your donation page.
Worship Planning Resources
There are tons of other resources available when it comes to planning in-person and online worship events.
Here are just a few you may find helpful.
Worshipplanning.com's online software makes it super easy for worship teams to communicate, collaborate and organize their ideas and setlists like never before. Easily schedule service details using the online worship flow editor.
You can drag-and-drop, add and edit song details, upload relevant files and videos and much more. You can create team member schedules for weeks or months at a time, with automatic notifications and reminders sent to each person.
You can also edit, update and find substitute musicians at any time.
WorshipTrac has everything you need to create worship outlines, plan services, browse song libraries and schedule your team. This easy-to-use software will save worship leaders hours of time each week.
Make it work for you by organizing your own songbooks, creating tags and categorizing anything and marking favorites. With an easier planning process, you are free to focus on the things that really matter, inspiring your team and leading people in praise and worship.
Worship ideas and training to increase reach and effectiveness.
Events and resource library for the study and renewal of worship.
Print and digital magazine to help you plan and lead worship.
Sermon ideas, liturgies, readings and other ideas for specific holidays and seasons.
Worship planning resources from the United Methodist Church.
Musician Development Resources
You can plan the best worship set in the world, but if your guitarist doesn't know how to play their part, things will fall apart. Making it easy and fun for your team to develop their individual skills is very important. Here are some tools to develop your musicians.
Worship Artistry is an online education platform that makes it easy for musicians to learn and practice worship music. Whether your team is full of beginners or musical experts, there is always more to learn.
Individuals can dive deeper into their respective instruments by following along with interactive song lessons. They will receive an incredible education on tone, technique and tips for playing specific parts of songs.
The song library on Worship Artistry is growing weekly. Currently, you can find popular worship songs from artists such as Phil Wickham, Elevation Worship, Hillson United, Bethel Music and many more.
29. Worship Online
Another online tool to help you invest in your team's musical abilities, Worship Online, has an extensive song learning library. When learning and playing modern, complex songs, it helps for each musician to receive personalized training on intricate song parts.
With lessons, demos, charts, and easy mobile phone access, Worship Online will ensure your team shows up to practice prepared and confident.
30. Song Libraries
If you're looking for song libraries for your online worship, there are plenty out there. Here are some of our favorites.
It's incredibly easy these days to find the perfect songs for any season of life.
Worship Media and Presentation Resources
There are many visual elements present during a worship set and church service. Ensuring these media elements are professional, high-quality and thematically relevant is important. Here are some media resources to help you easily create and manage the visual side of worship.
Yodeck is an online digital signage tool that will help you create beautiful images, graphics and messages to use in your church and online. You can easily create any media elements to show on any screen.
This could include announcements to show online, on your main projectors on Sunday, or on a small screen in hallways and foyers. You can also create seamless slideshows to run anywhere and everywhere. You can use these worship resources to supplement any online worship.
Presentations are vital during church services. They help guide people during each element of a meeting, such as worship times, announcements and sermons. They keep things on track.
EasyWorship makes it simple for anyone to create and run professional, smooth presentations. Use it to build out your entire church service including song lyrics, videos, scriptures and more.
ProPresenter is one of the most popular presentation programs available, especially for churches. It gives those with technical savvy the ability to utilize a massive amount of tools. ProPresenter has many technical features such as the ability to manage multiple displays at one time and create multi-layered slides for limitless customization.
34. Canva
If you're looking to give your church's promotional material a professional look without hiring a graphic designer, Canva is the perfect solution. With thousands of readily available templates and photos, your church can quickly create professional worship materials without spending a lot. Canva has a free plan that includes thousands of materials. You can browse through the available templates that include presentations, social media posts, flyers, newsletters, Zoom backgrounds and more here.
Offers quality background, countdowns and mini-movies.
Offers graphics, slide templates and worship backgrounds.
Offers graphics, photos and videos for churches.
Offers sermons, graphics, kids lessons and ministry.
Gives churches inspirational media to engage people throughout the week.
Enjoy thousands of free, beautiful stock photos.
Resources to Promote Online Worship
41. Social Media
When it comes to promoting a church on social media, we're specifically talking about Facebook. Facebook has far more online users than any other platform, and it is usually among the top search results when individuals search the web for your church's name. Although Facebook will require you to pay for expansive reach, there's plenty you can get for free. By creating a local page, you can have your church's information such as name, address and phone number prominently displayed on search engines like Google. You can also share important events with members and connect private Facebook groups for individual members to have conversations with each other. If you haven't created a Facebook page yet, here are the instructions to get started.
42. Google My Business (GMB)
Don't be fooled by the word "Business" in this tool's name. GMB works great for churches. By creating a listing for each of your campuses, your guests can easily receive driving directions. Your church's GMB listing will also display at the top of the search results with a panel that details your information for queries relating to your church. And most importantly, it will help you appear at the top of local search results when new residents are looking for a congregation to join. If you don't have a GMB listing for your church or wish to optimize an existing listing, check out this video.
43. YouTube Channel
One way to attract new visitors and offer a space for existing members to view your previous services is to create a YouTube channel and upload videos to it. Both actions take very little time and are easy to do. Get the instructions to get started.
44. Blog
A blog is a great way to expand your reach into the community and beyond. However, it can be hard to find time to create the content for it. One simple solution is to embed your videos from your YouTube channel onto your website's blog. The process of embedding a video is easy if your website uses WordPress, Wix or Squarespace. Because almost a third of websites in the U.S. use WordPress, we've included the instructions for embedding your YouTube video to your WordPress blog right here. For instructions on Wix, click here. And you can get the instructions for Squarespace right here.
Once you've embedded your videos of sermons or Sunday services, you'll want to optimize your post. Start by optimizing your video post with a description of your church's service or sermon. The description doesn't need to be a lengthy masterpiece. Simply write what your pastor talks about in the sermon, the name of the music played and any other notable snippets. The reason why these few words helps is that search engines need text to better classify what a certain video or image is about.
Get the Free Virtual Ministry Setup Guide
If you are looking for more helpful resources, we detail everything you need to know about starting and running a virtual ministry in our free eBook.
Click on the resource below to get your own copy!