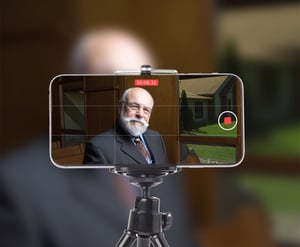 Due to the popularity of Facebook, many are using the social media site to conduct online services, either as a supplement for in-person services or as a complete substitute.
Facebook Live for church services can be a powerful and effective tool to keep the congregation connected, whether it is your church's local congregation or multiple congregations.
What Is Facebook Live?
Launched in 2016, Facebook Live is a live streaming video service that lets anyone broadcast to their Facebook feed or the audience of a page. A Facebook user can live stream with either a mobile device with the Facebook app installed or connect a camera to their computer and live stream that way.
Facebook Live offers tremendous flexibility, allowing a user to easily live stream almost any content, as long as it doesn't violate the site's terms of service.
Facebook Live also extends to individual pages, meaning that a page administrator can use Facebook Live to broadcast live video to their Facebook followers.
How Facebook Live Can Be Used for Church Services
Facebook Live can be used for a variety of church services. Most churches are likely to use it for their traditional weekend worship services. However, you should that consider it for other services as well. The value in Facebook Live can also be extended to regular services such as online prayer groups, Bible studies, small group sessions and special events like baptisms.
Most churches say their most effective method of outreach is social media. Sites like Facebook are home to members of all ages and allow a church to easily expand their audience and work with other churches and nonprofit organizations.
It's also an effective tool for reaching members of the congregation who can't always attend service due to issues such as chronic illnesses. Facebook Live broadcasts will allow all members to stay connected and together in unity, regardless of circumstances.
Getting Started With Facebook Live for Church Services
The Facebook app is a free download for both Google and Apple devices. It's also possible to navigate to Facebook.com on a computer and set up an account that way. Once that's done, complete the quick signup process and create an account.
First, create a Facebook page for your church. A Facebook page is a page for a specific organization or business.
Make sure that this page is public. This will allow others to find your page and see it's content. If you're unsure how to create and manage a page, follow the instructions here. Once that's done, reach out to members of your congregation on Facebook and invite them to like the church's page. That allows them to get updates from the church's page, including notifications about upcoming events and broadcasts.
Recommended Equipment
The good news about using Facebook is how easy it is to live stream to an audience. After all, Facebook acts as both the church's social page and the hosting platform for events. The bad news is that many underestimate the value and importance of using good equipment to create a quality experience.
The basic equipment of a camera, tripod, microphones, mixer, audio interface and an encoder will convert the live feed so it's viewable over the internet. Investing in additional equipment such as multiple cameras and tripods, and a video switcher and software will give you the ability to switch between multiple camera angles.
If you don't have this equipment right now, don't worry. Start small. All you need to start is a smartphone with the Facebook app installed, a tripod for the smartphone to ensure that the video is stable, a microphone (compatible with the smartphone) that you can clip to the person speaking and a strong and stable WiFi connection. Doing a full broadcast over cellular data will eat through data in no time.
This basic setup is all that's needed to get started, but remember, it's a limited setup. For the absolute best experience, you'll need to invest in the right equipment.
Facebook's Creator Studio
Facebook's Creator Studio is a central hub where users can manage all of their pages in one place. It allows users to see the performance of pages and individual posts, as well as check page messages and monetize content.
Facebook's Creator Studio also includes a sound collection, which is their collection of royalty-free music you can use during your streams. Be very careful when using music during your church's Facebook live sessions. If you are not using royalty-free music, make sure that you have obtained the proper licensing rights for any music. Using commercial music without the proper clearances violates Facebook's Terms of Service.
Starting the Live Stream
Getting started is simple and straightforward. Here's how to do it from a smartphone:
First, open the Facebook app and make sure you are signed in.
Then navigate to the church's Facebook page.
From there, select the publish option.
Then write a good description. Try to maintain the same standard and similar naming convention for each broadcast (i.e. ABC Church Sunday Service 1/10/2021). It makes finding previous broadcasts easy.
Then select the camera icon.
Choose the live video option.
Then select the start live video option to begin the broadcast.
When you're ready to end, select the finish option to end the broadcast.
Finally, select the share option to share the video to the church's Facebook page, ensuring that the video is available for viewing to those that may have missed the live stream.
When broadcasting from a desktop or laptop computer, the steps are mostly the same. Use the Facebook site and navigate to your church's page. Then choose the option to start a live video. Just like broadcasting via the app, you'll need to write a description for your video so the audience knows what it's about.
When prompted to allow Facebook to access your microphone and camera, choose the allow option. From there, you can preview the video before hitting the "Go Live" button. Then when you're ready, start the broadcast and begin the live stream.
That's it. It's that easy to get started with Facebook Live.
Post Event Suggestions
The live stream may be done, but there's still more to do to ensure a successful live stream.
We recommend you promote a live event both before and after it happens. Many pages only do one or the other, but both are ideal. It's likely that not everyone will be able to tune into an event on time, or even at all. Posting about a previous video stream and sharing it to the church page's audience will encourage engagement and allow anyone who missed it to easily find it.
You should also have a dedicated person available to answer any questions viewers may have before, during and after live streams. This is a simple and effective way to engage with viewers. It also gives you a chance to answer any follow-up questions or invite them to future events.
Finally, you should check the analytics for each broadcast. At the top of a Facebook page, there is an option to check the insights and view the statistics for each video. This will give info such as live viewer numbers, total views and engagement. It will also tell you what your demographics were for each broadcast, based on viewers' profile information.
Other Tips and Best Practices
Remember to promote events. It's easy for people to forget about your live broadcast. Make sure to promote any events on your church's Facebook page, as well as through any other channels of communication (i.e. group messaging apps, Twitter, church announcements and bulletins, etc.). Promote an event multiple times in advance, not just immediately before the live stream starts.
Choose the right time for your broadcast. A live stream that starts early at 9 am Eastern Time will start at 6 am Pacific Time. That's fine for many congregations, but you might prefer to be open-minded and adjust your live stream schedule accordingly. For many, reaching people in multiple time zones or a different part of the world is important. That means finding the right schedule to meet the congregation's needs.
Always test live streams in advance. Assuming everything will go smoothly is a mistake. Technical problems and mishaps occur, even when experienced staff is involved.
End each broadcast intentionally. Start and end each broadcast by greeting viewers and thanking them for watching. Encourage them to like and share the video they just watched. Encourage them to like the church's Facebook page too.
Excel in the wrap-up. Invite viewers to tune in to future events, whether that's a similar broadcast next week at the same time or a different event altogether. Suggest viewers take additional action, such as visiting your website or messaging you with any questions. Remember, the power of live video is the ability to interact with your audience. A live stream is not the same as a pre-recorded broadcast.
Plan to Adapt
This is just the tip of the iceberg when it comes to live streaming. What works for another church may not work for all churches. It's important to consider the changing needs of the church's audience and the community. Don't be afraid to experiment and adjust things accordingly.
If you're looking for some new ideas to try for your church's Facebook Live streaming and recording, our team has hunted down quite a few for you to try.
Looking to Start or Improve Your Virtual Ministry?