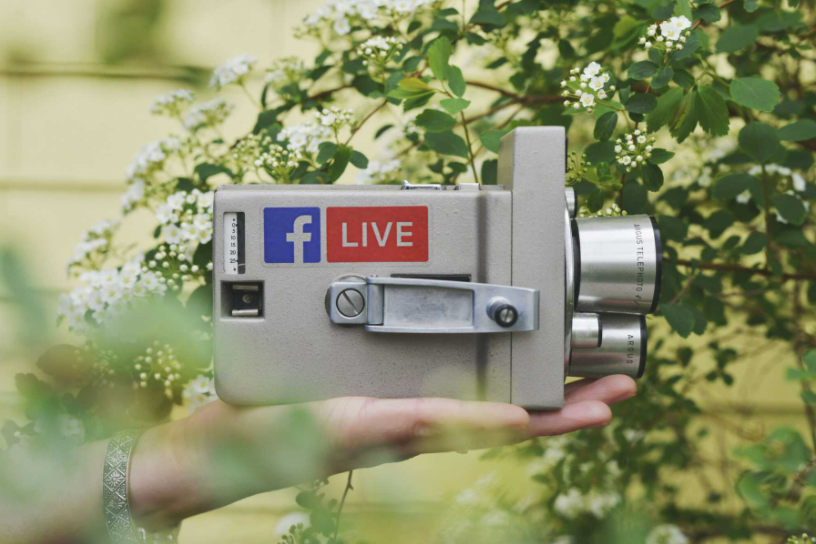 Due to the popularity of Facebook, many are using the social media site to conduct online services, either as a supplement for in-person services or as a complete substitute.
Facebook Live for church services can be a powerful and effective tool to keep the congregation connected, whether it is your church's local congregation or multiple congregations.
Table of Contents
What Is Facebook Live?
Facebook Live is a service that allows live streaming through Facebook. This function launched in 2015 but was only available to some celebrities at first. In 2016, it rolled out to a greater audience.
Facebook Live that lets anyone broadcast to their Facebook feed or the audience of a page. A Facebook user can live stream with either a mobile device with the Facebook app installed or connect a camera to their computer and live stream that way.
Facebook Live offers tremendous flexibility, allowing a user to easily live stream almost any content, as long as it doesn't violate the site's terms of service.
Facebook Live also extends to individual pages, meaning that a page administrator can use Facebook Live to broadcast live video to their Facebook followers.

The Benefits of Using Facebook Live for Church Services
With all the streaming services available on social media, why should you choose Facebook? Well, the first thing you should know is that it's not always an either-or situation.
There is the capacity to multi-stream to multiple platforms at the same time with your live streams of church services. However, for today we will only be focusing on Facebook Live.
It's Free
Who doesn't like the word free? You can use Facebook Live for free. If you're on a budget, this is a great choice. That's why so many congregations use Facebook Live for church services today!
Your Members Are There
Most of your church members are probably already on Facebook. While not everyone is, this platform is widely used, so it's likely your members will be there.
This is the essence of meeting people where they are. Instead of having your members download a new app that they do not know how to use, start streaming somewhere they can easily find.
They Do Not Need to be There
Even if your members or church visitors do not have a Facebook account, that is okay. Live streams on Facebook can be watched by individuals even if they are not signed on to Facebook.
They just need the live stream URL. In addition, you can embed the live stream on your website or blog, and it can be watched from there.
Connect with Members Who Can't Make In-Person Services
Do you have community members who cannot make it to a physical church because of disability, illness or transportation? Or are there people in the community who simply are not comfortable going to a church because of past experiences?
Facebook Live for church services helps your ministry reach these types of individuals. Even beyond the pandemic and lockdown, it is good to have solutions that allow for members who cannot walk through the door that week to hear the word of God.
Helping People Meet Your Church
As people move into your community and look for a church, where do they look? If they have friends or family in the community, they may ask for recommendations.
However, if that is not the case, they look online. If your church hosts Facebook Live services, they can be viewed later too. This means that someone looking for a church can get an inner look at your congregation.
Your videos will allow them to see what your church teaches. It will also allow them to see what kind of culture your church has and whether or not it is a church they may feel comfortable within. This makes Facebook Live an essential marketing tool for churches looking to grow.
Content for Facebook Ads
There are several church growth tools at your disposal if you're looking to increase membership. Many of these tools and the church marketing strategies that accompany them are long-term and labor intensive.
That's why many ministries take a shortcut and turn to Facebook ads. Managing a Facebook Ads account requires a bit of learning for beginners. That's why it's important to look through plenty of Facebook Ad examples for churches before embarking on your journey.

When your church has learned the basics of managing Facebook Ads and completed a bit of research, you'll need content to promote. And, you will have plenty if you record church services each Sunday.
When selecting one of your Facebook Live church services, look for one that gripped your audience. You want to put your best foot forward when trying to reach new individuals.
Also be sure to include a call to action within the recording of your video for individuals to attend a church group to help transition those new viewers into new members.
Don't Forget About Groups & Events
Many churches use Facebook Live for their weekend worship services. However, you should consider it for groups and events as well, such as online prayer groups, seasonal events, fundraisers, small group sessions, Bible studies and special events like baptisms.
If you use Facebook live to stream these activities, you can easily turn around promote the church events on Facebook to members and the outside community. After all, most churches say their most effective method of outreach is social media. Sites like Facebook are home to members of all ages and allow a church to easily expand their audience and work with other churches and nonprofit organizations.

Getting Started With Facebook Live for Church Services
The Facebook app is a free download for both Google and Apple devices. It's also possible to navigate to Facebook.com on a computer and set up an account that way. Once that's done, complete the quick signup process and create an account.
First, create a Facebook page for your church. A Facebook page is a page for a specific organization or business.
Make sure that this page is public. This will allow others to find your page and see it's content. Once that's done, reach out to members of your congregation on Facebook and invite them to like the church's page. That allows them to get updates from the church's page, including notifications about upcoming events and broadcasts.
Equipment for Facebook Live Streams
The good news about using Facebook is how easy it is to live stream to an audience. After all, Facebook acts as both the church's social page and the hosting platform for events. The bad news is that many underestimate the value and importance of using good equipment to create a quality experience.
The basic equipment of a camera, tripod, microphones, mixer, audio interface and an encoder will convert the live feed so it's viewable over the internet. Investing in additional equipment such as multiple cameras and tripods, and a video switcher and software will give you the ability to switch between multiple camera angles.
If you're looking to invest in all the equipment you need to make a beautiful live stream on Facebook, check out the following details on setup.
Camera
Ultimately you want to choose the best camera for Facebook Live streaming. However, sometimes your budget will keep you from being able to do so, and that's okay.
Knowing the limitations of your camera can help you work within them. Your basic starter camera can work well. However, you will want to be sure that it is well set up, and your lighting is ideal.
An example of a basic starter camera is the Panasonic HC-VX981K 4K Ultra HD Camcorder.
Your mid-level camera will resolve these issues but have slightly less connectivity than professional cameras. It will also not have the customization or ergonomic features that a professional-level camera may have.
An example of a mid-level camera is the Sony Alpha a7 III Mirrorless Digital Camera Body with Accessory Kit.
Professional-level cameras are going to have all the bells and whistles. However, this type of camera is truly an investment. Make sure it is one your church is willing to make.
An example of a professional-level camera would be the Panasonic AG-CX350 4K Camcorder. The examples included are just that, examples. If you are looking to get a camera for your church, make sure you shop around and find the camera that best meets your needs.
Audio Equipment
When it comes to your stream, you may be able to sacrifice a little bit on your visuals. However, audio is king.
If your viewers cannot hear you or understand you, or if there are a ton of background noises, that is a problem. When it comes to choosing a mic for streaming your church service, be sure to choose a mic that is quality.
In addition, if you plan to have your mic on a stand in front of you, make sure you have a stand and a shock absorber.
However, if you like to move, you do not want a mic that forces you to stand in one spot. Consider a good lapel mic in these circumstances. Make sure you choose a mic with a pop filter.
For those of you who are new to the world of audio, a pop filter blocks wind noises. For example, letters that pop like "p" and "t" when you speak them cause extra breath noises.
Your pop filter is going to keep those sounds from reaching the mic. Without it, your audio will get sacrificed to the extra wind noises.
A wireless Lavalier Lapel Mic is a great choice for those seeking a wireless mic that can move with you. This type of microphone usually has a built-in pop filter.
Mixing Equipment
As you get more advanced with your streaming you may want to continue to improve your stream with equipment. For bigger churches, you may already have sound setups that will work with live streaming.
However, smaller churches may not. You will need mixing equipment to allow you to capture audio and video from multiple sources. This equipment is optional.
However, if you have a multi-camera live stream, you will need it.
Software
To get your live stream going, you will need software. The software you use is going to act as your encoder. There are various software choices for streaming.
Some software requires more knowledge, while others are more intuitive. And, even more importantly, some of the software is free or is included with at no extra cost by your church's online giving provider.
OBS or SLOBS
OBS is free software. However, it does have some cons associated with it. OBS stands for Open Broadcast Software.
There is no official support for this product. However, there are community forums that can help with troubleshooting. This product takes some playing with to figure it out.
SLOBS stands for Streamlabs OBS. This program is also free, but it has some paid features as well. SLOBS is a little more intuitive than OBS. However, support is limited for the free version.
For churches looking to perform basic functions, its free version does the job. Once you are more comfortable with this software, you can move to using some of the paid features to improve your stream if you like.
Facebook's Creator Studio
Facebook's Creator Studio is a central hub where users can manage all of their pages in one place. It allows users to see the performance of pages and individual posts, as well as check page messages and monetize content.
Facebook's Creator Studio also includes a sound collection, which is their collection of royalty-free music you can use during your streams. Be very careful when using music during your church's Facebook live sessions. If you are not using royalty-free music, make sure that you have obtained the proper licensing rights. Using commercial music without the proper clearances violates Facebook's Terms of Service.
Start Small and Scale Up Your Equipment
If you don't have this equipment right now, don't worry. Start small. All you need to start is a smartphone with the Facebook app installed, a tripod for the smartphone to ensure that the video is stable, a microphone (compatible with the smartphone) that you can clip to the person speaking and a strong and stable WiFi connection. Doing a full broadcast over cellular data will eat through data in no time.
This basic setup is all that's needed to get started, but remember, it's a limited setup. For the absolute best experience, you'll need to invest in the right equipment.
How to Live Stream to Facebook (Phone & Computer)
Getting started is simple and straightforward. Here's how to do it from a smartphone:
First, open the Facebook app and make sure you are signed in.
Then navigate to the church's Facebook page.
From there, select the publish option.
Then write a good description. Try to maintain the same standard and similar naming convention for each broadcast (i.e. ABC Church Sunday Service 1/10/2021). It makes finding previous broadcasts easy.
Then select the camera icon.
Choose the live video option.
Then select the start live video option to begin the broadcast.
When you're ready to end, select the finish option to end the broadcast.
Finally, select the share option to share the video to the church's Facebook page, ensuring that the video is available for viewing to those that may have missed the live stream.
When broadcasting from a desktop or laptop computer, the steps are mostly the same. Use the Facebook site and navigate to your church's page. Then choose the option to start a live video. Just like broadcasting via the app, you'll need to write a description for your video so the audience knows what it's about.
When prompted to allow Facebook to access your microphone and camera, choose the allow option. From there, you can preview the video before hitting the "Go Live" button. Then when you're ready, start the broadcast and begin the live stream.
That's it. It's that easy to get started with Facebook Live.
Live Stream to Facebook Using a Camera & Software
With this method, there is a little more detail involved than a live stream with a camera phone.
When you are going live on Facebook using a camera and software, you will work through Live Producer.
When choosing where to go live on Facebook, a page is highly recommended because of the features it allows versus what a page allows.
Live Producer
To access Live Producer, there is a specific page to go to. If you are planning to live stream on a regular basis, you may consider bookmarking this page.
Your next step will be to fill out the information on that page. You will see a gaming section. You can skip that section.
One of the most important things you will need from this page is your stream key. You have the option to get a persistent stream key. A persistent stream key will allow you to use the same key every time you stream.
This key will be copied and pasted into your software encoder. This will essentially connect your stream to your software.
You will also choose what pages and groups you are streaming to from the Live Producer.
Live Producer Settings
There are various settings you will see within Live Producer. Each of these gives you different functions. Here are some things to know as you navigate each section.
Audience
The audience setting allows you to limit who is able to watch your stream. For example, if you want your stream to only be accessed by individuals on your page or group or if you want it to be public.
In addition, it allows you to set an age limit.
Stream Setup
This is where you are going to find your stream key. It is also where you will be able to tell Facebook what kind of equipment you will be utilizing.
Settings
Within settings, you will be able to customize other features of your stream. You can adjust features such as what happens if your wifi drops or comment sections.
If you are worried about people coming in and trolling chats, consider turning off comments for your stream.
Post Event Suggestions
The live stream may be done, but there's still more to do to ensure a successful live stream.
We recommend you promote a live event both before and after it happens. Many pages only do one or the other, but both are ideal. It's likely that not everyone will be able to tune into an event on time, or even at all. Posting about a previous video stream and sharing it to the church page's audience will encourage engagement and allow anyone who missed it to easily find it.
You should also have a dedicated person available to answer any questions viewers may have before, during and after live streams. This is a simple and effective way to engage with viewers. It also gives you a chance to answer any follow-up questions or invite them to future events.
Finally, you should check the analytics for each broadcast. At the top of a Facebook page, there is an option to check the insights and view the statistics for each video. This will give info such as live viewer numbers, total views and engagement. It will also tell you what your demographics were for each broadcast, based on viewers' profile information.
Facebook Live Tips for Optimal Live Streaming
Before your first stream, read and review these Facebook Live for church tips. These tips will help you as you seek to educate your flock in a digital format.
What to Wear
As a pastor, you may be used to putting on your suit and heading out to church. You may not even put much thought into it.
However, if you're going to be on camera, there are a few things to consider when it comes to what you are wearing.
The bad news is that you want to avoid black or white. These colors will wash you out on a live stream. They can also cast shadows.
However, you do want to stick with solid colors. Patterns do not always look great on camera and can cause different effects.
Do your best to choose colors that contrast with your background. If you match your background too much, you will simply look like a head and hands.
Wearing a collared shirt is also a great choice. This gives you a place to clip your lapel mic and helps you looked polished. You also want to be comfortable.
Lighting
Does your church have great lighting? The lighting for your stream may look a little different than the lighting for your band and normal sermons.
The wrong lighting can make you difficult to see. For example, you do not want your lighting to be behind you.
Lighting that is behind you will make you look like a shadowy figure. A light that is directly above your head or slightly to the side in front of you is the best choice.
However, one of the key things you want to be sure to do is test your lighting. Turn on the camera and try different lighting settings.
Camera Placements
Camera placement is another factor you want to consider. If you are working with one low or mid-level camera, placement will impact a lot.
If you want a full-body shot, you will obviously set up a little further back. You also want to be aware if you will be moving during the stream. Do you need someone manning the camera so you don't leave the frame?
Or will it be okay to set it up on a tripod, make sure your angle is good, and then leave it alone during the service? When setting up your camera for a full-body shot, be sure to give yourself room on the top, the bottom and the sides.
The amount of room is dependent on how much you plan to move around.
When you are going for a closeup shot, there are other factors to consider. First, your cameras should be slightly above your nose line. This will prevent shots from being under your chin and up your nostrils.
The next tip is to not get too close. Your viewers do not want an extreme closeup. You want two to three feet between you and your camera.
You also want space around your head. Center shots are the easiest to light. You should only be off-center in your frame if there is something else you need in your shot, such as a graphic box.
Interaction
Facebook Live offers the opportunity for live chat during the stream. When giving a sermon, you will not be able to stop to answer questions and greet people jumping in. If you plan to allow for interaction, there are a few things you should do.
Assign Moderators
Moderators are going to monitor the chat. They will ensure that things do not get out of hand.
This can include answering questions and greeting people within the chat. If viewers express the desire to know more about your church, your moderators can message them through your page or group to get their information.
Turn Off Commenting
You can turn off commenting on your Facebook Live. While this may not be ideal, it can help if you are concerned about inappropriate chatter during your stream.
You can also let viewers know how they can contact you for more questions. This still opens avenues of connection without having to worry about the comments being made during your stream.
Provide Visuals
Within your Facebook Live stream, you also have the opportunity to share your screen. If you have a PowerPoint of your sermon, be sure to screen share it with your Facebook Live audience as well.
If they are trying to see the big screen in your sanctuary on video, it can be difficult. In contrast, switching to a screen share to share slides will break things up and allow viewers to clearly see visuals.
Have a Buffer Time
When you go live, have a buffer time. You can put up a timer on your stream but a buffer time will allow people to get in and watching.
It will also afford the chance to promote any events and activities while you iron out any last-minute issues.
Consider a Digital Bulletin
Do you have people coming to your sermons digitally? You may want to consider implementing a digital bulletin.
A digital church bulletin will allow members to still get all the information contained within a printed bulletin without ever having to walk through your doors.
Test
Always test live streams in advance. Assuming everything will go smoothly is a mistake. Technical problems and mishaps occur, even when experienced staff is involved.
End Each Broadcast Intentionally
Start and end each broadcast by greeting viewers and thanking them for watching. Encourage them to like and share the video they just watched. Encourage them to like the church's Facebook page too.
Also invite viewers to tune in to future events, whether that's a similar broadcast next week at the same time or a different event altogether. Suggest viewers take additional action, such as visiting your website or messaging you with any questions. Remember, the power of live video is the ability to interact with your audience. A live stream is not the same as a pre-recorded broadcast.
Adapt Your Facebook Live Church Services
This is just the tip of the iceberg when it comes to live streaming. What works for another church may not work for all churches. It's important to consider the changing needs of the church's audience and the community. Don't be afraid to experiment and adjust things accordingly.
If you're looking for inspiration, try our free Facebook Live Ideas Guide. In the free guide, you can see some of the most effective uses for Facebook Live for church services.
Looking to Start or Improve Your Virtual Ministry?