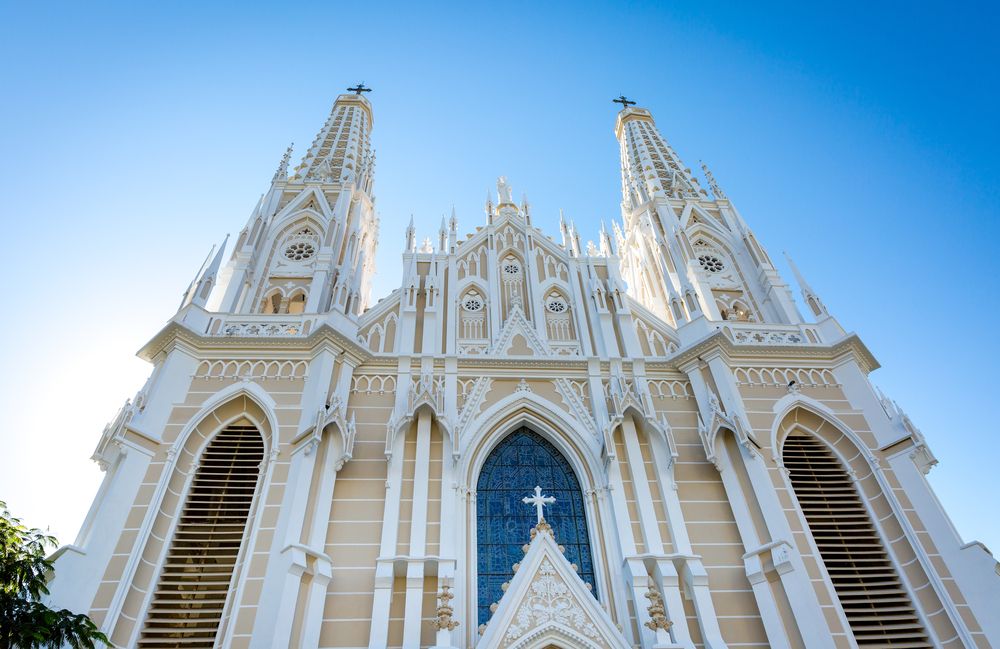 Strategizing about growing your church ministries and programs or its membership in general? It can be hard to know where to begin and what issues to focus on.
Fortunately, there are many basic church growth strategies you can use to get on the right track. The information below will help you determine the best course of action for you and your congregation.
The Motivation for Church Growth
Church growth is important because it is an indicator that the ministry you are doing is not stagnant. Growth can take many forms, depending on the ministries and mission of your church.
Before getting into the "how," you will want to be sure of the "why." Church growth will look different for each congregation because you have distinct goals.
What Does the Bible Say About Growth?
There are at least nine Greek words in the New Testament to describe "growth." The most commonly used one, auxano, has several different meanings.
In scripture, it usually refers to the physical growth of plants or people. For example, "Consider the lilies of the field, how they grow" (Matthew 6:28).
However, the same Greek word is used to describe other instances of increase or multiplying. For instance, Act 6:7 says, "The word of God continued to spread." A third usage of the term can be found in Ephesians 4:15, among other places: "[w]e must grow in every way to become him who is the head, into Christ."
Meaning of Church Growth
In general, you could say that the "The Great Commission," to spread the Gospel throughout the world (Matthew 28:18-20), is the goal of any church. There are innumerable ways that we can do that. How your church fulfills "going into the world and making disciples" depends on what your church and its members are called to do.
In general, have a broad definition of "church growth." Think of it as an open-ended church strategy, rather than a specific set of objectives. The point here is to ensure that "church growth" does not only mean "getting bigger" for the sake of getting bigger.
In fact, "church growth" may not mean "more people" at all. It could be "doing more" or getting the right people to commit to important ministries.
For instance, you may have plenty of members, and adding more to the congregation is not a priority. Perhaps the goals laid out by the church are being left unfulfilled, and you want that to change. Most importantly, church growth cannot be a concept implemented apart from or in contrast to your church's central theology and mission.
If church growth means changing people's lives so that they can foster a closer walk with God, then you will succeed. The seeds that you sow will be returned to you in the harvest (Galatians 6:8-10).
Look at Your Church Mission Statement
One way to frame the calling of your church and conversations about how to put it in action is to put together a church mission statement (or take a look at your existing one). It may seem symbolic, but if you are unable to put down on paper what your church is about, then you and your leadership team should back up and consider it.
Go to your deacon council, vestry or another leadership group. Decide on a church mission statement that encapsulates the objectives of your church. It may be vague, but it is vital to moving forward.
Once you have that statement, organize your church growth ideas around it.

Church Growth Strategies
Now that you and your congregation are clear about your mission, you can take steps to achieve it through church growth. Most of this information is pragmatic, but not all will apply to your church. Since there is not a single formula for church growth, be sure to make what strategies you do adopt your own.
The best way to categorize church growth tools is by looking at people and programs. But before we get to that, here are some basic things you can do to stimulate church growth without forming a committee or spending a dime.
Church Growth: Free Ideas
Church growth movements cost money, resources or time dedicated by staff or ministers. There are reasons to be optimistic about fundraising. In fact, on "Giving Tuesday," the Tuesday following Thanksgiving 2020, Americans contributed almost $2.5 billion to non-profits and religious organizations. That was a 25 percent increase over the previous year.
The other good news is that there are some internal things you can do to encourage growth without spending any money. The flip side is that these strategies are less tangible than others, which makes them more difficult to implement. You will find that keeping these concepts in mind can start moving your church in the right direction.

1. Be Enthusiastic
One idea is to ensure that your church is exuding positive energy and passion in the community. If your church does not scream "this is an exciting place to be" anyone visiting will simply attend another church.
If you attend a more liturgical church, services may be more austere than others. However, solemnity in the sanctuary does not preclude cheerfulness in the foyer.
The point is that no matter the format of your service, be friendly and welcoming to visitors. Let them know about the exciting things going on at the church beyond worship.
If your church membership has been stagnating for some time, it means that everyone there knows everyone else. That can be comforting to members, but it can come across as mundane to outsiders. Keep this in mind as you attempt to bring in new people.
While you can't teach passion, the silver lining is that this could be a marketing issue. You need to make a concerted effort to let outsiders know that they are welcome. Make a point to let them know that their voices and presence would be a welcome addition to the congregation.

2. Farm Out Outreach
Another simple thing you can do to grow membership is to encourage your congregation to invite friends or acquaintances to join them for worship or other church events. This may sound like a no-brainer but could be something you have overlooked.
Be specific. Ask your congregation to set a goal of asking one person a week to join them at a church event. This can go a long way to reaching prospective members.
Formulate a church welcome committee to ensure new visitors are properly welcomed into the church. According to Tony Morgan, a leadership coach for executive pastors, 90% of visitors returned if they received an immediate follow up from someone within the congregation and 60% of individuals returned when the follow up occurred within a few days.
Having an established outreach to new visitors is one of the keys to generating new members.
3. Change Things Up
Another basic church growth strategy is to shift the way you do things. While the mission of the church should be unchanged, how you go about the mission should evolve over time.
If you have been tinkering around with the formation of a praise band for contemporary services, now may be the time to get the ball rolling. If you have considered restructuring Sunday school classes, give it a shot. Or, you might be thinking about creating a new virtual prayer group to allow members and visitors to connect outside of the church.
You will likely find that change is good. Newness brings energy and a fresh perspective. This in turn has the potential to attract a wider variety of people to your services and events.
4. Address Infighting
No two people are going to agree on everything one-hundred percent of the time. Minor disagreements about the color of the carpet in the sanctuary can lead to bigger rifts in your congregation.
If you think an argumentative environment isn't noticeable to outsiders, you're wrong. If there are major divides among members over certain church issues, you should address those out in the open. You will never have meaningful church growth if you have a congregation that is bickering amongst themselves.
Church Growth: People
Of course, church growth--and the church in general--is about people. There are many things to consider determining why people come to your services and events and, more importantly, why they will continue to come.
5. Consider Your Target Demographics
One general thing to think about when working to promote church growth is what demographics you would like to reach out to in your community. This of course will be unique to your church and where it is located.
Perhaps you have an older congregation and want to attract younger people to join. Maybe you have a diverse congregation age-wise but are lacking in families with children.
Is there a military base nearby or is your church in a college town? What groups you want to appeal to will dictate the strategies you use to reach them.
Likewise, it can help streamline programs or identify those that may no longer be relevant to your church's mission. If there was a ministry that met its goals a long time ago, it may be time to direct those resources towards areas that are lacking.
6. Maintain Connections
If in-person services have resumed at your church, following up with visitors is imperative now more than ever. If you met someone new attending your church, or they completed a visitors' card, be sure to contact them.
And for those who have visited a few times, don't hesitate to ask them to get involved with certain ministries. You don't want to overwhelm them or come on too strong. But people like to help out and feel that they are a part of the team. It could be a great way to cement a relationship with someone who is flirting with commitment.
For tracking everything from membership to visitors, it is worth investing in a church management system. This can help you keep up with attendance and coordinate follow-up needs. It can help you automate different steps in connecting with members so that no one gets overlooked.
7. Focus on Members You Haven't Heard From
When your church isn't having regular in-person gatherings, it's easy to let people slip through the cracks. A friendly phone call, text, or personal email will help you reconnect. And it could be an uplifting gesture to someone who is struggling during this time.
This doesn't have to take an accusatory tone. Reach out to them to see how they are doing. If possible, ask them to become involved in a new or ongoing ministry.
Be patient, and remember Proverbs 21:5: "The plans of the diligent lead surely to abundance, but everyone who is hasty comes only to want." The point is to be a steady, uplifting presence for your members.
8. Focus on Children and Youth
You and your youth director should be strategic in putting together programming that focuses on parents, as well as children and youth.
Organizing family gatherings (centered around children's activities) can go a long way to reaching new members. Have outdoor events at public parks or the church grounds. Organize a camping trip or a day at the lake.
9. Identify Those Willing to Assist
Mr. Rogers said that, during tough times, "Look for the helpers." Regardless of whether you are reaching out to members or prospective ones, be sure that you are focusing on people who are receptive to the call.
If you have been in the ministry even a short while, you know that you have to meet people where they are, but that goes both ways. Trying to convince people to do something that they are resistant to doing is fruitless. Look for members suited for the particular outreach and church growth ideas that match their interests and fit their schedules.
You also might consider forming a "church growth" committee, tasked with formulating an outreach plan. Be sure to have a diverse group to get a variety of perspectives.
Have creative people on there as well as those with a pragmatic mindset, who know how to get things done. Include younger members for insights into reaching that demographic.
You may want to include people who have been members of the church for a long time as well as newcomers. Both groups will be able to offer a perspective on what drew them to the church in the first place.
10. Be Realistic
As you set goals, be sure they are reasonable ones. Consider the larger fiscal climate, especially where you live.
If the country is in an economic downturn or a big factory in your town just shut down, you should take these things into account. Think about the needs of the community and how the church can help meet them.
Take this into account when planning church growth strategies. For instance, when recruiting volunteers, recognize that people may already be stretched thin by other responsibilities. This is a good thing to keep in mind in general, but especially during this tumultuous time.
Church Growth: Programs
People are central to church growth, but how outreach is conducted is also important. You may have the best church members in the world, but you must have smart and strategic programs if you want to add to the congregation. Here are a few ideas to consider.
11. Keep Using Technology
Technology has been a lifesaver for many churches. It has taught us the value of leveraging it for outreach by pushing us to think about what is possible beyond the walls of the church.
If you started live-streaming services during the shutdown, there's no reason to stop. Online services provide an alternative for those who are unable to attend in-person worship.
People have also become used to tuning into your church's live stream or YouTube channel for services. They may have shared these with acquaintances who live out of town, who now regularly tune in. There's no reason to cut those people off.
Likewise, during the pandemic, you probably implemented online giving options to supplement plate or other types of in-person tithing. There is no reason to stop offering these options going forward.
Sure, many congregants will resume putting envelopes in the offering plate on Sundays. However, for those who enjoy the convenience of automatic, online giving, let them continue.
Churches can also use video during offering time. The use of multimedia creates a more engaging and inspiring experience. To help churches build an invigorating offering experience, our team built free church offering videos for you to use. These videos have an instrumental version and a silent version.
They can be streamed from any location with internet access, making them great for online and in-person services. If you're looking for more videos to use during services, we've got you covered with welcome, prayer and countdown videos. We also offer free instructional guides on a variety of topics, including church growth.
Simply subscribe to our YouTube channel to get our latest offerings.
12. Use Social Media
If you are not already using social media to galvanize church growth, you are missing out on free and effective avenues for connecting with people. Approximately seven out of 10 adults in the United States are on Facebook. In addition, new, popular platforms now pop up every few months.
Social media is a great way to dispense information. A church event showing up in someone's feed can catch their eye easier than an e-newsletter. It's a great way to reach new members since social media is set up for people to share events and information.
You might also branch out into new platforms. For example, Instagram and TikTok are ideal for reaching younger audiences. Be sure you are using each platform to reach the intended audience, rather than it being another account where you share the same post.
Cast a wide net, but be sure the content you are putting out is of high quality. More is not necessarily more. It would be better to manage one or two platforms effectively than to have lots of accounts that get neglected.
Also, be sure that your church's website is updated and maintained. Search engines are still one of the most popular ways that people identify and get information about churches in their area. In fact, almost half of all Google searches are people trying to find local businesses. Seek the help of church members who know how to optimize websites for SEO. Chances are that you have someone within your congregation that can help.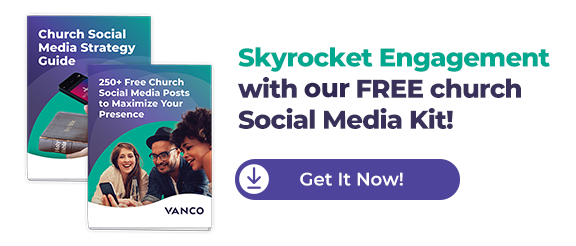 One of the most overlooked church growth tools, is YouTube. As the second largest search engine, churches can enjoy a lot of free exposure. And because so many churches are already recording videos for their virtual worship services, it's easy to generate content for YouTube.
Getting started with marketing your church through YouTube is easier than you would expect. Simply follow this free guide to get started.
14. Use a Free Church App
One of the biggest obstacles to church growth is engagement. Because so many members only engahttps://www.vancopayments.com/egiving/asset-the-definitive-churchgoer-giving-study church community throughout the week.
By using a free church app, you can set up virtual groups such as Bible studies and prayer groups. You can also let members engage in private chats with the pastor or with the leadership committee.
15. Conduct a Survey
Understanding what members and visitors want can help your church make key changes. Conduct church surveys to get answers to the questions your leadership team is looking for. You don't need an expert researcher to get started or a huge budget. In fact, many services allow you to create and manage surveys for free.
If you are looking to conduct a survey to better understand member and visitor needs and desires, check out this free guide. It is complete with survey examples and instructions.

16. Be Aware of the Latest Trends and Data
Churchgoer attendance and giving habits have change significantly over the last two decades. For your church to effectively adapt to the changes, you'll have to have a strong understanding of the trends.
Our sleuths at Vanco spent hours interviewing and researching to get you the data you need to know on the latest trends in giving and attendance. We also provided key strategies to adapt to the changes.
17. Increase Church Revenue
Improving your church's revenue will allow your church to expand its missions and grow its flock. For many churches, the focus for growing church revenues will be on tithing. Several will resort to church tithing or giving letters and emails to encourage greater giving.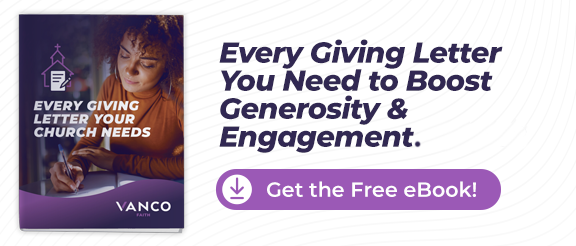 However, churches should look beyond traditional giving to increase their funds. There are dozens of revenue generating actions churches can take, including large fundraising activities like church capital campaigns.
18. Expand Non-Church Activities
People are looking for outlets for community-building and the church can play a part in that. Even if you are not currently holding in-person services, there are other events you can organize outside the church building.
Think about things adults can currently do and base an event around it. This could be as simple as shifting your weekly Bible study from a Zoom meeting to a socially-distanced gathering at a park. It could be a church-wide retreat at a camp or another place with ample outdoor facilities.
If you have any yoga teachers in your congregation, see if they'll do a free class or two. Advertise the event in the community.
19. Online Church Marketing
There are several online tools churches can use to market their church for free or with very little expense. These include local online church marketing, SEO and free online profiles.
Churches can even promote their missions on Google Ads for free. With the Google Ad Grants program, nonprofits, like churches, qualify for $10,000 each month in free ad spend!
The process of applying for the program and maintaining compliance won't cost you a thing. However, there are a few hoops to jump through. We outline the steps you need to take in our free Google Ad Grants for churches guide. We also outline the settings and best practices you should follow to maximize the value of the program within the guide.

Everything You Need to Know About Church Growth
Download our free eBook to learn everything you need to know about church growth. By following the guidelines and tested strategies outlined in our eBook, you'll have the framework needed to give your church a necessary jolt.