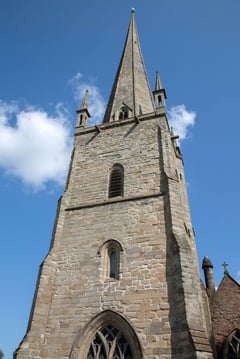 Are you wondering what a church capital campaign is? Whether you're a pastor or a member of a congregation, it's important to understand what goes into capital campaigns and why they may be needed in your church. If you're asked to lead one or serve as a volunteer, you'll be able to run a more successful campaign if you know what your goals should be.
Keep reading to learn more about church capital campaigns!
What Is a Capital Campaign in a Church?
It's easy to think of a capital campaign as another term for a fundraiser. But these two things are different, and you'll be more successful with a capital campaign if you can think of it as something with a deeper mission. A fundraiser can be small and brief, but a church capital campaign has more long-range goals.
Don't look at a capital campaign as a transactional experience. Instead, frame it as a form of significant engagement with the church's work and future. You'll be able to establish greater commitment from those you ask to help lead it.
You'll need a clear vision, and you'll need the full commitment of a team willing to enact that vision. Spend some time considering who is best suited to do that, and consider asking for nominations.
Often times, capital campaigns will center on a tangible sign of the future. For instance, a church may want to add a new wing, remodel the sanctuary, or generate funds for future mission work. And in other cases, the campaign is meant to help generate more consistent financial support for the church.

Set a Goal for the Campaign
Work with your colleagues to establish a reasonable goal for your campaign. Is there a monetary amount you're hoping to achieve? Be explicit about the number — and the reason for setting it.
Your congregants will respect your transparency and may even be more willing to donate, especially when you close in on the goal. If you're hoping to finance a new church building for your growing congregation, break down the costs that go into the construction process so people understand how you arrived at the final number. Or if you're hoping to use the money toward existing debts, be clear about it.
When you're determining the goal of a capital campaign, know that targeted campaigns might cast a smaller net than broader ones. Asking for donations to repair the electrical system or finance new mission trips might not appeal to everyone in your congregation. Be mindful of this as you make a plan.
If your church is growing in membership, highlight this as part of your strategy to raise money! You'll gain some traction in your efforts to solicit donations if people know that they're giving to a flourishing faith community.
And know when to start your church capital campaign. Starting in the middle of summer, when people are on vacation, probably isn't the best way to bring visibility to the mission. You could consider starting in the fall months, when people are resuming normal activities and looking to end their year with some giving.
Knowing How to Run a Campaign Is Key
A big key to running a successful campaign is using technology to your advantage. While some people still prefer writing checks and putting them in the offering tray each Sunday, many people will be glad to have other ways of contributing. But how can you keep track of everything?
Using both an in-person giving option and an online donation service that is unique to faith-based organizations ensures you'll get the most out of your church capital campaign. You want to have a method of accepting payments that appeals to your congregation's diverse needs.
But at the same time, you don't want to pay for services you don't need. Make sure you set up your payment options before starting.
Your campaign team needs to know every method of accepting contributions so they can communicate this to prospective donors. They also need to know their roles — and check in with the team leader every month. You should set periodic benchmarks to ensure you're staying on track to reach your goals.
When you're running a church capital campaign, it also is critical that you set a deadline. After all, you don't want the campaign to go on endlessly. With a deadline in mind, you'll be able to pace yourself and know when it's time to kick things into high gear.
You'll Need a Range of Gifts in a Church Capital Campaign
When you're determining how much money you need to raise, it can be tough to know what the distribution of gifts needs to be. Should you focus on large gifts only? Or will lots of smaller gifts be enough?
A good step is to make a gift range chart. Doing this allows you to plot how many gifts you'll need at different giving levels.
If your goal is to raise $100,000, for example, you might aim to grab three gifts in the $5,000 range and two gifts of $2,500. And if you can hit that goal, you'll have secured 20% of your giving goal with just a few gifts.
Having some bigger gift goals at the top of your gift range chart is important to the success of a capital campaign in a church. These gifts provide a big chunk of the money you need, as well as motivation to keep going.
Assign your most compelling campaign members — such as lead pastors — to the role of asking for larger gifts. Empower them to use storytelling and concrete data to make the most impassioned asks they can. And make sure your team member has done the research on a prospective donor so they can tailor their interactions appropriately.
You can seek out smaller gift accounts in larger numbers, but it's still important to quantify how many gifts you need at each amount. In other words, you'll want to know if you need 50 gifts of $100 or 100 gifts in that amount.
Using a gift range chart also is a great way to allocate responsibilities. You can send your team members with the strongest connections or clout to your biggest donor prospects. And other members of the capital campaign team can work on collecting smaller amounts and promoting the campaign.
Market Your Campaign Effectively
When it comes to producing church capital campaign material, aim to keep things clear, sharp, and professional. You want people to know that this campaign will exist for a period of time — and you want to make it as easy as possible for people to give.
Your church marketing handouts and web presence should be consistent in their graphics, especially since your campaign may stretch over several years. And you'll want to adopt a slogan that is forward-looking and thoughtful. Before you launch your campaign, make sure that you have a consistent visual presence, simple materials printed and ready to go, and a digital presence.

Know that maintaining a clear and strong brand can help you gain more interest — and even repeat donations. You want anyone who encounters your dream, even if they're not members of your church, to feel compelled to give. Emphasize that your work derives from a deep faith in God.
Incorporate clear visuals to show your church is active in the community or on a global scale. You might even want to hire a graphic designer to ensure your materials reflect the campaign's goals. If you're looking for graphic design help, there are plenty of cost-effective freelancers on Fiverr and UpWork. Newsletters are another good way to build awareness and keep your congregants updated.
And track the data. Know how many people are clicking on links, engaging with your social media posts, or volunteering at events. You can make adjustments on the fly with what information you learn.
Make It Easy to Accept Donations
Not everyone has a large sum of money to donate, but many people will be eager to contribute what they can. You want to make it as easy as possible for people to donate to this cause.
Embrace online giving tools as a way to encourage donations. Many people will be more interested in the idea of logging in to a website or app where they can click a few buttons and contribute money. They may also like the idea of doing this anonymously and discretely, without a lot of fanfare.
You also can set suggested donation amounts. When someone is trying to figure out what would be appropriate, it can be helpful having boldface text that guides them toward an amount. If you're trying to encourage casual donors to stretch toward amounts of $50 or more, a little guidance doesn't hurt.
Once people have contributed money, it's vital you follow up with them. Whether someone has donated $20 or $2,000, they need to know their giving is appreciated. This also increases the chances of repeat giving — or passing along the campaign by word of mouth.
Send a thank-you note by mail or over email. Personalize it and let the donor know the outcome of the campaign will be revealed to them once the goals are met.
And to go a step further, call your donors for a more intimate show of gratitude. Create a simple script that you and your team members can use, and leave a voice mail if no one answers. You'll help fortify your connections with your donors and build more buy-in with this campaign — and any others down the road.

Delegate Responsibilities to Your Team
You need the right people to spearhead a church capital campaign. It's important you select leaders in the church, like head pastors and elders, who will be able to articulate the vision of the campaign. They should be enthusiastic — but they also will need training.
Aim for a mix of participants so you don't only have top leadership members doing the legwork. Prospective donors will appreciate interacting with volunteers from the congregation who believe in the church's mission enough to participate.

Spend time making sure that everyone is on the same page regarding expectations, strategies, and language. They'll need to rehearse their responses to questions key donors may ask. And ultimately, they'll need to be prepared to interact with others with grace and humility.
Another smart step is to track your donors and learn more about them through metrics. Integrating your payment system with your church management system can help you create donation statements and understand who is contributing to your campaign.
And provide updates. When you launch a campaign, there's an initial sense of excitement. But you don't want that to fade with time.
Schedule announcements during services, upload videos to your church's website and post shareable social media blurbs that provide a window into how the campaign is going.
Be Prepared to Troubleshoot Issues
In a perfect world, people would donate large amounts of money frequently throughout a capital campaign. And you'd hit your campaign goal sooner than expected. The reality is that this doesn't happen most of the time, and sometimes capital campaigns require some troubleshooting.
Most people give less than 10% of their yearly income to their church, so you'll have to do some work to generate strong giving practices — especially if your church has not done this in the past. Emphasize that this capital campaign is just one piece of a larger push toward greater stewardship in the congregation.
And if you've set benchmarks, you'll be better equipped to tweak your strategy. If you're struggling to capture the smaller donation amounts you want, you may need to market more aggressively. Or if donors express confusion about the mission of the campaign, you'll be able to reword your vision.
Run a Successful Capital Campaign
Running an effective and efficient church capital campaign is a lot of work — but the reward is well worth it. A campaign helps to strengthen your church's mission and build greater engagement from congregants. All you need to do is map out your goals, distribute responsibilities, and work hard to achieve the outcome you want.
When you're ready to create the successful campaign that will launch your church into the future, contact us and we can help provide the software and administrative assistance you need!
Get the Free eBook to Improve Church Stewardship
Keeping the lights on, the doors open and missions funded isn't what inspired most church leaders to pick their career, but it is key to the health of the church and the congregation. Discover how to become a master of church stewardship with our ultimate guide.